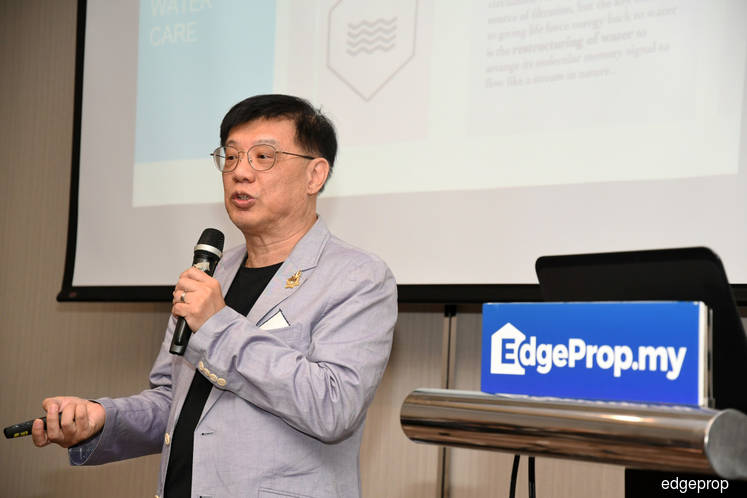 KUALA LUMPUR (June 26): It is not too late to incorporate key wellness elements into our buildings to make the indoor environment that we spend more than 90% of our time, a better and healthier place to be in, says Life Research Wellness Pte Ltd founder and CEO Dr Michael Tan.
In his presentation today at EdgeProp.my's Talk on Building for 'Wellness', Tan noted that while we are spending about 40 to 50 hours, or 90% of our time indoors every week, the awareness and understanding of how the indoor environment affects us is lacking, let alone the concept of incorporating wellness elements into the design of buildings from day one.
"We spend so many hours indoors and yet we discount the way we design the building and the M&E (mechanic and engineering) – have we ever given this a thought as a responsible developer, architect, leader of the country and each and every one of us who actually stay in buildings?" he asked the audience at the talk comprising top management of property development firms. 
Dr Tan's session at the talk was titled "International trends and practical approaches to wellness living". The event was organised by EdgeProp.my in collaboration with Panasonic Malaysia.
"Wellness real estate is very misunderstood at this point in time owing to the low awareness among the public and lack of education in the market," he continued.
He noted that the market should understand the five core elements of wellness namely air, lighting, water, geopathic stress and electromotive force (EMF).
Each element, he said, will be harmful to human health and wellness if it is not taken care of. For example, many white LED lights today emit harmful blue rays that will impact our health and sleep and, in some cases, cause cancer.
Hence, he urged industry stakeholders to start paying attention to the concept of wellness building or real estate.
Today, as a responsible human being, we can make a change by understanding the concept of wellness real estate and take charge of our health and wellness through development.
"And it is absolutely not costly to do that as the more we endorse and adopt the concept, the cost will start coming down," Dr Tan said.
Read the full coverage of the symposium in the June 28, 2019 issue of EdgeProp.my pullout. — EdgeProp.my
Click here to visit EdgeProp.my for the latest news on all things property