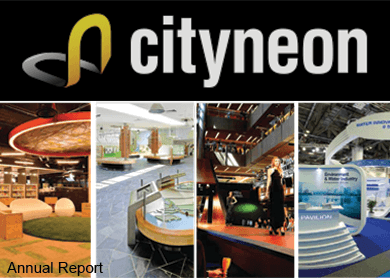 STAR Publications (M) Bhd's Singapore-listed subsidiary Cityneon Holdings Ltd is renegotiating the concession terms for its acquisition of Victory Hill Exhibitions Pte Ltd (VHE), which will hold the exclusive right to produce and operate Marvel's AVENGERS S.T.A.T.I.O.N. travelling exhibition, sources say.
The exhibition first premiered in New York City at Discovery Times Square on May 30, 2014.
"They (Cityneon) are in talks to extend the concession to eight to nine years from the current three years," says a source familiar with the matter.
"This concession is based on three years from the first exhibition to the public, which the acquisition target has done. It expires on May 29, 2017, and may be extended for an additional three years," adds the source.
Media analysts say it would be a better deal if they can extend the concession period. "At the moment, the deal looks quite pricey as they are paying S$21 million (RM57 million) for a three-year concession. If they can extend it, the acquisition looks a lot more palatable," says a media analyst with a bank-backed research house.
Cityneon, in which Star (fundamental: 2.5; valuation: 1.4) has a 64.1% stake, announced in April that it was acquiring Singapore-based VHE from Philadelphia Investments Pte Ltd for S$21 million.
"It is in the interest of the company (Cityneon) to expand its businesses overseas to provide additional sources of revenue and diversify the company's existing businesses and geographical risk of the group. With the inclusion of the complementary portfolio of assets made pursuant to the asset transfer within the group's business, the group is able to tap into a different area of business while leveraging its current expertise in events and exhibitions," Cityneon said in an announcement attached to a filing with SGX in early April.
In a separate announcement to Bursa Malaysia, Star said the proposed acquisition is in the best interest of the group.
Interestingly, although the deal was announced on April 2, the circular to shareholders has yet to be published.
Under the sale and purchase agreement between Cityneon and Philadelphia Investments, the former proposed to undertake a rights issue to partly fund the acquisition of VHE, which is a dormant company. Star's portion of the rights would cost about RM28 million.
Upon the completion of the acquisition, VHE will own and operate the assets of US-based Victory Hill Exhibitions LLC — an exhibition services provider that has an agreement with Marvel Characters BV to provide exhibition services for Marvel.
Cityneon, which Star acquired in November 2008, is the group's first venture into the events and exhibition industry. It specialises in providing creative solutions in interior architecture, events, exhibitions and experiential environment.
Star also has another exhibition company called Perfect Livin' parked under its I.Star Ideas Factory Sdn Bhd.
The group's event management, exhibition services and thematic business is slowly starting to generate profits. It made a profit of RM11.8 million in FY2013 compared with a loss of RM8.6 million in FY2012. The earnings of RM11.8 million translates into a 6.25% contribution to the group's consolidated profit of RM188.5 million. It was the only profitable business segment, aside from print and digital, that year.
For FY2014, the event business' profit grew 65% to RM19.05 million, translating into a 12.4% contribution to the group's profit before tax of RM153.4 million.
Still a dividend play
Despite the tougher operating landscape, analysts believe Star will continue to give out dividends. "Two years ago, they cut their dividends to 15 sen from 18 sen but raised it back to 18 sen last year. This year, the management has said that it will try to maintain the 18 sen dividend. Although it is not a growth stock in terms of earnings growth, it could still be a dividend play," says a local analyst covering the stock. He adds that for them to pay 18 sen, Star would need to make about RM130 million in net profit.
The analyst expects media groups to announce weaker results for the first quarter. "The advertising expenditure for the print sector for the period between January and March was down 7% year on year," he says.
An analyst with another local research house also believes that Star's dividend yield is still attractive despite the limited upside in earnings growth given the challenging operating environment for media groups.
At Star's closing price of RM2.45 last Thursday, an 18 sen dividend translates into a yield of 7.3%. According to its financial report ended Dec 31, 2014, it had net cash of RM352 million.
"Media players are now in unchartered territory. Consumer sentiment has been so bad for so long. Previously, it was negative for at most, one to two quarters … It has been 1½ years and it doesn't look like it is improving. Coupled with that, there is GST now. It will be challenging for at least another year," says the local analyst.
"This is why media groups are looking to diversify," he adds.
It is no secret that Star is diversifying its income to ensure that it is not wholly reliant on print, and it is certainly not short on cash to carry out the plans. Recently, it announced that it was acquiring the remaining 20% equity interest in Capital FM, making it wholly owned.
"They have to diversify and the missing link for the Star media group right now is outdoor advertising. That is another avenue they can consider. Outdoor is not as cyclical as newspapers. In terms of cost per thousand viewers, it is very cheap. The cost per thousand viewers for outdoor is only a few sen compared to print, which could come up to over RM100," says the analyst.
"At KLIA, the rate to advertise is RM40,000 to RM50,000 a month for an outdoor billboard. How many cars pass through KLIA every month? That is the cost per viewer," he explains.
For its FY2014, Star saw its net profit drop 19% y-o-y to RM112 million while revenue fell marginally by 1% to RM1.01 billion.
This article first appeared in The Edge Malaysia Weekly, on May 18 - 24, 2015.