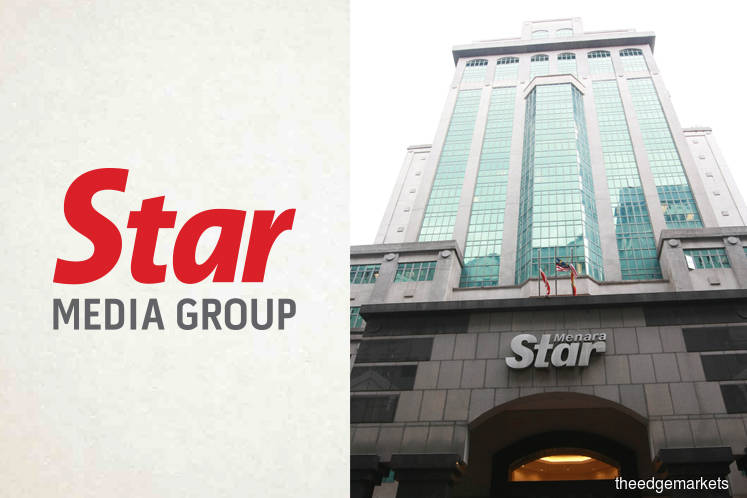 KUALA LUMPUR (May 16): Star Media Group Bhd's net profit rose 70.33% to RM11.32 million for the first quarter ended March 31, 2018 (1QFY18) from RM6.65 million a year ago, due to better cost management and lower depreciation expenses.
However, its revenue declined 8.07% to RM109.03 million against RM118.61 million in the same period last year.
"In 1QFY18, the group recorded a higher profit before tax of RM17.59 million due to better cost management and lower depreciation expenses from print segment (as a result of impairment of printing assets and mutual separation scheme/early retirement option exercise carried out in FY17)," Star Media said in a filing to the exchange today.
Its print and digital segment recorded a higher profit before tax of RM20.67 million compared to RM8.09 million in 1QFY17 because of a lower wage bill and depreciation expenses from the print segment.
Star Media's radio broadcasting segment's profit before tax also increased to RM1.56 million from RM1.07 million a year ago despite a 3.6% decline in segment revenue.
The event and exhibition segment returned to the black, charting a profit before tax of RM2.74 million against a loss before tax of RM50,000 last year.
On its prospects, Star Media said it had embarked on efficiency and productivity improvement plans which would involve transformation and rationalisation activities within the organisation.
"This transformation will encompass our drive towards digitalisation by making the organisation more lean and agile and better prepared to take advantage of the opportunities in the media space," the company said.
Notwithstanding projections that the economy will grow 5.5-6% this year, Star Media expects advertising expenditure to remain challenging due to weak market sentiments.
It plans to continue to enhance its respective media platforms to extend their reach to wider audiences, and will continue to provide more bundled products and creative buys to advertisers as well as organise client driven events.
The group is also expanding aggressively into digital businesses and actively searching for new investment opportunities especially in the digital sector to further complement and enhance its existing assets.
For the events and exhibition business segment, the group will continue its efforts to strengthen its market position and increase the number of events in the coming months.
Star Media shares closed down 1 sen or 0.99% to RM1, for a market capitalisation of RM737.87 million.