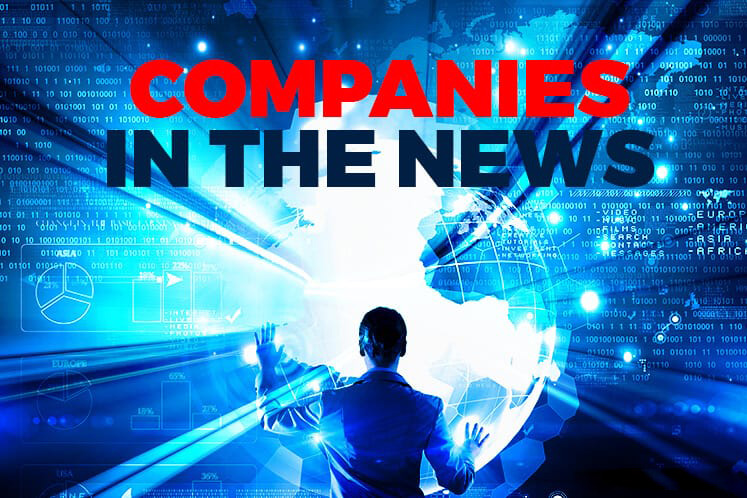 KUALA LUMPUR (May 16): Based on corporate announcements and news flow today, companies that may be in focus on Thursday (May 17) may include the following: Star Media Group Bhd, IOI Corp Bhd, Pharmaniaga Bhd, Meda Inc Bhd, Wah Seong Corp Bhd, Dialog Group Bhd, APM Automotive Holdings Bhd and MMC Corp Bhd.
Star Media Group Bhd's net profit rose 70.33% to RM11.32 million for the first quarter ended March 31, 2018, from RM6.65 million a year ago, due to better cost management and lower depreciation expenses.
However, its revenue declined 8.07% to RM109.03 million from RM118.61 million.
The group's print and digital segment recorded a higher profit before tax of RM20.67 million, compared with RM8.09 million previously, because of a lower wage bill and depreciation expenses from the print segment.
Star Media's radio broadcasting segment's profit before tax also increased to RM1.56 million from RM1.07 million a year ago despite a 3.6% decline in revenue.
IOI Corp Bhd's net profit surged 6.7 times to RM2.07 billion for  the third quarter ended March 31, 2018, from RM305.3 million a year ago, due mainly to a forex gain of RM201.9 million and higher contribution from the resource-based manufacturing segment.
The group also reported a profit from the discontinued operations of RM1.72 billion compared with a loss of RM15.5 million previously.
The improved earnings resulted in its earnings per share rising to 32.92 sen from 4.86 sen. This was despite quarterly revenue falling by a marginal 1.1% to RM2.31 billion from RM2.34 billion a year ago.
The strong quarterly results pushed the group's net profit for the cumulative nine months to RM3.02 billion, up 7.1 times from RM425.7 million a year ago. Revenue, however, fell 3.6% to RM6.92 billion from RM7.17 billion.
Pharmaniaga Bhd's net profit fell 7.1% to RM17.59 million for the first quarter ended March 31, 2018, from RM18.92 million a year ago, dragged down by lower profit from the manufacturing division and losses from the group's Indonesia division.
Earnings per share fell to 6.77 sen from 7.3 sen. Quarterly revenue was also marginally lower at RM617.92 million from RM618.29 million a year ago.
Nevertheless, the group declared a first interim dividend of 5 sen, payable on June 20.
Meda Inc Bhd said its wholly-owned subsidiary Maju Puncakbumi Sdn Bhd has launched legal action against Perbadanan PR1MA Malaysia, claiming RM108.76 million in damages.
This follows the termination of a plan by PR1MA to buy a 4.29-acre piece of land in Tanjung Kling, Melaka, from Maju Puncakbumi for RM6.81 million in December last year.
Meda said Maju Puncakbumi had initiated a writ in the Shah Alam High Court on April 25, which was served to PR1MA today.
On May 5, 2015, Maju Puncakbumi had entered into a master en-bloc purchase agreement with PR1MA for the proposed disposal of the land. Under the deal, Maju Puncakbumi was to build PR1MA homes on parts of the land.
Wah Seong Corp Bhd's net profit tripled to RM29.25 million or 3.78 sen per share for the first quarter ended March 31, 2018, from RM9.47 million or 1.23 sen per share last year, on improved earnings from its oil and gas (O&G) business.
Revenue more than doubled to RM792.83 million from RM316.77 million a year ago.
Wah Seong said the increased earnings from O&G were from the Nord Stream 2 project among other projects.
The group's order book stood at RM2.5 billion, including RM2.1 billion in the O&G segment, RM290.2 million in renewable energy, and RM78.6 million in industrial trading and services.
Dialog Group Bhd's net profit for the third quarter ended March 31, 2018 rose 25.9% to RM118.8 million or 2.11 sen per share, from RM94.4 million or 1.74 sen per share a year ago, as both its Malaysian and international operations reported better earnings.
This was despite revenue declining by 5.1% to RM867.4 million from RM913.6 million.
Cumulative net profit for the first three quarters rose 48.1% to RM395.5 million or 7.02 sen per share from RM267.1 million or 5 sen per share in the corresponding period a year ago.
Revenue for the nine months increased 3.3% to RM2.5 billion from RM2.42 billion.
APM Automotive Holdings Bhd's net profit jumped 53.6% to RM16.21 million in the first quarter ended March 31, 2018, from RM10.55 million a year ago, mainly due to the better utilisation of fixed overheads which led to an improved gross profit margin for the group.
Earnings per share rose to 8.29 sen from 5.4 sen.
Quarterly revenue also grew 8.9% to RM320.31 million from RM294.08 million a year ago, driven by the interior and plastics division, which registered higher demand for certain original equipment manufacturer models.
On prospects, APM said the efforts and projects undertaken by the group following the commencement of its transformation plan launched in 2015 are coming to fruition.
MMC Corp Bhd's indirect subsidiary Kontena Nasional Bhd is suing its former chief executive officer Hood Osman for RM66.59 million in damages.
The claim is premised primarily on the breach of Hood's employment contract with Kontena Nasional, fraud and various breaches of duty of care under common law and the Companies Act 2016, said MMC.
"Kontena Nasional claims against the defendant, among others, damages in the sum of RM66.6 million, general damages, full indemnity against any claims arising from the transactions, interest and costs," MMC said.