This article first appeared in The Edge Financial Daily, on August 21, 2018.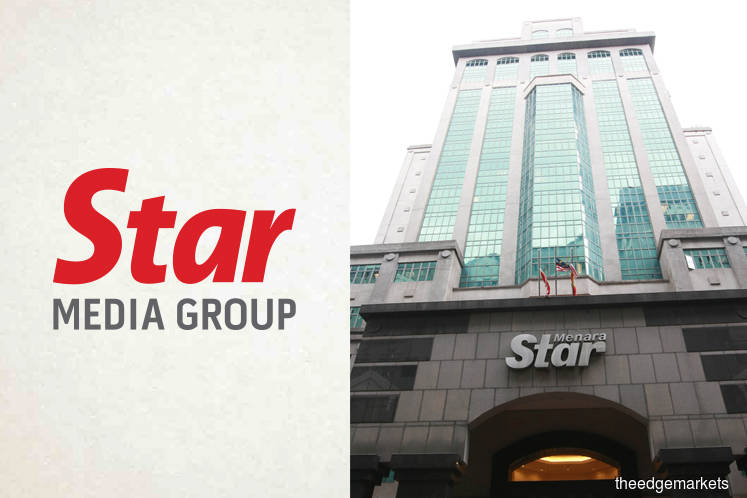 Star Media Group Bhd
(Aug 20, RM1.04)
Downgrade to hold with a lower fair value (FV) of RM1.14: We downgrade our recommendation on Star Media Group Bhd from "buy" to "hold", with a lower FV of RM1.14 per share, previously RM1.57, after switching from sum-of-parts to a price-to-book valuation (PBV) method, which we believe is more suitable due to uncertainties over future cash flows. Our FV is pegged at a PBV multiple of 0.8 times, representing a discount to its three-year average PBV due to ailing prospects for print media.
 
We have slashed our financial year 2018 (FY18) to FY20 earnings forecasts by 27% to 37% to account for continued deterioration in print revenue and concerns whether the decline in print would be offset by Star's digital, radio, and event and exhibition segments.
Star's core profit after tax (PAT) for the second quarter of FY18 (2QFY18) from continuing operations came in at RM1.4 million, compared to a loss of RM1.6 million previously. This brings core PAT for the first half of FY18 (1HFY18) from continuing operations to RM13.1 million from RM1.1 million for 1HFY17, markedly below our expectations, accounting for 29% of our and 27% of consensus estimates. The higher core PAT was due to better cost management arising from impairment of its printing assets and its mutual separation scheme/early retirement option (MSS/ERO) exercise in FY17, coupled with a lower base in 1HFY17 due to a drastic decline in print revenue, which saw Star slipping into the red for 2QFY17. Meanwhile, the group's revenue decreased 12% in 1HFY18, impacted by lower revenue from its print and radio segments amid weaker advertising expenditure (adex) after the 14th general election as advertisers turned cautious. This was despite the 2018 Fifa World Cup being held, where we had expected to see a pickup in adex.
Despite a decline in revenue, profit before tax rose 75% from RM11 million to RM19 million due to lower salaries and depreciation expenses for its print segment following asset impairments and the MSS/ERO exercise. The group also shared that digital revenue was higher, but its over-the-top platform dimsum registered losses, impacting the segment's profit. The group will continue to drive more subscriptions of dimsum as there are plans to expand regionally. Meanwhile, profit before tax (PBT) and revenue from its radio segment shrank 23% and 11% year-on-year respectively in 1HFY18 amid the weaker adex environment despite improvements in cost management.
As for its event and exhibition segment, revenue surged 66%, while PBT increased from RM50,000 to RM2.89 million, as there were more events held in 1HFY18 compared with 1HFY17. Despite its series of restructuring exercises, we recommend a "hold" on Star as we are concerned that its digital, radio, and event and exhibition segments would not be able to cushion the decline in its printing segment.
Star's prospects remain bleak amid: i) a continuous decline in newspaper circulation amid increasing availability of digital content; ii) monetisation of digital platforms remains challenging after the switch from traditional to digital media amid low entry barriers, which continue to escalate competition; and iii) a lack of growth component after the disposal of Cityneon Holdings Ltd. — AmInvestment Bank, Aug 20