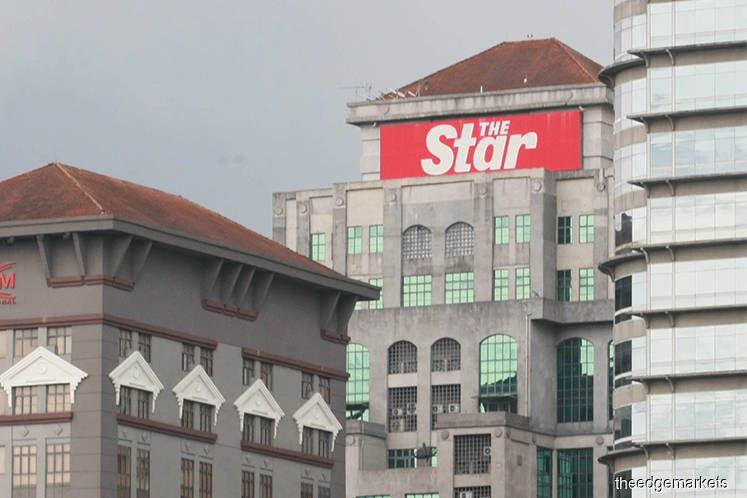 KUALA LUMPUR (Aug 17): Star Media Group Bhd's net profit plummeted 83.4% to RM1.41 million in the second quarter ended June 30, 2018 (2QFY18) from RM8.51 million a year ago, as the print and digital segment saw a drop in momentum in advertising spending after the 14th general election.
Earnings per share also came in lower at 0.19 sen for 2QFY18 compared with 1.15 sen for 2QFY17. Quarterly revenue also fell 15.1% to RM99.49 million from RM117.16 million a year ago.
"Market sentiment turned to cautious mode despite positive event such as the World Cup. The cumulative effect had impacted our revenue," said Star Media in a filing with Bursa Malaysia today.
Radio segment was not spared from the slowdown in ad spending, posting a drop in revenue in 2QFY18.
For the cumulative six months (1HFY18), Star Media posted a 20% decline in net profit to RM12.73 million from RM15.16 million a year ago, while revenue dropped 11.6% to RM208.52 million from RM235.76 million in 1HFY17.
On prospects, Star Media expects the print and digital segment to perform better in FY18 versus FY17 as a result of better cost management following the MSS/ERO exercise and impairment of PPE in 2017.
"We also expect robust revenue growth from the digital segment as more advertisers migrate into this space. The segment's results, however, will be affected by the retrenchment exercise for our printing plant in Penang," it added.
The group also expects its radio segment to contribute positively to the group's results in FY18, following the completion of the restructuring in 2016 by positioning the radio to focus on Chinese and Malay audiences.
"In the events and exhibition business segment, the group will continue its efforts to strengthen its market position and increase its number of events in the upcoming months," it said.
"Star Media is actively searching for new investment opportunities, especially in the digital sector to further complement and enhance its existing assets. The fast evolving media landscape into all things digital and the ever changing consumer preferences make it a priority for Star Media to maintain its engagement with its audiences via the latest technologies.
"While pursuing a digital sector focused approach to its investments, Star Media is also cognisant of investment opportunities that may arise in other industries and will also consider investments in non-core businesses which have the potential to enhance the performance of the group," it added.
Star Media shares closed unchanged at RM1.23 today, for a market capitalisation of RM907.59 million.