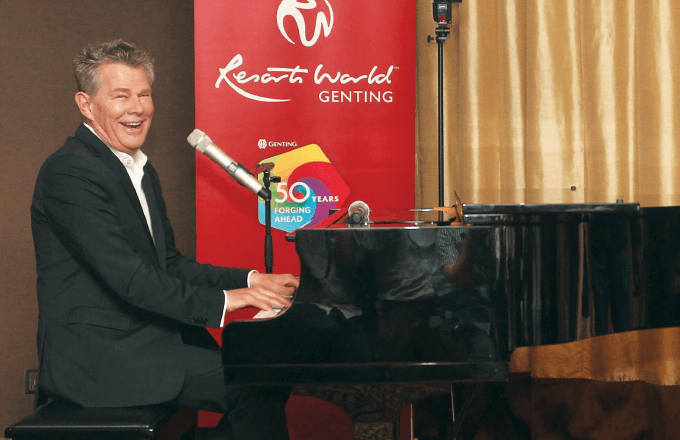 David Foster on his long and successful career in the music industry
AFTER a sensational 40-year career in music that earned him the nickname "Hitman", it appears David Foster is still aiming for another run in the chart-topping race. At a recent press conference here in Kuala Lumpur, the songwriter and producer talked about his long career in music.
"If it doesn't work, don't keep hammering against the brick wall. Find another way around it, another way to do it," says the 65-year old Canadian, attributing it to a friend's wise counsel to himself when he was younger.
It is an advice the music-maker has applied particularly when it comes to weathering music trends. "I embrace everything that is going on. I'm not afraid of the younger generation," says Foster on what it takes to stay on top, "I am not that guy that sits around complaining about the music business just because I'm not in the centre of it, or in the top 40 [hit charts]."
Having written, co-written and produced some of the biggest hit songs, including After the Love Has Gone, Last Dance, Hard to Say I'm Sorry, Glory of Love, I Will Always Love You, I Swear and The Prayer, to name just a few, Foster nevertheless indicates that the current era of electronic music has thoroughly changed the game.
"If you remember in the 1970s,  it was all electronic music too. When disco came in and we switched to synthesisers," says the 16-time Grammy Award winner, alluding to the cycle of electronic music then and now.  "Live music was having a difficult time because they weren't needed on records. Then we went back to live music and here we are … it seems people can make music out of their bedrooms now and get them up on the charts," he adds.
However, he cites two positive things that have been birthed from this generation of artistes — a "refreshing" retro trend, such as Bruno Mars' current mega-hit Uptown Funk, as well as singers that are more attuned to the perfect pitch.
On the former, Foster believes it is a trend that will see more artistes jumping on the bandwagon. He further observes that the prevalence of auto-tune in today's music production have helped developed a better ear in young singers. "I've been doing a project with young artistes like Ariana Grande and Jessie J, and these singers are amazing," the experienced producer divulges. Known for his hate for people singing out of tune, Foster went on, "It's quite a phenomenon, they sing perfectly in tune without electronic help, so I would say to you it's all good news."
He's hopeful that working with the young singers will also give him another chance at being back on the charts after a dry spell since the early millennium. "It just wasn't working for me," Foster admits, "that's when I went on the Andrea Bocelli, Michael Buble and Josh Groban train." He said he is more into producing and developing talent and this has buoyed his career through the last 15 years.
"Now I am kind of back in the saddle with Ariana and Jessie J. I might get another run in the Top 40. But I'm going to get a lot of help from the younger generation," he adds.
Foster has long held a reputation for star-making, playing a role in making artistes like Celine Dion, Michael Buble and Josh Groban global stars. It's also no secret that he's been keen to tap into the talents here in Asia. Recently judging the inaugural Asia's Got Talent reality-competition, the producer calls it a great experience, noting that there are extraordinary talents in this region.
Having helmed jazz and folk label Verve Music Group as chairman since 2012, Foster is also familiar with Malaysian talent through local-born singer Yuna Zarai, who signed to the label in 2013. Calling her unique and a great musician and songwriter, he points out that she's still got a lot more to give.
"She's got what it takes to be an international star, but she's not quite unlocked or cracked the code quite yet," says Foster. The veteran record producer is positive that when she does, Yuna will "make all of Asia proud".
Musing on the secret to his staying power, the forthright music-maker simply said, "You just do it. You work your way through the ranks and keep moving the goal post," indicating that there's no formula except to be on one's toes. "You certainly have to retreat and attack from another direction if you're going to last 40 years at anything."
This article first appeared in The Edge Financial Daily, on May 20, 2015.