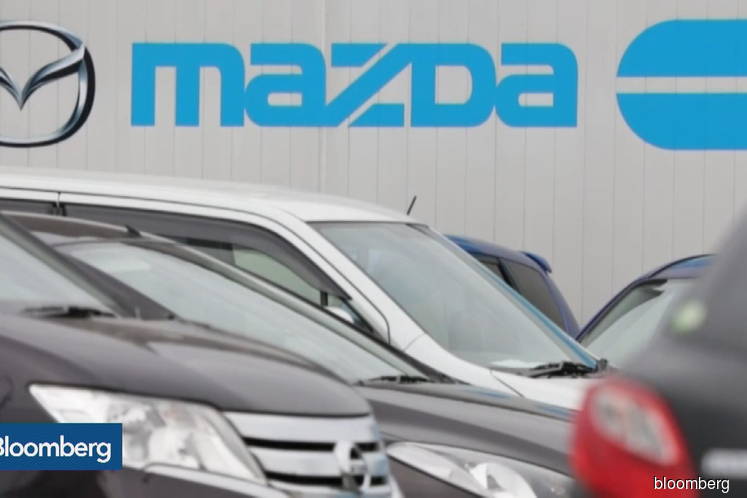 KUALA LUMPUR (Sept 7): The implementation of the sales and services tax (SST) from Sept 1 is expected to result in an increase in the price of Bermaz Auto Bhd's imported cars by 1% to 3%, which may temporarily dampen sales momentum of its popular Mazda models, says Affin-Hwang Investment Bank Bhd. 
"Based on the recent 'Guide on Proposed Sales Tax Rates' prepared by the Customs Department, the 10% SST rate slapped on new cars will result in a hike in prices of complete built-unit (CBU) cars," Affin-Hwang's analyst Brian Yeoh said in a note to clients, following his recent meeting with Bermaz Auto's management. 
"Although Bermaz Auto has yet to release its revised price list, we believe the higher CBU mix will see average selling prices increasing by 1% to 3%," Yeoh said. 
Despite this, Affin-Hwang said Mazda's strong branding and product offerings such as the CX-5 model, will help offset the impact. 
The research house also projected Bermaz Auto's local car sales to grow 10% year-on-year, in view of strong demand from the two sports utility vehicle models: CX-5 and CX-9. 
Affin-Hwang said the CX-5 model generated 57% of Bermaz Auto's annual sales in financial year ended April 30, 2018 (FY18), while the CX-9 is currently enjoying a long waiting list until December 2018. 
The reintroduction of the SST has lowered the price of Bermaz Auto's locally-assembled or completely knocked-down (CKD) cars, as compared with the price set during the goods and services era, Affin-Hwang said.
"This is made possible under the industrial linkage programme, in which tax exemptions and rebates will be given for localisation of parts and components in the automotive industry," the note added.
As for product mix, Affin-Hwang said Bermaz Auto is expected to see the CKD:CBU mix shift to 62:38 in FY19, from 68:32 in FY18, which will be boosted by higher demand from the recently-launched CBU models: updated Mazda 2, facelifted CX-3 and facelifted Mazda 6. 
For FY20, Affin-Hwang said Bermaz Auto is expected to record a more meaningful participation in the localisation of its cars, with the CKD:CBU ratio shifting to 70:30, driven by the entry of locally-assembled CX-8, and the all-new Mazda 3. 
"In the long run, we believe Mazda Malaysia's long-term commitment to the localisation programme should see more affordable Mazda models, drawing stronger demand for Mazda cars, moving forward," it added. 
Beginning this year, Bermaz Auto is ushering more beautiful models, as evidenced by its recent launch of two imported and facelifted models: CX-3 and Mazda 6, Affin-Hwang said.
"Bermaz Auto is also looking to bring in the all-new Mazda 3 and all-new CX-8, likely by FY20," it said.
 
"For now, we believe earnings growth will continue to be supported by popular demand for existing models, especially the all-new CX-5 and updated Mazda 2," the research house added.
On plant utilisation, Affin-Hwang said Bermaz Auto recorded 66% capacity utilisation in April 2018, a strong improvement from around 45% in FY17, "thanks to stronger demand for Mazda CX-5." 
Bermaz Auto's improving utilisation of its capacity comes in the wake of recent investment by its 30%-associate Mazda Malaysia Sdn Bhd, which has poured in approximately 2.3 billion yen to build an exclusive paint shop, as well as in the wake of increased annual production capacity to 35,000 units, from 25,000 units previously. 
At 35,000 units, Affin-Hwang said Bermaz Auto believes current production capacity is sufficient to cater to the domestic market, as well as for export demand.
"We expect plant utilisation to improve on higher throughput from domestic and export demands," the note added. 
Currently, Mazda Malaysia is the largest exporter of cars in the country, selling around 6,300 cars in 2017,  equivalent to 18.5% of Malaysia's total car exports in 2017, Affin-Hwang said. 
Mazda Malaysia exports selected models at present, such as the CX-5 and Mazda 3, to neighbouring Asean countries, except Vietnam, Brunei and Singapore. 
On stock recommendation, Affin-Hwang said it is keeping its "Buy" call on Bermaz Auto, and retains the 12-month target price at RM2.71, on positive business outlook and a healthy balance sheet, coupled with a strong management team and corporate governance. 
Bermaz Auto shares were up one sen at RM2.14 as at 3.15pm today, giving the group a market capitalisation of RM2.49 billion.