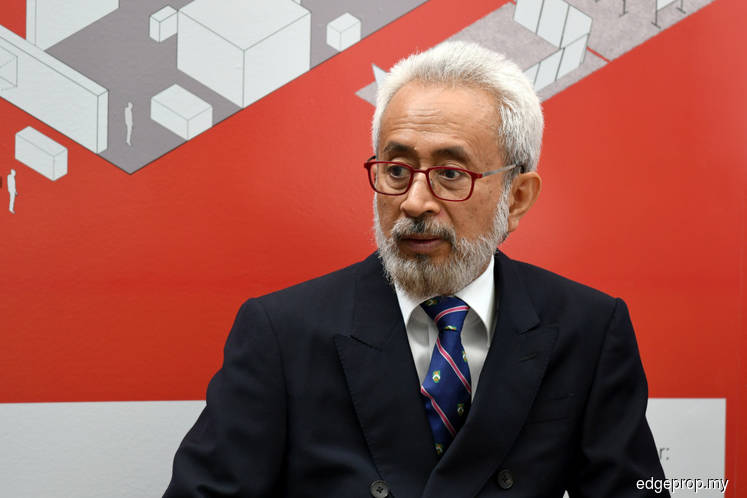 KUALA LUMPUR (Aug 13): While some building materials will be exempted from the soon-to-be implemented Sales and Services Tax (SST), house prices may not come down due to the increase in other cost components, said Housing and Local Government (KPKT) Deputy Minister Datuk Raja Kamarul Bahrin Shah.
"Cement, [bricks] and steel will be exempted from SST and I was asked how many percent would the house prices come down yesterday. But this is impossible for me to answer because although we are lowering the prices for these materials, the cost [of building homes] can be increased by the rising cost of other components, such as land prices, development charges and compliance cost," he told reporters after the official launch of the Kuala Lumpur Architecture Festival 2018 (KLAF2018) at Damansara City Mall today.
Malaysian Institute of Architects (PAM) president Ezumi Harzani Ismail, who is also present at the event, noted that construction cost usually only accounts for 30% of the overall building cost while the remaining 70% are derived from land and compliance costs.
"According to Rehda (Real Estate and Housing Developers' Association), the compliance cost is escalating at a rapid pace to the extent that I think it is unacceptable, especially for the development of affordable housing," he added.
Hence, instead of solely focusing on lowering house prices, measures to increase income levels is also key to addressing the housing affordability issue in Malaysia, he said.
Raja Kamarul said it requires the participation and support from all stakeholders to bring down the housing cost, which is one of the issues the Pakatan Harapan government is facing.
"There are three main issues that the government is facing – how can we increase the number of affordable housing supply, lowering the overall building cost and enhancing policies and regulatory framework to promote a sustainable and responsive housing sector.
"The local state government and the private sector are very much important in handling various issues and challenges and to create a housing industry which is competitive and sustainable. The state government, which controls the land premiums, development charges and the authorities responsible for approval, will have to play a part to work with architects and developers," he said.
With the support and contribution from all the stakeholders, he believes the nation will be able to solve the problems and challenges related to construction, housing and the ability to own or rent a home.
"We also need to look at having a central database in distributing the affordable and general houses because there are still first time home buyers missing out," he noted, adding that this is one of the main area of the new National Housing Policy.
He said that the new National Housing Policy, which is expected to be unveil in the next couple of weeks will features some innovative changes.
Also present at KLAF2018 were Selangor Princess Tengku Datin Paduka Setia Zatashah Sultan Sharafuddin Idris Shah and KLAF 2018 director and Chee Ang Architect principal architect Ang Chee Cheong.