This article first appeared in The Edge Financial Daily, on August 8, 2019.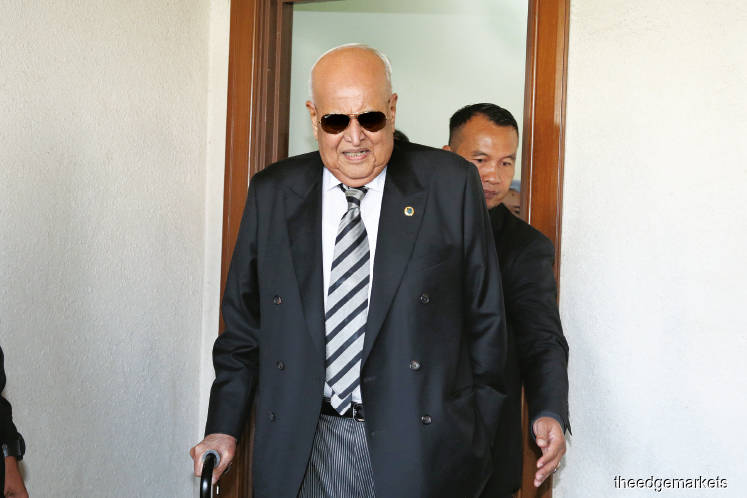 Sri Ram may also prosecute the former premier in the Ipic trial, as well as the cases against Rosmah, Rizal and Reza. Photo by Sam Fong
PUTRAJAYA: Former Federal Court judge Datuk Seri Gopal Sri Ram will continue to lead the prosecution team as its senior Deputy Public Prosecutor (DPP) in Datuk Seri Najib Razak's 1Malaysia Development Bhd (1MDB) or Tanore case.
A seven-member bench of the Federal Court, led by Chief Justice (CJ) Datuk Seri Tengku Maimun Tuan Mat, yesterday dismissed the former prime minister's appeal to bar Sri Ram from leading the prosecution team in the 1MDB case, scheduled to start on Aug 19 in the High Court.
However, Tengku Maimun allowed Najib's application for the prosecution to produce in court Sri Ram's letter of appointment as a senior DPP issued by Attorney-General Tommy Thomas.
The CJ announced this was the seven judges' unanimous decision after hearing submissions on the issue for four hours.
Tengku Maimun, in her oral judgement, said the apex court had to look into two matters — the first being Sri Ram's letter of appointment, and the second was on disqualifying his appointment as senior DPP.
"For the first issue, the bench found the validity to Sri Ram's appointment is distinguishable from that of Datuk Sulaiman Abdullah (the former lead prosecutor in the SRC International Sdn Bhd case), as there is no material before us to show the document is classified as secret under the Official Secrets Act 1972," she said.
The court ordered a copy of the letter to be handed to Najib's lawyers.
"On the second matter, we dismissed the second appeal as we found the Court of Appeal did not err in its decision," the CJ said.
The six other judges were Chief Judge of Sabah and Sarawak Datuk Seri David Wong Dak Wah, Datuk Abang Iskandar Abang Hashim, Datuk Rohana Yusuf, Tan Sri Azahar Mohamed, Datuk Mohd Zawawi Salleh and Tan Sri Idrus Harun.
Najib's lead lawyer, Tan Sri Muhammad Shafee Abdullah, said upon getting a copy of Sri Ram's appointment letter, they will study it. He said the letter should not have been made a secret as it had been announced publicly by Thomas.
"Although we may not be able to challenge Sri Ram from leading the prosecution in the 1MDB case following today's (yesterday) decision, we will study the letter first and let's see," the senior lawyer said.
Muhammad Shafee also revealed the Federal Court has fixed Aug 13 to hear the appeals by the defence and the prosecution to adjourn the 1MDB trial to a later date.
Sri Ram can lead the prosecution team on Aug 19, said DPP Ahmad Akram Gharib, having been heading the team together with DPP Mustapha Kunyalam.
Yesterday's decision also means the former Federal Court judge can prosecute any case assigned to him.
On May 8, the Court of Appeal also dismissed Najib's appeal to disqualify Sri Ram when Justice Datuk Zabariah Mohd Yusof, leading a three-member bench, ruled that High Court Judge Collin Lawrence Sequerah's decision to disallow the former premier's decision did not amount to a "decision" under Section 50(1) of the Courts of Judicature Act, and therefore was not appealable.
Sri Ram may also prosecute Najib in the International Petroleum Investment Company (Ipic) trial, as well as the cases against Najib's wife Datin Seri Rosmah Mansor, her aide Datuk Rizal Mansor and her son Reza Aziz.
Najib is facing four charges of abuse of power and 21 for money laundering of RM2.28 billion allegedly belonging to 1MDB.
He is also awaiting trial along with former Treasury secretary-general Tan Sri Mohd Irwan Serigar Abdullah in the Ipic case, where the duo are jointly facing six charges of criminal breach of trust involving RM6.64 billion of government funds for payments to Ipic.
The trial has been fixed for next year on Jan 6 to 9, Feb 3 to 5, Feb 10 to 13, Feb 24 to 27, March 2 to 5 and March 9 to 12.
Rosmah and Rizal are charged with graft involving a solar project in rural schools in Sarawak. Reza, Najib's stepson, is facing five charges of money laundering of over US$248 million.