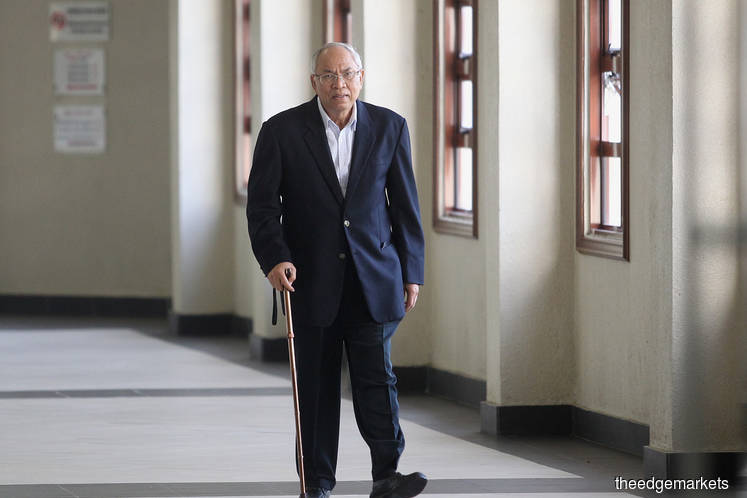 KUALA LUMPUR (June 20): SRC International Sdn Bhd director Datuk Suboh Mohd Yassin took the stand as a key witness in the graft case against former prime minister Datuk Seri Najib Razak today.
Looking frail, the 68-year-old was the prosecution's 42nd witness and is expected to be an important star witness, judging from various testimonies that he was responsible for signing cheques and transfer of funds from SRC.
Suboh is said to have left the country and was in Indonesia along with former SRC managing director Nik Faisal Ariff Kamil since 2015, at the height of the authorities' investigation into SRC and 1Malaysia Development Bhd (1MDB) in mid-2015.
Contrary to previous reports, Suboh, who presently stays in Taman Tun Dr Ismail here, is said to be not placed under any witness protection programme as revealed by one of the prosecutors in this trial.
It was previously reported that the Malaysian Anti-Corruption Commission (MACC) had met Suboh and Nik Faisal separately to take their statements in Indonesia. Suboh had surrendered to the MACC last June, after being on the run for three years.
However, Nik Faisal, who is still wanted by the Malaysian authorities along with fugitive businessman Low Taek Jho — better known as Jho Low, is still on the run.
So far, Suboh has testified in this trial that he had entered the civil service under an administrative and diplomatic scheme in 1974, and holds a Bachelor of Arts from Universiti Malaya and a Masters of Business Administration from the University of Geneva in 1993. He had also attended an advanced management programme at the Harvard University in 2002.
He retired on Jan 11, 2009, but was appointed by Najib to be a non-executive director of SRC on Aug 1, 2011. The other directors of SRC were Tan Sri Ismee Ismail, former 1MDB chief executive officer Datuk Shahrol Azral Ibrahim Halmi, Datuk Che Abdullah @ Rashidi and Nik Faisal.
The witness testified that during his tenure, SRC had applied for a RM4 billion loan from Kumpulan Wang Persaraan (Diperbadankan) that accounts for RM2 billion each in 2011 and 2012 as this would be "the working capital and general investments" for SRC and that the loan was supported by a government guarantee.
Suboh also said SRC was formed on Jan 7, 2011 as a "strategic resource company" to extract, process and provide logistic service and trade of natural resources for Malaysia's development needs and that SRC's board of directors would act on the advice of the prime minister then, who was the advisor emeritus of SRC.
He further testified that on Feb 14, 2012, SRC, which was a subsidiary of 1MDB, was placed under the Minister of Finance Inc. The witness also said that following his appointment, SRC opened its bank account at AmBank to the account number 211-202-201065-0 where the other signatories included Ismee, Shahrol, Rashidi and Nik Faisal.
Suboh is currently being questioned by deputy public prosecutor Datuk Ishak Mohd Yusoff.