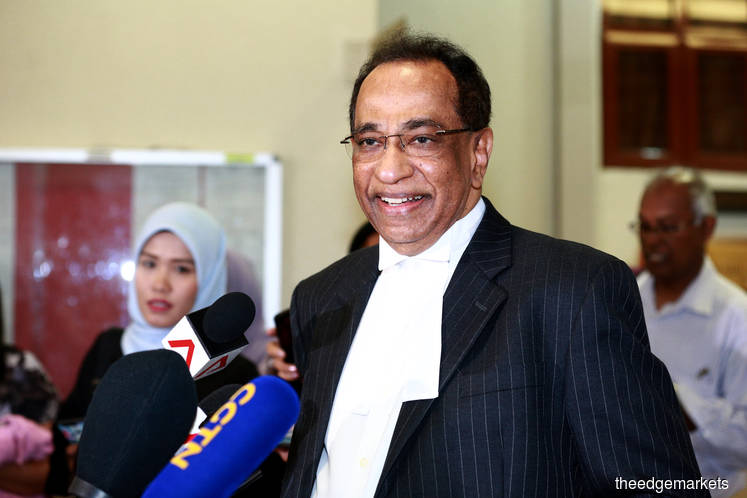 KUALA LUMPUR (Dec 18): Appointed prosecutor Datuk V Sithambaram is expected to lead the cross-examination on former prime minister Datuk Seri Najib Razak today, after Attorney-General (AG) Tan Sri Tommy Thomas was done with his session last week.
Last Wednesday (Dec 11), Sithambaram requested three trial dates to be vacated as he needed some time to go over Najib's witness statement before continuing the cross-examination.
High Court Judge Mohd Nazlan Mohd Ghazali allowed the extension, but urged the defence to serve future witness statements to the prosecution at a reasonable time so that this would not happen again.
Last week, Malaysian history was made as the AG cross-examined a former premier for the first time ever. A war of words broke out as the two went head-to-head over SRC International Sdn Bhd's funds that were frozen by the Swiss government in 2015, allegedly for money laundering.
Thomas accused Najib of doing nothing when the funds were revealed to be transferred overseas, but the former premier insisted that it was the responsibility of the SRC management to retrieve those funds and bring them back to the country.
The funds were part of the RM4 billion loan SRC had received from the Retirement Fund Incorporated (KWAP).
Najib had earlier admitted that he did not know how much was left in the Swiss bank accounts, but denied that SRC was insolvent as the company still had cash in those accounts.
He also claimed he did not know how funds in SRC were spent after the first RM2 billion loan was disbursed by KWAP.
Najib said the movement of the money was an operational matter, and that as the Finance Minister and advisor emeritus of SRC, he was only concerned with policy matters.
Najib is facing seven charges of criminal breach of trust, abuse of power and money laundering involving RM42 million in MoF Inc-owned SRC International. He was the prime minister and finance minister during the alleged incident.
The Edge is reporting the proceedings of the SRC trial live.
Users of The Edge Markets app may tap here to access the live report.