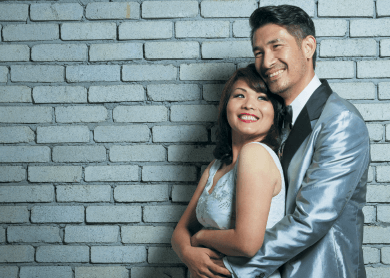 DAMA Music Theatre Company has brought back to life the story of dreams, hope, and love achieved then lost with the re-staging of the award-winning and critically-acclaimed I Have A Date With Spring — The Musical. 
When the original play by Raymond To was first staged in Hong Kong, the story of the Flower Palace Nightclub captured imaginations with its realistic portrayal of friendships and romance, set against a volatile, transitional period during the Hong Kong 1967 Leftist Riots. 
Its release as a film in 1994 and television series subsequently extended its popularity and made it a classic. 
"Personally, the story line has been an inspiration for us when we first watched the movie," says director Pun Kai Loon, who adds that he fell in love with the Cantonese play despite being English educated. "We thought it is such a good story for stage work, and since Dama was really about music, we thought why not incorporate it into the story?" Pun explains. 
While the play and film versions feature popular songs from the 1960s to 1980s, as well as three original songs that include the titular hit, Pun decided to adapt it as a musical, using the songs as a narrative device to give insight to the story rather than just as part of the background. 
"It was a proud moment when we sent it back to Raymond To and he approved it," smiles Pun in recollection. That was in 2009 and 2010, when the musical was first staged to tremendous success in Kuala Lumpur and then Perth. Six years later, we sit down down with the 2015 cast of the first and still only musical adaptation of I Have A Date With Spring to see what's transpired since. 
"It's like a reunion party," says Pun, who has gathered half the original cast along with some fresh new faces, "We thought it would be nice to have the original cast return, but some had other commitments, so we are equally happy to welcome all the new faces. They provide a fresh take to the whole show." 
Lead actress, Tan Soo Suan, agrees, "With the new actors I now have new ji muis (sisters), so we have to develop our chemistry and 'click' again." The award-winning soprano is happy to reprise her role as Butterfly Yiu, admitting that she's more relaxed this time and enjoying the role much more. 
"Previously, I was just trying to make sure everything went well, this time I can let go and really perform it on stage," says Tan, who credits familiarity and maturity as a performer for the change. "I'm glad that Dama has reprised it, so I have a second chance to play the role again. Whatever I didn't do six years ago, I will try to catch up and make it happen this time," she adds. 
Also strapping on his saxophone again is actor Steve Yap, who plays Karl Sum, the lead male and love interest of Butterfly Yiu. While the self-deprecating actor seems to take his reprisal in stride, he admits that the experience is completely different. 
"Last time, maybe the portrayal was a little shallow, but now I would say we've put in more effort because we [have] matured," observes Yap. The running joke among the cast is that everyone has "aged" over the last six years, as Pun playfully referred to Tan as 'Big Butterfly' (the character is nicknamed Little Butterfly in the musical). Jokes aside, Tan points out that the added experience has helped them better understand their characters, giving each of the cast better insight into their original roles. 
Songstress Janet Lee, who plays the ditzy Lulu, says she's returned because the role is a strong acting one. She nevertheless says that the pressure is to bring it to the next level.  
Pun says that he's pushed the actors harder this time, to delve deeper into some of the "questions" between the characters' relationships, the backstories and new understanding of each character's evolvement in the story's progression. 
"This round the dynamics and interaction between characters was a major driving force for me. I questioned the actor's artistic choices and interpretation more. The result is more cohesive," explains Pun. Both leads also point out that the pacing is tighter and more compact due to a more natural and familiar sense of the story for the cast. 
Also reprising their roles are musical actor Ho Soon Yoon, who came back for the enjoyable chemistry between the cast, as well as the previous staging's success, award-winning tenor Liow Jun Yi, whose role Pak Long is a top star that experiences a decline in popularity, Beauty Teoh as the show-stealing Auntie Po and Samuel Tseu as Tai Kai Loke. 
For the new members — Roax Tan, Anrie Too, Tan Yee Yee, Emily Lim and Berg Lee — the challenge was catching up quickly, with only one and a half months of rehearsal time. TV actress Lim and Roax also had no singing experience, it being their first musical. 
Being part of the well-known story also meant extra pressure for the soft-spoken Lim, whose role Yuen Pik is a catty and vain troublemaker. "It's very different from me," she admits, adding, "I asked if I could watch any previous versions for reference, but Kai Loon said no." She clarified that the director gave her room instead to explore and add in her own elements into the character. 
"You can be the judge how Yuen Pik turns out," Pun quipped with a laugh. 
Actor and TV personality Lee is not as perturbed about the pressure. "A long time has passed since the movie was first a hit. I feel that it is worth re-staging, because there are many born in the nineties and others who have never seen the show or watched the movie before. Personally, I have not looked at the past versions, I just approach it as if it's new." 
Keeping the original staging intact, with a few updates visually, the 2015 version sees brand new choreography by Jojo Wong, who also plays one of the "twins". But the cast is unanimous in what is the scene not-to-be-missed: Yap's solo performance of Date In Winter Season originally sung by Chyi Chin. 
Calling himself a non-singer, Yap is said to have improved his singing a fair bit, one that the director can vouch for. "When he first came to auditions, he literally fell flat on the floor and begged us not to ask him to sing. Now the audience can see how much he's improved," says Pun. 
Citing the success of the first staging that left many friends and fans asking him when will it be staged again, Pun states that it's the main reason why Dama is re-staging I Have A Date With Spring. "We hope this time we've enriched what we've done before," he adds.
---
I Have A Date With Spring is now staging at the Kuala Lumpur Performing Arts Centre (KLPac) in Sentul until May 24. Tickets are priced from RM70 to RM305. To buy tickets, call (03) 4047 9000, (03) 7880 7999, or visit www.ticketpro.com.my
This article first appeared in The Edge Financial Daily, on May 11, 2015.