This article first appeared in The Edge Financial Daily, on October 17, 2019.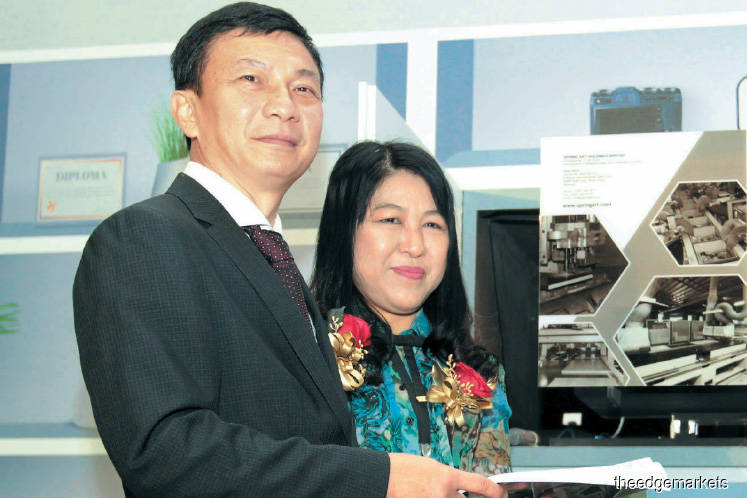 Lim (left) and Spring Art executive director Yvonne Kwan after the launch of the company's IPO prospectus yesterday. Photo by Suhaimi Yusuf
KUALA LUMPUR: Johor-based furniture player Spring Art Holdings Bhd, which is set to be listed on the ACE Market on Nov 8, will use the bulk of its initial public offering (IPO) proceeds to cater to rising demand for its products from the North American and European markets amid the US-China trade war.
The group said RM17.55 million, or 72% of the total proceeds of RM24.42 million, will be used to acquire machinery to set up two additional production lines at its new manufacturing factory in Muar, Johor.
Located about 10km from its existing facilities, the new factory will have a total built-up area of 103,926 sq ft. It is expected to start operations in July 2022 and double Spring Art's combined annual manufacturing capacity to 674,000 units per annum, from 337,016 units as at mid-September.
"I think that [the ongoing US-China trade tensions] will be beneficial to us, because enquiries from the US market are increasing, and we are also keeping in touch with several customers who are very interested to develop products with us," Spring Art managing director Jack Lim Kok Eng told a press conference at the IPO prospectus launch yesterday.
Furniture is among the Chinese goods slapped with tariffs by the US Department of Commerce since about a year ago. The tariffs rose to 25% in June from 10% in September last year. There will be a further hike this month to 30%, making US imports of Chinese-made furniture more expensive.
Lim said Spring Art will also be able to take advantage of the stronger US dollar as the group exports all of its products.
Spring Art is principally involved in the manufacturing and exports of ready-to-assemble furniture products, where it undertakes the design and development, as well as marketing and sales of office furniture, bedroom furniture, living room furniture and other furniture types.
The group's unassembled, flat-pack business model allows it to be less labour-intensive as compared to conventional furniture players, besides reducing volume and shipping cost, thereby improving its cost competitiveness.
According to its prospectus, Spring Art posted a net profit of RM6.23 million against a revenue of RM50.38 million for 2018.
The group's three existing facilities in Muar were 95% utilised as at April for exports to 35 countries. The Middle East market contributed 50.4% of group revenue, followed by Asia-Pacific countries India and Japan at 41.1%. North and Latin America accounted for 4.6%, while the remaining 3.9% included African and European nations.
The IPO involves the issuance of 97.69 million new shares representing 23.5% of Spring Art's enlarged share capital. The offer price is set at 25 sen apiece.
Of the new shares, 20.78 million will be made available to the Malaysian public via balloting. Another 4.16 million shares are for eligible directors and employees as well as persons who have contributed to the success of Spring Art, while the remaining 72.75 million shares are earmarked for private placement to selected investors, including government-approved bumiputera investors.
As part of its listing exercise, existing shareholders will also make an offer for sale of 27.02 million shares by way of private placement to selected investors.
Based on the enlarged share capital of 415.69 million shares, Spring Art is expected to have a market capitalisation of RM103.92 million.