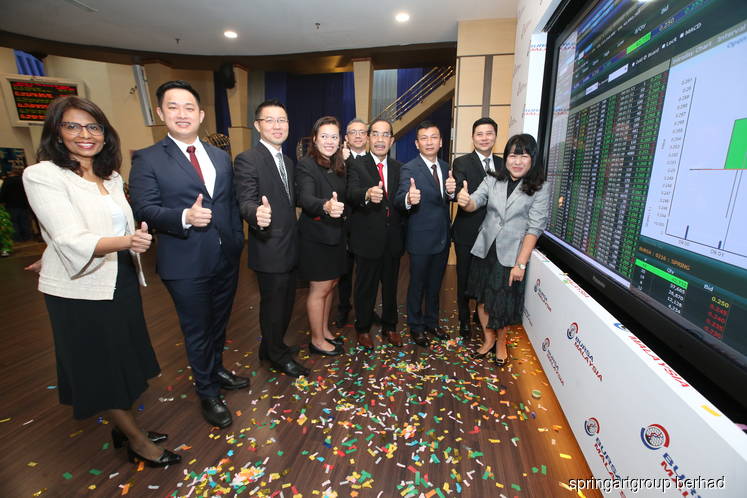 KUALA LUMPUR (Nov 8): Ready-to-assemble furniture products designer and manufacturer, Spring Art Holdings Bhd has made its debut on Bursa Malaysia's ACE Market at 25 sen, unchanged from its issue price.
At 9am, there were 15.56 million shares traded. At 12:30pm, Spring Art's share price settled unchanged at 25 sen.
Managing director, Jack Lim said the company raised RM24.42 million from the listing exercise, of which, it would allocate RM17.55 million to acquire high-performance machinery such as computer numerical control (CNC) panel saw machines, edge banding machines and CNC woodworking machines from Italy and Germany and to set up two additional production lines in its Factory C.
"We need to expand our production output to tap into the growing demand for our products whereby the Factory C, which is expected to start in July 2022, will increase the company's annual capacity to a combined manufacturing capacity of about 674,000 units per annum.
"The factory will enable us to expand the range and production of furniture for the office, bedroom and living room for export to North America and Europe and also existing customers," he told a press conference after the listing today.
As of Sept 17, Spring Art's total annual production capacity is 337,016 units.
He said due to the ongoing US-China trade war, Lim said the company would step up efforts to get a bigger share of North American and European markets due to the growing demand for Malaysian furniture.
Malaysian furniture companies according to him, has been the big beneficiary of trade diversion as a result of the trade war and are sought after given the higher quality control processes.
"To increase our presence in North America and European markets, we intend to attend fairs held in these regions.
These activities are crucial to raise the awareness of our products and to better understand the current market trends and developments in these regions," he added.