This article first appeared in The Edge Financial Daily, on July 8, 2019.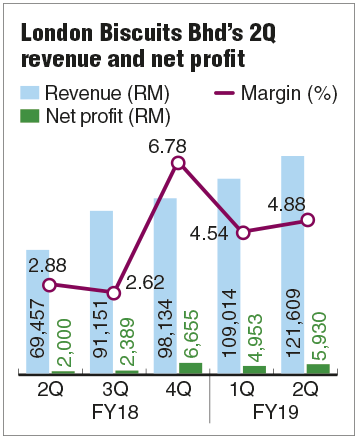 KUALA LUMPUR: London Biscuits Bhd gained some attention last week when it announced a series of board resignations — as well as the departure of its chief financial officer (CFO) — just as the group defaulted on a bank payment.
Last Wednesday, the group said its executive director Datuk Ranjeet Singh Sidhu and CFO Edmund Loo Seng Kit had voluntarily resigned, after just two weeks in office.
Its independent and non-executive director Leslie Looi Meng also quit, citing professional work commitments, after 14 years with the group. He also gave up the same role in London Biscuits' 20%-owned listed associate, Khee San Bhd.
The announcement came on the same day the confectionery maker said it had defaulted on its RM9.83 million debt to Bank of Nova Scotia Bhd.
Two days later, chairman Datuk Seri Liew Kuek Hin — who controls 21.73% of the group via private unit Meileelanusa Sdn Bhd — tendered his resignation due to health reasons. The 80-year-old Kuek Hin had led the group for the past 26 years.
Following the recent chain of events, the counter closed the week at a record low of 28 sen.
Interestingly, London Biscuits said it defaulted on the debt because of "cash flow constraint". Its external auditor Nexia SSY pointed to similar concerns in February, among others, in its qualified opinion on the group's financial statements for the financial year ended Sept 30, 2018 (FY18).
Nevertheless, London Biscuits has managed to conduct a private placement involving up to 45.46 million new shares that represent about 15% of its enlarged share capital.
To date, it has placed 34.3 million shares or a little over 10% of its proposed enlarged shareholding at between 30 sen and 34.5 sen apiece, raising RM11.1 million for the group.
Still, investors should take note of Nexia's qualified opinion for London Biscuits' FY18 financial statements, in which it was unable to confirm the company's inventories of RM26.89 million at end-FY18.
The auditor also pointed to London Biscuits' dealings with Secret Ingredients Sdn Bhd (SISB), which is solely responsible for the preparation of premix used in London Biscuits' production line.
"The operational working arrangement is to protect the know-how of the manufacturing formulae and ingredients of the group's products," London Biscuits said in a note in its FY18 financial statements.
Because of this arrangement, its dealings with SISB were treated as related-party transactions (RPTs) but no disclosure of the RPTs was provided "due to the non-existence of a legal nexus" to classify SISB as a related party, it said.
The group also recorded acquisitions of plant and machinery totalling RM52.467 million in FY18, which Nexia said it was unable to obtain sufficient appropriate audit evidence for.
"The company has provided an external valuation report for the group's major plant and machinery from a professional valuer," commented the auditor.
"Be that as it may, we are unable to determine whether adjustments are necessary to restate the value of the plant and machinery," it added.
In response, London Biscuits said in its FY18 financial statements that it appointed external auditor Messrs PKF on March 27, to assess the red flags raised by Nexia, within an expected three-month period.
Recall that the group changed its financial year end to Sept 30, 2017 from June 30. It was cash flow negative in FY18, when it recorded a net profit of RM13.9 million on a revenue of RM326.36 million.
It was also cash flow negative in the first half of FY19 (1HFY19), despite net profit having more than doubled to RM10.87 million from RM4.85 million a year ago on higher sales, while revenue jumped 68.25% to RM230.62 million from RM137.07 million.
In these six months, London Biscuits' cash equivalents fell by over 50% to RM8.84 million, from RM19.71 million at the start of FY19. It was RM67.82 million at end-September 2017.
Save for last month's price jump amid Ranjeet and Loo's appointments, shares in London Biscuits have been sliding since March.
Similarly, the shares in its 20%-associate Khee San have also been on the decline, as margin pressure in the latest quarters offset an impressive revenue growth. From a high of 66.5 sen on March 19, the counter retreated to a record low of 28.5 sen on June 17.
In FY18, Khee San posted a net profit of RM5.5 million on RM193.9 million revenue. In 1HFY19, it recorded a net profit of RM1.2 million, with a revenue of RM78.58 million.
Meanwhile, the departure of Ranjeet and Loo has once again left their two roles vacant. The operational aspects of these positions were previously managed by group chief executive officer Datuk Seri Liew Yew Chung — Kuek Hin's son — before Ranjeet and Loo were brought in.
Both are from Vascory Bhd, where Ranjeet is managing director and Loo the chief investment and finance director. Vascory is primarily involved in the business of leisure and hospitality, real estate and development, and credit strategies.
So will London Biscuits fill the positions left by Ranjeet or Loo again, or is it going to be business as usual, with Yew Chung shouldering the responsibilities again?