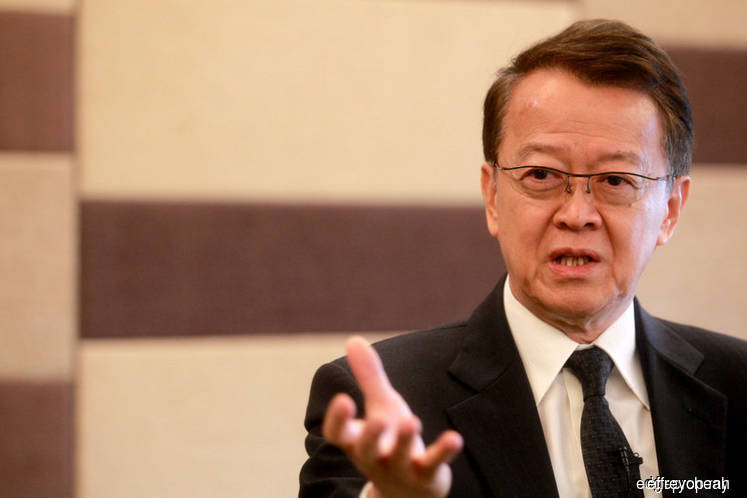 KUALA LUMPUR (June 20): Sports Direct MST Sdn Bhd clinched the UK-Malaysia Business of the Year title at the Business Excellence Awards organised by the British Malaysian Chamber of Commerce (BMCC) today.
The award recognises a British company investing in Malaysia or a Malaysian company investing in the UK, having displayed a stellar track record of investment in each other's country by building on its successful local business and bringing mutual economic benefits to both nations.
Sunway Group Bhd founder and chairman Dr Tan Sri Jeffrey Cheah was named the UK-Malaysia Business Personality of the Year, for his outstanding contributions to bi-lateral trade and business between Malaysia and the UK.
Held for the second year, the 2019 edition of the BMCC Business Excellence Awards took place at the St Regis Hotel. It seeks to offer a heightened standard of recognition to companies and individuals who have excelled and progressed the business landscape of UK and Malaysia.
Finance Minister Lim Guan Eng, Deputy Minister of International Trade and Industry Ong Kian Ming, British High Commissioner to Malaysia Charles Hay and BMCC chairman Andrew Sill graced the event.
Another winner was Sunway Medical Centre which bagged the Outstanding UK-Malaysia Partnership Award for successfully partnering with a UK counterpart.
PwC Malaysia won the Diversity and Inclusion Award, having proven its strong commitment to developing an inclusive workforce and establishing effective strategies, policies and programs to drive diversity.
Capital DK emerged a winner under the Innovation category, while the Social Enterprise of the Year award, a new category introduced this year, was claimed by Teach For Malaysia.
The sponsors for yesterday's event included The Edge, Hong Kong and Shanghai Banking Corp Malaysia, Sunway Medical Centre, Henry Goh & Co Sdn Bhd, EcoWorld International Bhd, Petrofac Malaysia Ltd, Tesco Stores Malaysia, DDGI Ltd and CIMA SE Asia while acknowledging its partnerships with the University of Nottingham Malaysia Campus, Royal Selangor, British Airways, Malaysia Airlines Bhd, Triumph, MINI Malaysia and The Legian Bali.
In his speech, HSBC Malaysia chief executive officer Stuart Milne said the BMCC Awards are a celebration of everything that is great about UK-Malaysia collaboration and also encouraging the development of increasingly robust ties between our two countries.
"The UK and Malaysia have enjoyed a strong and enduring relationship. This has evolved significantly in a rapidly changing global environment. The time is right for both countries to boost the level of engagement.
"The UK is only Malaysia's 19th largest trading partner, so there is much to be done to increase the flow of trade and investments between our two countries," he added.
BMCC's Sill said it was inspiring to see many companies of various backgrounds stepping forward to nominate themselves this year for the awards.
"There was a noticeable increase in quality submission, signifying the level of depth and a positive sense of pride placed into these nominations.
"Collectively, all our nominating companies presented strong cases of synergies, value creation and contribution to the overall economy, doing so by capitalising on the best of UK-Malaysian expertise," Sill added.
The BMCC, established in 1963, sets to advance bilateral trade relations between UK and Malaysia.