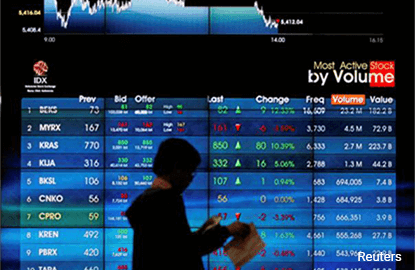 (Feb 17): Singapore stocks closed higher on Friday on strong economic data, while Indonesian stocks fell for a third straight session dragged down by consumer discretionary and financial shares.
Singapore's FTSE Straits Times Index rose for a third straight session, up 0.4%, led by financials after data showed the city-state's economy grew 12.3% in the fourth quarter, beating the government's initial estimate of 9.1%.
The index gained 0.2% on the week.
United Overseas Bank Ltd rose 1.7% to close at a two-month high, despite posting a fall in quarterly profit.
"UOB delivered the best 4Q16 result of its peers, punctuated with what appeared to a proactive 'clean-up' of oil support services sector asset quality," Citi Research said in a note.
Offshore oil-rig builder Keppel Corporation Ltd gained 1.7% to close at its highest since November 2015, while Singapore Technologies Engineering Ltd jumped 6.5% to a near 22-month high.
Indonesian shares fell 0.5% to their lowest in two weeks. The index lost 0.4% on the week.
Astra International Tbk PT, a conglomerate with interests in the automobile sector, fell 2.5% to its lowest since Jan 30,2017. Bank Mandiri (Persero) Tbk PT fell for a third session, down 1.1%.
Philippines shares shed 0.5%, weighed down by industrial and telecom stocks. The index gained 0.1% on the week.
Telecom giant PLDT Inc was the biggest loser on the index, down 2.7%. Conglomerate Aboitiz Equity Ventures Inc shed 1.1%.
Thai shares ended marginally higher, eking out a third session of gains, but ended the week 0.4% lower.
Telecom and consumer discretionary stocks led gains, with Advanced Info Service PCL up 1.2% to close at its highest in six months. PTT Pcl, the country's biggest energy company, gained 0.5%.
SOUTHEAST ASIAN STOCK MARKETS
Change on the day
| | | | |
| --- | --- | --- | --- |
| Market             | Current        | Prev close    | % move |
| Singapore          | 3107.65        | 3096.69       | 0.35 |
| Bangkok            | 1577.84        | 1576.05       | 0.11 |
| Manila             | 7244.79        | 7283.25       | -0.53 |
| Jakarta            | 5350.932       | 5377.998      | -0.50 |
| Kuala Lumpur       | 1707.68        | 1707.59       | 0.01 |
| Ho Chi Minh        | 707.83         | 709.35        | -0.21 |
Change this year
| | | | |
| --- | --- | --- | --- |
| Market             | Current        | End 2016      | % move |
| Singapore          | 3107.65        | 2880.76       | 7.88 |
| Bangkok            | 1577.84        | 1542.94       | 2.26 |
| Manila             | 7244.79        | 6840.64       | 5.90 |
| Jakarta            | 5350.932       | 5296.711      | 1.02 |
| Kuala Lumpur       | 1707.68        | 1641.73       | 4.02 |
| Ho Chi Minh        | 707.83         | 664.87        | 6.46 |