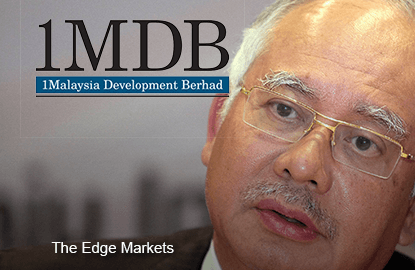 KUALA LUMPUR (July 9): Two accounts belonging to Prime Minister Datuk Seri Najib Razak at AmBank Islamic had already been closed before The Wall Street Journal alleged in its report last week that billions of ringgit were transferred to his accounts from state investment fund 1Malaysia Development Bhd (1MDB), said the Special Task Force, confirming that the premier had two accounts there. 
"Regarding the freeze orders issued on July 6, 2015 against six bank accounts, no bank accounts at AmBank Islamic held by the Prime Minister on that date were frozen because the bank accounts had already been closed on 30 August 2013 and 9 March 2015 respectively. The Special Task Force has obtained bank documents related to these accounts," said the Special Task Force in a joint statement today.
The Special Task Force, comprising the Malaysian Anti-Corruption Commission (MACC), Bank Negara Malaysia (BNM), the Royal Malaysian Police (PDRM), and the Attorney-General's Chambers (AGC), also confirmed that it had raided 1MDB's office at Menara IMC in Kuala Lumpur yesterday at 9.40am.
It said the search of the premises was completed at 6.45pm and that the Attorney-General (A-G), Tan Sri Abdul Gani Patail, had informed that it had obtained the materials required for its investigation, including minutes of meeting of 1MDB's board of directors, the Minute Book, bank statements and other bank details, reconciliation statements, ledger books, agreements of business and investment dealings, and files on 1MDB's corporate social responsibility activities.
The team also seized several notebook computers, it added.
Abdul Gani also stressed that he will be using the investigation documents furnished by the Special Task Force and will not be using any documents published in The Wall Street Journal (WSJ) or elsewhere, it noted.
WSJ had alleged last week that US$700 million (RM2.67 billion) was moved among government agencies, banks and entities linked to 1MDB, before ending up in Najib's personal accounts in five separate deposits.
Najib had refuted the allegations and claimed it was a political ploy engineered by his opponents. WSJ had, however, insisted that their expose was based on solid documentation.
The US-based financial paper, however, stood by its report and on Tuesday (July 7) published online the documents it had used in its report.
Following its allegations, the special task force was established to probe the alleged movement of funds into Najib's accounts.
It then issued a freeze order on Monday for six bank accounts "of the parties suspected to be involved in the case".