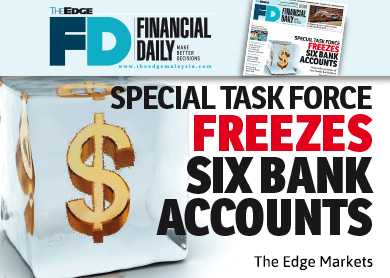 KUALA LUMPUR: The special task force investigating the alleged transfer of billions of ringgit into the personal accounts of Prime Minister Datuk Seri Najib Razak has frozen six bank accounts in its probe so far.
Attorney-General Tan Sri Abdul Gani Patail, Bank Negara Malaysia (BNM) governor Tan Sri Dr Zeti Akhtar Aziz, Inspector-General of Police Tan Sri Khalid Abu Bakar and Malaysian Anti-Corruption Commission chief commissioner Tan Sri Abu Kassim Mohamed said in a joint statement yesterday that the task force also seized documents linked to 17 bank accounts at two banks for further investigation.
"The order to freeze the six accounts was made on Monday," the statement read.
 The task force said the freeze and seizures were related to non-compliance of BNM's rules by the said banks.
The statement, however, did not name the banks or whether any of the frozen accounts belonged to Najib.
"Investigations are ongoing. The special task force urges all parties to give their full cooperation in order to complete the investigations," the statement read.
This follows a report by The Wall Street Journal (WSJ) alleging that US$700 million (RM2.67 billion) from companies linked with 1Malaysia Development Bhd was deposited into Najib's personal bank accounts.
Four days ago, Abdul Gani said the task force was going through documents taken from the premises of SRC International Sdn Bhd, Gandingan Mentari Sdn Bhd and Ihsan Perdana Sdn Bhd.
The three companies were also named by the WSJ in its report.
"After reviewing and analysing the documents retrieved during the raids, I have advised the task force on the next course of action," Abdul Gani was quoted as saying.
He added that the investigations would be focused on all aspects raised.
Najib refuted the allegation and said it was a political ploy engineered by his opponents, including former prime minister Tun Dr Mahathir Mohamad.
The New York-based publication insisted that its investigation was based on solid documentation. — The Malaysian Insider
This article first appeared in The Edge Financial Daily, on July 8, 2015.