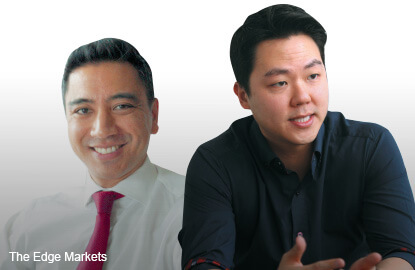 This article first appeared in
Special Report, The Edge Malaysia Weekly
, on August 29 - September 4, 2016.
LAST year, Malaysia earned the unfortunate accolade as the fattest country in Asia. This came about after the National Health and Morbidity 2015 Survey found that obese and overweight Malaysians make up 17.7% and 30% of the population respectively. 
This means that half the country's population is either overweight or obese, and it is a concern on many levels. First, health risks such as coronary heart disease, stroke, high blood pressure and diabetes are linked to excess weight. An obesity epidemic also has wider repercussions as there is a negative economic impact on the long-term outlook of a country.
The US, another fat nation where two-thirds of its population is classified as obese, has long been researching the cost of expanding waistlines. Studies have found that there will be a rise in medical, productivity, transport and human capital costs if preventive measures are not able to battle the bulge.
Finally, there is a social stigma attached to being overweight and this is believed to be as damaging to a person as the physical diseases and conditions that often accompany excess weight.
Physical activity is often the recommendation, in addition to healthy eating, when addressing the issue of excess weight. Fortunately, the cost of working out in Malaysia has decreased as more fitness studios and exercise programmes enter the market. 
KFit, a local start-up, is changing the fitness industry by making physical activities more accessible and more "sticky". Its members benefit from cheap and convenient health and wellness sessions which they can participate in with their friends. 
"KFit makes living an active lifestyle easy, affordable, social and fun for everyone. In the bigger picture, this contributes towards creating healthier cities," says Joel Neoh.
Neoh made a name for himself as one of Asia's better-known young entrepreneurs when he founded GroupsMore, which became Groupon Malaysia in 2010, and a number of other successful start-ups.
Meanwhile, access to healthcare has also improved in the country, thanks to its two-tier system — private healthcare that caters to both citizens and foreign nationals and the government-operated healthcare system specifically for citizens. 
Global pharmaceutical companies that provide high-quality medicine and vaccines to those who need them to live healthier and more productive lives also play a part in this industry. 
"Healthcare is an important investment for economic growth. By supplying vaccines at a reasonable price, we are able to contribute to the health and economic aspects of a country. This makes us extremely proud and continues to be the motivation for us to help drive good health in Malaysia," says Ramil Burden, vice-president and general manager of GlaxoSmithKline (GSK) Malaysia and Brunei. 
Prior to joining GSK, Burden spent 10 years in government relations in the UK, including two years as trade and policy adviser to then prime minister Tony Blair. 
Here, Burden and Neoh describe how their companies are contributing to the healthcare sector, Malaysians and the economy as well as their plans for the future. 
Long-term partner in healthcare
Pharmaceutical giant GSK incorporated a company in Malaysia a year after independence. Since then, it has contributed to the nation by growing its operations, building its talent pool and giving back to the community. 
"GSK has been in Malaysia for more than 40 years and we have built a significant business with over 1,000 employees here. We have a manufacturing plant, a consumer business and a pharmaceutical business here. I think our presence, medication, vaccines, over-the-counter healthcare products and support have integrated us into the community," says Burden.
"Improved healthcare allows us to work and earn a living. By contributing to the industry, I believe that we have contributed to a higher quality of life in Malaysia." 
In the past, a new medical product launched in the US would take about 10 years before it arrives in Malaysia. But today, new medical products or vaccines developed by GSK are launched simultaneously in different markets. 
"GSK looks to reduce the time it takes to bring products launched in the West to the East. Our latest HIV medication was launched two years ago in the US and launched a year later in Malaysia," says Burden. 
"Our latest medication for lung disease, primarily related to smoking, known as chronic obstructive pulmonary disease (COPD), was launched across the world almost simultaneously. This is our new way of working." 
He adds that the company will continue to improve access to medication and vaccines in Malaysia. "We are looking to do so by reducing the cost of medication and vaccines by as much as possible."
GSK currently tops the Access to Medicine Index, which independently ranks pharmaceutical companies' efforts to improve access to medicine in developing countries. The index is published every two years and funded by the Bill & Melinda Gates Foundation. 
GSK also picked Malaysia for its Asia-Pacific business support centre. "The business support centre here supports our Asia-Pacific IT and financial operations. With this structure in place, we are able to develop, move, import and export talent," says Burden. 
"Malaysia is also a competitive environment and is cost competitive when compared with Singapore. By employing and developing highly educated and skilled local talent, we believe we are contributing back to society." 
A talent development initiative called the Future Leaders Programme was started two years ago. Its objective is to groom young employees to take on more senior roles in the company, says Burden. 
"There are now about 20 to 25 future leaders in this programme and we aim to develop them as well as our other employees holistically. The development programme is based on a 70:20:10 ratio, where 70% of an employee's learning is on the job, 20% is through informal ways of learning such as coaching or mentoring, and 10% is through formal, classroom-based training, for example, if they decide to pursue a Master of Business Administration," he adds.
"We hope this approach and our Future Leaders Programme will enable us to export Malaysian talent to our foreign offices. Right now, one of our Malaysian colleagues has been sent to London to work on a project dealing with HIV. We hope to expose all our local talent to the rest of the world." 
Moving forward, Burden is looking at ways GSK can give more to society by partnering other healthcare organisations. "Perhaps we can share our expertise and time. We are already doing this in other markets and hope to do so in Malaysia in the next six months," he says. 
"We also want our employees to contribute to society more, as individuals as well as part of the organisation. This way, our employees will experience the company's mission of improving healthcare in a society." 
Making physical activity a part of life
Fitness-sharing platform KFit seamlessly connects consumers with fitness businesses by offering subscribers a simple monthly membership that opens doors to a wide variety of classes and activities. Founded by Neoh in 2015 and based in Malaysia, KFit is making its mark as a start-up to watch as it reaches out to more customers across 10 cities in eight countries. 
Neoh is among Asia's best-known young entrepreneurs, having founded and co-founded a number of successful start-ups, including Says.com, which merged with Catcha Media in 2013. He was the inaugural winner of The Firm, Malaysia's version of The Apprentice, in 2007. 
KFit has attracted funding from high-profile investors, such as Sequoia Capital, Susquehanna International Venturra Capital, Axiata Digital Innovation and 500 Start-ups, and is currently expanding its offerings from fitness studios and gyms to spas, beauty salons and restaurants. 
"By democratising technology, we can assist local businesses in reaching out to new customers and promote physical activity by allowing customers to try different exercise classes or fitness studios. Our subscribers are digitally connected people who live an active lifestyle. They want choices and they are cost-competitive. Meanwhile, our fitness providers want the chance to connect with new customers to fill up their unused class slots or to utilise their equipment during off-peak hours," says Neoh.
"There is a lot of good sport infrastructure already here, but a lot is underutilised. Only 3% to 4% of Malaysia's urban population regularly goes to a fitness centre and KFit will appeal to them as it allows them to try something new. 
"It also appeals to those who do not have a fitness membership. KFit lets you enjoy a wide variety of classes and activities. We have found that fitness tends to be a social activity, especially among our female subscribers. KFit allows them to try new things together and this makes exercising more 'sticky'. 
At first, the company signed up as many fitness outlets as possible. Then, it started filling the gap in service providers as requested by customers. It was an untested business model so Neoh did not know what to expect when it was launched.
"I knew that the industry had not evolved much from the customer's perspective. Since the time I started exercising in my late teens until KFit started operations, customers still had to subscribe to a yearly membership. So, there was this opportunity in the industry. But as a new start-up in this space, I did not know what to expect. In fact, I did not even know whether a single person would subscribe," he says.
But demand has been robust and the company's execution phase has been rapid. Under Neoh's leadership, KFit quickly expanded across Asia-Pacific into cities such as Seoul, Taipei, Manila, Auckland and Perth. By the end of last year, it had partnered with about 5,000 fitness studios and gyms in the region. 
"As a start-up, things never go as planned because circumstances and assumptions can change so quickly," says Neoh.
Now, he is looking at doing more with KFit and recently started offering access to spas, beauty salons and restaurants. "We want to be a holistic wellness platform. In the future, physical activity will be part of a lifestyle. The distinction between gym-going and non-gym-going folks will be blurred. People will be going to the gym between appointments," he says.
"I want KFit to evolve to fit the needs of our customers. So, the scope has been extended to include beauty spas, salons and restaurants. The back engine — the platform — is still the same and the overall objective of connecting customers to businesses remains." 
KFit's headquarters in Bangsar South, Kuala Lumpur, currently employs over 200 young adults whose average age is 27. "We have employees from 20 countries. This was a deliberate move from the get-go as we want diversity in ideas and thinking. Now, when we are problem-solving, we have at least 15 different ideas on what can be done as people share the different approaches taken in their country. As a result, we can work towards a platform that caters for international best practices," says Neoh. — By Elaine Boey