This article first appeared in The Edge Malaysia Weekly, on January 6, 2020 - January 12, 2020.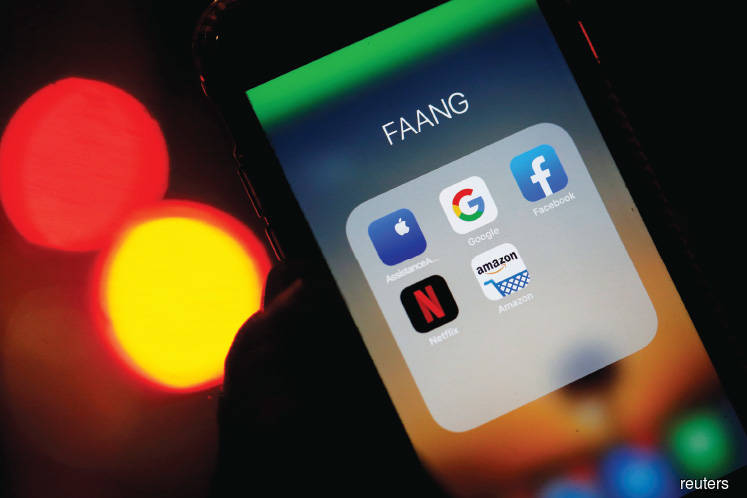 Detractors have dubbed the top five as unregulated monopolies
AT the beginning of the just-ended decade, for the most part, technology was seen as a force for good. Ten years on, platforms such as Google and Facebook are being mocked for their callousness on data privacy and the spread of misinformation. The New York Times described the 2010s as "the decade tech lost its way". Ironically, the decade had begun with the "Arab Spring" and social media was hailed as an enabler of democracy and freedom of expression. As the curtain fell on tech's "decade horribilis", there is again hope that it might yet deliver on its promise.
Here are some of the things that are likely to define the next 10 years in tech.
Regulation
Around the world, regulators are taking a hard look at the business practices of Big Tech firms such as social media supremo Facebook, iPhone-maker Apple, e-commerce powerhouse Amazon.com, software behemoth Microsoft and search giant Google's owner Alphabet, or the so-called FAAMA. (An older acronym FAANG, which included streaming giant Netflix, is now seen as outdated as Walt Disney, Apple and Amazon have been chipping away at its lead). Tech's Big Five now have a combined market capitalisation of over US$5.04 trillion. Over the past decade, the total market value of the five has risen sevenfold. Yet, tech honchos were not busy popping champagne corks this past holiday season to celebrate how much value they have created. Tech giants are in the crosshairs for sucking everything into their vortex, abusing their powers, collecting too much information about us without our approval and then monetising our data to boost their already hefty bottom lines.
Detractors have dubbed the top five as unregulated monopolies. Google has a near-monopoly on search-based advertising. With its control of Instagram and WhatsApp, Facebook is the dominant social media platform accused of spreading disinformation, weaponising racial hatred, using voter suppression tactics and is increasingly seen as a threat to democracy. It is not just left wing US presidential candidates who want Google and Facebook on a tighter leash. The US Federal Trade Commission (FTC), Department of Justice, several US states as well as congressional committees have initiated inquiries into their anti-competitive behaviour. Moreover, the European Union has imposed US$7 billion in fines on Google over the past four years and more penalties are likely.
Google and Facebook algorithms have destroyed the media industry by soaking up a huge portion of global advertising with their hammerlock on the market through programmatic ads. Amazon has disrupted retail, cloud services and logistics, yet still thrives on selling unsafe products on its platform while using its near-monopolistic power to strong-arm competitors and suppliers. FTC is looking into Facebook's acquisition of Instagram and WhatsApp and there have also been calls to break up Google, which acquired YouTube for a song a decade ago.
Breaking up the tech giants will not be easy. It could take up to a decade, perhaps longer, to level the playing field, even if there was political will. Action is needed because the tech giants continue to stifle competition and innovation. If we want to see the sort of value creation in tech over the next decade that we saw over the last, regulators need to put their foot down and create an environment where a thousand unicorns, or private tech firms valued over a billion dollars, bloom. It would be wise not to bet against big tech. While it is possible that one or two tech giants might falter, or indeed break up, the rest will become even bigger and more powerful.
Splinternet
Despite the recent trade truce between Washington and Beijing, the ongoing US-China cold war and the battle for tech supremacy will eventually lead to two separate technologies — one dominated by China and the other by companies in the Western world. Unfortunately, the rest of the world will have a stark choice: Back one or the other. Will Asians use Google's Android and Apple's iOS or the new mobile operating system that Huawei is working on? Will Malaysians, Singaporeans and Indonesians search on Google or on Baidu, or use WeChat's search engine? Will they order goods from one of Alibaba's platform companies or Amazon? Will they listen to music on Spotify, Apple Music or switch to Tencent Music? Will they use ApplePay, Google Pay or Alibaba's Alipay or Tencent's WeChat Pay? Will they use Microsoft Windows or Apple's MacOS or a Chinese operating system to run their PCs? Will they tweet on Twitter or Sina Weibo, watch videos on YouTube or Youku Tudou?
Washington also wants to prevent Chinese firms from buying US-sourced technology components, investing in US tech firms as well as exporting its tech products to the US. Beijing is not taking it lying down. It recently launched a US$20 billion fund to support Chinese independence in a range of manufacturing technologies to complement another US$20 billion fund to boost development in semiconductors. China's decision to consciously decouple from American technology, building separate domestic manufacturing capacity for components it previously imported and securing its own supply chains only reinforces tech's balkanisation, which in turn could lead to derating of global tech giants. China's tech ecosystem would look like a beautiful bonsai to investors, confined mostly within its borders. The Alibabas and Tencents of the world will be derated, as will many American tech firms that can sell almost everywhere except in the world's second-largest market.
The rise and rise of surveillance
Like it or not, you are being watched and all sorts of data about you is being gathered through your smartphone, watch, tablet, desktop browsing, car, shopping habits, travels, financial transactions as well as visits to the doctor, restaurants and theatres. Every time you walk into a mall, office building, train station, airport, school or hospital, or walk on a pavement downtown, your image is being recorded. Soon you would be able to board a plane or train or watch a movie in a cinema or a soccer match in a stadium without a physical ticket because cameras will recognise that you have already paid for your ticket since your image, itinerary and payment data is already stored somewhere in the cloud.
Shops would have your entire credit history and whether you can afford the product you are browsing; they will treat you differently from another less-credit-worthy customer. It is spooky and it will get worse even in some of the most liberal countries that pride themselves in protecting privacy. The debate around surveillance and privacy will only get louder over the next 10 years but we are too far along in the surveillance economy to turn back.
In the final years of the just-ended decade, among the big tech themes were artificial intelligence, machine learning and deep learning, digital payments, blockchain and the cloud-based subscription economy, particularly within the software and services space, though it has been spreading to hardware. Ten years from now, few of us will still have our own smartphones or cars. We will just take out a subscription to a car or phone service that gives us access to the hardware. We are likely to see more traction on AI and digital payments in the new decade but do not bet against incumbents such as the big banks. JP Morgan, which pooh-poohed bitcoin two years ago, is working on its own stable coin, JPM Coin.
At end-2019, there were over 410 unicorns worldwide. New crops of unicorns will come not just from firms in blockchain, AI or payments but also from firms in 5G-enabled Internet of Things such as driverless cars and remote robotic surgery. Emerging unicorns might also include pioneers in quantum computing, which use supercomputers equipped with advanced processing powers as well as edge computing, which enables connected devices like driverless cars to process data closer to where it is created — or the "edge". Essentially, edge computing will provide driverless cars with an alternative to sending data to a far-away remote server or a centralised "cloud" for processing. As edge computing gets traction, driverless cars will become a reality sooner than we expect.
The recent implosion of co-working unicorn WeWork will likely have far-reaching consequences for who gets funded and how long unicorns can stay private in the new decade. Valued at over US$49 billion by its venture capital investors, WeWork sought a listing in October at a valuation of between US$75 billion and US$100 billion. By the time investors read through its pre-IPO prospectus, or S1 filing, they were looking at a firm that was just weeks away from bankruptcy. It was bailed out by its largest investor, Japan's SoftBank Group, and is currently valued at just over US$7.5 billion.
The lesson we learnt from the WeWork saga is that public markets are far better in separating the wheat from the chaff than a handful of VCs in the private markets. SoftBank founder Masayoshi Son became the world's richest person at the height of the 2000 tech boom by overpaying for tech start-ups. When the bubble burst, Son, whose net worth declined 95% in the aftermath, spent the next decade nursing his wounds until he struck gold with a US$20 million investment in Chinese e-commerce pioneer Alibaba Group Holding, which turned into US$120 billion, or a 6,000-fold gain. In the aftermath of the WeWork debacle, it might take Son more than just a decade to get his mojo back.
We are also likely to see a bigger push towards the democratisation of investing, or enabling more investors to partake in the next tech boom. That means free online stock trading for everyone, even if you are not selling your data to the brokerage in return. It also means trading in fractional shares so you can just invest US$100 in ­Amazon.com without worrying about the fact that you have to fork out US$1,880 for just one share. Regulators should not prevent you from buying what you want or when you want. Another trend that will catch on in the new decade is direct listings. More firms such as Spotify, Slack and Airbnb will choose to list directly instead of taking the traditional IPO route.  A direct listing is not just a cheaper IPO alternative and not just for firms that do not want to raise new money. It can also be used by firms that are raising money as part of the listing process.
After the nightmare of the just-ended decade, tech desperately wants to get its act together and deliver on its promise — not just as an agent of change and disruption but also as a force for good.
Assif Shameen is a technology writer based in North America