This article first appeared in The Edge Malaysia Weekly, on October 5, 2020 - October 11, 2020.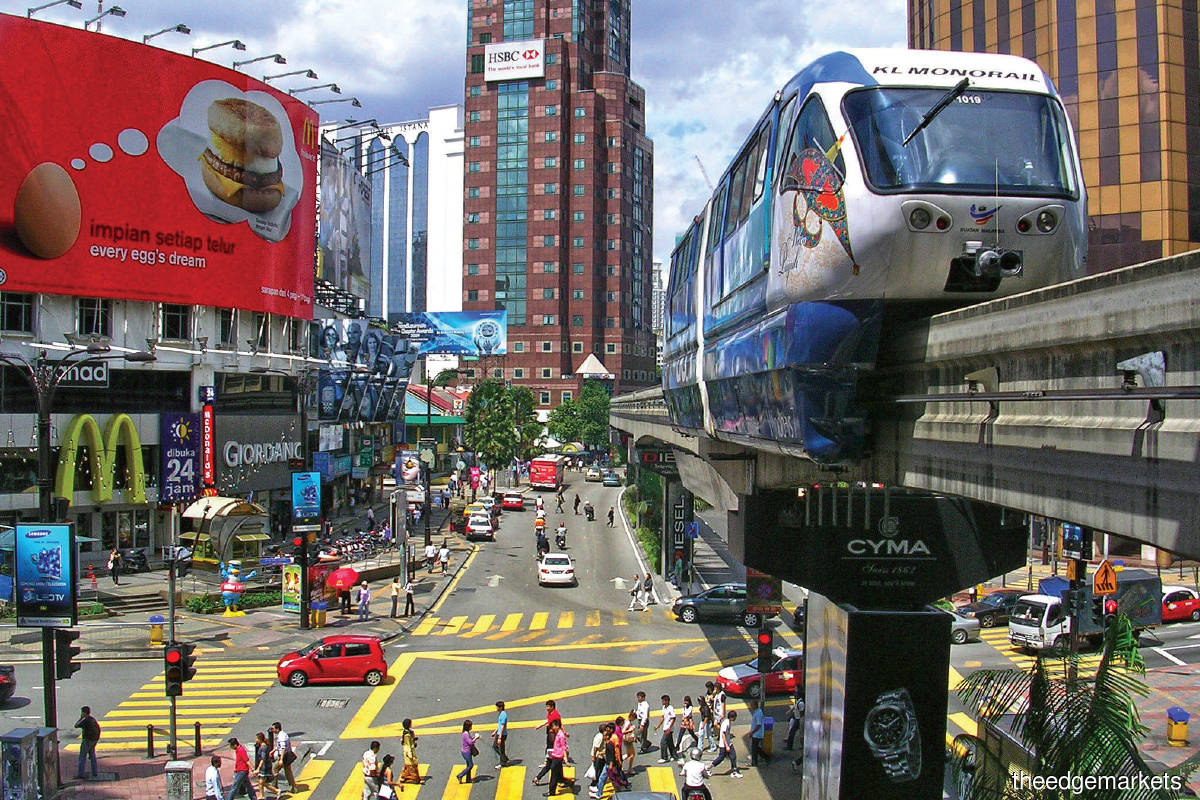 Datuk Seri Mustapa Mohamed, Minister in the Prime Minister's Department (Economy) tasked with readying the country's 12th Malaysia Plan (2021-2025) for a post-Covid-19 shaken world, tells The Edge how different this experience is from when he prepared the 9th Malaysia Plan (2006-2010).
The Edge: You previously worked on the 9th Malaysia Plan (9MP), and now the 12MP. How is it different this time?
Datuk Seri Mustapa Mohamed: Pak Lah (Tun Abdullah Ahmad Badawi) had just become prime minister [back then, during the 9MP]. He came in with a big majority — 198 members of parliament (MPs) on the Barisan Nasional (BN) side and 21 on the Opposition. Politically, after the 2004 election, we had the strongest ever government. So, when it came to parliament, it was a breeze. It was easier to serve and meet the expectations of the rakyat then. That was the political setting [of the 9MP].
Pak Lah had a passion for a number of issues. Agriculture was one of them. He also talked a lot about modal insan (human capital). So, there was quite a lot of focus in his time on agriculture, human capital development as well as education. Now, the political landscape has changed. Now, we need to do a lot more engagement. We have to get buy-in. Back then, it wasn't as tough because strong support for the government was a given. To be frank, in those days, the approach was more top-down. That's point number one.
Point number two. The emphasis back then [during the 9MP] was human capital development and capacity building. Of course, poverty eradication and bumiputera participation in the economy have been on the agenda for over three decades. Digitalisation was not a big agenda 15 years ago.
It is very different now. The 12MP is being prepared against the backdrop of the Covid-19 pandemic. We have to deal with a twin crisis — the health pandemic and a severe economic contraction.
We are now much more connected to the global economy. Malaysia has always been an open trading nation. International trade is valued at about 130% of our gross domestic product. (Note: 130% of GDP is the five-year average.)
When global trade contracted, Malaysia's trade performance was adversely affected. In addition, we have seen a lot of trade tensions in the past three to four years, especially between the US and China. A number of global institutions are now being challenged. We are also facing some geopolitical challenges in the region.
When I came in in March this year [under the present government], the 12MP was almost done. But given the domestic and global economic challenges, I thought we should revisit a number of our assumptions and strategies.
It is for that reason that the 12MP's tabling to parliament was postponed. It was supposed to have been presented to parliament on Aug 6.
You read economics, have a master's degree in economic development and have served as either the minister or deputy minister for key economic and finance-related portfolios, from the Ministry of Finance (MOF) and Ministry of International Trade and Industry (MITI) to the ministries of entrepreneur development, higher education and even agriculture and agro-based industry. Now, as minister in charge of the Economic Planning Unit (EPU) once again, overseeing preparation for a 12MP that befits a post-Covid-19 world, how does your past experience help?
Work experience is vital for success in any profession — and this is true for politics too. It is useful to have worked in many places. I learnt a lot as Tun Daim's (Tun Daim Zainuddin) special officer at the MOF. I first became a cabinet minister in the mid-1990s, when I was appointed minister for entrepreneur development. I later became second finance minister at the height of the East Asian financial crisis.
From 2001 to 2004, I was the executive director (ED) of the National Economic Action Council (NEAC). I then served as higher education minister for two years before moving to [the] agriculture [portfolio]. The portfolio I served for the longest was as minister for MITI, for a period of nine years.
Let me share a small anecdote regarding my time in the MOF. Anwar (Datuk Seri Anwar Ibrahim) was removed as deputy prime minister and finance minister on Sept 2, 1998. Five days later, I was appointed the second finance minister. As a young man, I had always wanted to sit in the MOF chair. My dream came true on Sept 7, 1998. Tun Dr Mahathir [Mohamad] was the first finance minister but the day-to-day running was left to me. Tun Dr Mahathir's approach in dealing with the crisis taught me many lessons.
In the aftermath of the 'black-eye' incident and the Reformasi movement, I, together with a few other ministers and deputy ministers, lost the election in November 1999. I was unemployed for about six weeks. However, the government was kind enough to invite me in February 2000 to become adviser to the MOF. They gave me a small room on the 13th floor of the MOF building. So, I went from being the big man at the MOF to a small fry. That experience taught me a lot about humility and patience.
After serving as adviser to the MOF, I was appointed ED of the NEAC when Tun Daim decided to leave that position in 2002. My office 18 years ago as ED of the NEAC was in the same building we are in now, where the EPU is located.
So, this place is no stranger to me. But the economic and political landscape has changed radically.
When you first saw the 12MP, you thought it was outdated? What needed to be updated?
Not outdated, but many assumptions had to be revisited, such as our macroeconomic framework and the fiscal position. The digital landscape has changed tremendously during Covid-19. I went to the Cabinet and obtained endorsement for the tabling of 12MP to be postponed to early next year. There's no hurry anyway because the 12MP starts in 2021. That has provided us more time, especially to do further engagement with various stakeholders in the government, the ministries, the civil society organisations (CSOs) and the private sector.
We need to take into account the current and post-Covid-19 global economic landscape and its impact on the Malaysian economy — in particular on small and medium enterprises (SMEs), tourism and the digital economy, among others.
The Plan will outline key strategies and initiatives that will serve as guiding principles in navigating Malaysia for the next five years — from 2021 to 2025. The 12MP will establish a clear strategic direction in ensuring inclusive and meaningful socioeconomic development for Malaysia to be a more prosperous nation by 2030, in line with the Shared Prosperity Vision.
You told investors there is a medium-term economic plan coming out [in October]?
In the last six months, the MOF has been working on short and medium-term plans. The Prihatin Rakyat Economic Stimulus Package (Prihatin), National Economic Recovery Plan (Penjana) and KitaPrihatin packages have been very successful in stabilising the economy by providing help to our people and businesses, especially the SMEs. These packages have also been instrumental in laying a strong foundation for Malaysia's economic recovery. In the past three months, the Economic Action Council Secretariat and the EPU have been looking at medium and long-term challenges, and how to address them.
We were supposed to introduce the medium to long-term plan in October. However, we have decided that it is best for Budget 2021 to be announced first. The medium to long-term economic plan will be out in December. This medium-term plan is a result of our engagements with various sectors. We now have a better feel of the changing global and domestic landscape.
Would the medium-term plan be a precursor to the 12MP?
The 12MP will be aligned to Prihatin, Penjana, KitaPrihatin, Budget 2021, and the medium and long-term economic recovery plan. Our economic recovery strategy will address the need to deal with a number of structural issues and challenges. The world will be different post-Covid-19. We need to enhance Malaysia's economic resilience and place ourselves on a more competitive footing.
Take the tourism sector, for example. Some analysts are saying that it will take four years before the sector can fully recover. The tourism and related sub-sectors contribute about 16% to our GDP, and constitute about 24% of Malaysian jobs. The government is now working on strategies to increase the contribution of domestic tourism to the Malaysian economy, which has seen tremendous growth in recent months.
The digital agenda in the government and the private sector needs to be ramped up. There's an urgent need to enhance automation and resolutely deal with foreign labour issues. Rules and regulations which are outdated and have been proved to have hindered progress will be reviewed and scrapped. The public service has to deal with a totally different situation post-Covid-19.
The 12MP has two main components. Firstly, it is about policies and strategies. This is an opportunity to put in place a number of reforms. Secondly, our people will be watching out for how much the government will be spending on development projects. The plan will outline strategies to reduce the development gap between regions, to address poverty and to improve infrastructure.
A lot of the issues were in place in the 9th and even in the 10th and 11th plans. And they're still an issue. What do you think we are not doing right or enough of?
Yes, some of these issues have been around for a long time. Poverty, the bumiputera economic situation, our dependence on foreign labour — they have all been there.
We have to do things differently. Take poverty, for example. According to the 2005 methodology, the poverty rate would have been 0.2% in 2019. Under the 2019 methodology, poverty is now recorded at 5.6%.
A poverty level of 0.2% is totally unrealistic, involving only about 17,000 households throughout the country. But, when you look at poverty in the remote areas of Malaysia or in the PPR (Program Perumahan Rakyat) flats of Kuala Lumpur, the 17,000 number is totally out of sync with what we see on the ground. Under the new definition of poverty, the recorded number is now about 405,000 households.
I was in Sarawak on Malaysia Day and met a senator for coffee. He told me the timber industry used to be the main driver of growth in Sibu, providing many opportunities for entrepreneurs and jobs for many people. Now, this business is not as lucrative. Many sawmills and related activities have either been closed or scaled down.
Tens of thousands of people were involved in this industry, including the Iban folk from the villages. But because of the decline in this industry, they have to look for new opportunities, and some have been pushed into poverty.
In the 1970s and 1980s, land resettlement through FELDA (Federal Land Development Authority) succeeded in reducing poverty. We also had good growth of manufacturing in the Klang Valley and Penang in the 1980s and 1990s, which transformed Malaysia.
Those days, industrialisation absorbed the surplus labour from the rural areas. That has been instrumental in reducing the poverty rate. However, some who migrated to urban and semi-urban areas became poor because real wages were not increasing fast enough. Poverty is not only a rural phenomenon, but also an urban one.
To alleviate poverty, we can either provide direct cash handouts through the welfare department for the very poor, or through income-generating activities such as supporting small businesses. What's important is to help raise productivity and incomes. Real wages have to rise over time, in tandem with the cost of living.
We need to bring in more foreign investment. At present, when we talk about investments in the high tech industry and in modern services, it is typically foreign investments, as local investments are more focused on property and traditional sectors. Moving forward, we want to be more selective on investments — to bring in quality investments that will create quality opportunities for Malaysians. To do that, on the supply side, we have to train our young people to prepare them for jobs of the future. We want them to have the skills necessary to become better paid.
You mentioned recently that the government is targeting for 80% of those who go through this training to get jobs. Why 80% and not 100%?
Employment support has been one of the main pillars in the economic stimulus packages. These include support through the Employment Insurance System (EIS), Prihatin, Wage Subsidy Programme and Employment Retention Programme under Penjana.
The government acknowledges that unemployment, particularly in the era of Covid-19, is a big issue. Unemployment has never been a major problem in Malaysia.
This was one of the reasons why the government introduced the RM1.5 billion hiring incentive programmes to encourage employers to hire youths and job seekers, which is expected to benefit 300,000 people. RM2 billion was also allocated for reskilling and upskilling to benefit 200,000 youths and job seekers.
On reskilling and upskilling, we have to ensure that training providers provide skills which are needed for various industries and are relevant for the jobs of the future. They should also ensure that whatever training provided is aligned to the requirements of the industry. In this connection, the government has set a target that at least 80% of those who have gone through this upskilling and reskilling process must be able to secure employment.
It is unrealistic to target 100% employment for those who have gone through the training. There may occasionally be a mismatch; the employer may find that the training is inadequate, or the job market may not have totally recovered yet. That's why the target was set at 80%. Anything beyond 80% would be a bonus.
I have been informed that almost all 'place and train' programmes conducted by the Human Resources Development Fund (HRDF) have achieved a 100% success rate.
Employment is going to be a big issue in the next six to 12 months. Usually about 300,000 graduates from our universities and colleges will enter the job market annually. The number may be less this year because of Covid-19. You add school leavers to this and the number will be much higher. Therefore, the economy has to grow and the government, especially through MITI and MIDA (Malaysian Investment Development Authority), must be more aggressive. The Ministry of Human Resources and the Ministry Of Entrepreneur Development and Cooperatives will also play a bigger role in reducing job mismatches and in creating jobs and business opportunities. It is a well-known fact that about two-thirds of job seekers are diploma and degree holders, but most jobs available do not require any tertiary education.
You said you expect unemployment to remain at 5%?
I was being modest and conservative [in targeting that figure]. Firstly, the situation is quite dynamic. There is still a lot of uncertainty. And when the moratoriums and the wage subsidies end, there is some expectation that the job market will be more challenging.
It will remain tough for the tourism sector and all related sub-sectors for as long as international borders are closed. The targeted moratorium as well as the extension of wage subsidies will help stabilise the situation. In my view, there are two major factors which will have an impact on the unemployment situation — the state of the global economy and how much longer our international borders will remain closed. For states like Johor and Sabah, the job market will remain challenging for as long as borders are closed.
How would you say Malaysia has fared in terms of economic development in the decade since the 9MP concluded? Did the country do better than you had hoped or expected?
Since the introduction of Wawasan 2020 in 1991, which outlined the strategies for Malaysia to be a developed nation, there have been ups and downs. The country has gone through three major global crises — the East Asian financial crisis, the global financial crisis and, now, Covid-19.
Any economist will tell you, one of the most important factors in the world economy over the past few decades has been the rise of China. China's economic growth was about 9% annually for the two decades until 2019. It has consistently been the fastest-growing country in the world. Last year, Chinese growth was 6% and this year, it is expected to fall to about 1%. China will be an even bigger economy going forward. China's growth trajectory has had a big impact on the world economy and on our own growth performance.
Malaysia's growth was around 5% in the period between 2005 and 2019. Our performance has been modest in the past 15 years, after having grown by almost 10% per annum during the period between 1988 and 1997. In the next 10 years, we forecast growth to be about 4.7% per annum. Strong rates of growth will enable government revenue and job opportunities to grow. Of course, it is not growth per se, but it has to be quality growth and growth with equity.
This is why I think we need to up the ante. We need to go into advanced manufacturing. We need to move up the value chain and attract more quality investments. We need to modernise the service industry. Agriculture has to be transformed — we have to move into modern farming and smart agriculture.
Is it harder for Malaysia because we have the separation between state and federal?
The richer states will have to help the poorer ones. That is the spirit of our Federation and our Constitution. We are a family and we need to share wealth. There has to be quite a lot of give and take between the federal and state governments, as well as among the state governments themselves.
We have huge differences between East and West Malaysia, and between some states in Peninsular Malaysia. Bridging these gaps will be very challenging. We need more financial resources so that every Malaysian can enjoy the fruits of development.
There is also the huge gap between the T20 and B40 income groupings and a large Gini coefficient that we have to bring down.
There is also a need for a paradigm shift in our politics. There has been too much politicking in the past two to three years. We need to pursue the middle road. We need to focus more on addressing economic issues — bread-and-butter issues — and meeting the basic needs of Malaysians. We need political stability and more maturity in our politics. Federal and state relations definitely needs to be overhauled, with an emphasis on sharing and capitalising on synergies.
Some people say one of the reasons Malaysia has been able to attract foreign direct investment is because of the availability of foreign worker resources.
Indeed, that is how some foreign investors look at us. In fact, local investors are also overly dependent on cheap foreign labour. Years ago, we marketed Malaysia as a country where labour is cheap. Not anymore.
Now, Malaysia should be promoted as a country with an educated workforce, excellent infrastructure and a country which is strategically located. We also need to be consistent and predictable in our policies. This last point is important for the business community, both foreign and domestic.
In terms of building the country's competitive advantage, are there any natural advantages we have that other people cannot copy?
Our strategic position (location) in the region is a big plus. We are also excellent in terms of connectivity relative to many countries in the region. Our cultural diversity is also a big plus.
There are many examples of foreign investors leveraging Malaysia's competitive advantage. From Europe, AstraZeneca, the pharmaceutical MNC (multinational corporation), has been using KL as its regional hub. From the US, we have Honeywell's Asia-Pacific Principal Hub, overseeing activities in its aerospace, oil and gas, and manufacturing services. From China, CRRC (China Railway Rolling Stock Corp) — the world's largest rolling stock company's regional technical centre as well as spare parts and refurbishment centre for Asean is based here in KL.
We need to continue to market our multiracial and multilingual strengths. We have done extremely well in dealing with the pandemic. Our excellent healthcare system, provided for by the government and other private facilities, is also a big asset we should market.
Our people are friendly. We provide a good quality of life for expatriates and foreign investors. They love our forests, beaches, food, culture and our people. Expatriates enjoy a good life here. We need to maintain and, indeed, enhance this experience.
Will we be seeing more remote learning and training?
Universities and training institutions have to change or they will perish. There is no choice. We have heard and read the calls for increased internet connectivity and access throughout Malaysia — particularly [for] those residing in rural areas and even in some semi-urban parts of Malaysia. Some universities and training institutions have already begun adapting to this changing environment. The government too has to help in providing more resources to beef up our internet infrastructure and connectivity.
Remote learning and training will have huge implications on many sectors. Work from home has also become the norm for a number of sectors. Going forward, there may be less need for physical infrastructure like big offices and buildings or big lecture halls in the universities.
You have said it will be hard to spend more on the 12MP than what was spent on the 11MP. Can you elaborate on that?
The expectations of every state, every ministry, every MP and every Malaysian are high. Given Covid-19 and the financial constraints, we need to manage expectations. This will be a big challenge in the 12MP.
The Covid-19 pandemic brought about unprecedented challenges to the economy and fiscal management. Taking into account the fall in crude oil prices as well as the increase in expenditure due to the direct fiscal injection in the stimulus packages, the fiscal deficit is expected to increase to about 6% of GDP in 2020.
The federal government debt is now expected to exceed the self-imposed debt limit of 55% of GDP. However, as some of the Covid-19 initiatives are one-off in nature, we expect the deficit to come down next year. Fiscal consolidation will resume once the economy is on a better footing to ensure long-term fiscal sustainability.
The allocation for the 11MP was RM250 billion. For the 12MP, more will be needed, taking into account inflation and our commitment to implement the Shared Prosperity Vision 2030.
Is it realistic to hope for a bigger allocation for the 12MP?
Costs have gone up since 2016 (the first year of the 11MP). There is a lot of refurbishing, repairing and maintenance required for our roads, schools and hospitals. We also need to build new facilities. We have projects which began in 2016 that are still being completed. We also have new projects and programmes in the pipeline. But the government must take into account fiscal challenges in ascertaining the appropriate budget for the 12MP. We hope to strike a good balance.
You've mentioned the need to reform the bumiputera agenda. How is this being done?
It is a very important agenda — the prime minister is chairing a special council set up for this called Majlis Kemakmuran Bumiputera (MKB).
There is a need to improve governance and strengthen service delivery by bumiputera agencies. At the same time, continued emphasis on education and human capital must remain the backbone of bumiputera empowerment. In addition, concerted efforts will be undertaken to increase wealth ownership, as well as ensuring sustainable corporate equity ownership. Bumiputeras also need to be trained to be actively involved in new and strategic sectors.
MKB is aimed at setting the framework and implementation plan for bumiputera socioeconomic empowerment, in the larger context of the Shared Prosperity Vision 2030.
Entrepreneurship will continue to be an important dimension to increase bumiputera participation in the economy. Bumiputera businesses have to be more resilient.
The quality of programmes must be improved so that bumiputeras can compete in the open market. They cannot be over-reliant on the government.
Of course, poverty cuts across all racial lines. We need to help everyone who is poor, irrespective of race — bumiputera, Orang Asli, Indians and Chinese. Poverty eradication is going to be an important agenda in the 12MP.
You're one of the few politicians whom people see as a technocrat. How do you see yourself?
I don't make too many political statements because I know it can sometimes be unproductive. Political statements, of course, have to be made, but my view is that party leaders and those in the political bureau are the most appropriate to make these statements.
That's my philosophy — we leave the political statements to the bosses. I prefer to focus on work at the EPU, to revive the economy post-Covid-19; not too much politicking. Service to the nation and the people is my number one priority. I want to serve, contribute ideas for nation-building.
Yes, I've always been known as that (a technocrat). Having said that, I think we need a good mix — we need politicians and we need technocrats in government. Currently, we have a good mix in the Cabinet. Any government has to draw on the strength of people coming from different backgrounds. In this difficult situation, we need to focus on work, getting things done. We need to be united. We cannot be too combative and get sidetracked from the core business of serving the people and building our beloved country to meet future challenges.
Reduce the politicking, focus on delivery and results. Perhaps my background as a civil servant had a role in shaping my worldview, to focus on the task at hand — that is handling the EPU and related agencies.
As the 12MP is being finalised, what do you hope the people and businesses will think about or contribute towards nation-building?
12MP will be the first phase in implementing the Shared Prosperity Vision 2030. The Plan will therefore be aligned to the three objectives of the Shared Prosperity Vision — development for all, addressing wealth and income disparities, and making Malaysia a united, prosperous and dignified nation.
For that, there has to be reform — very fundamental changes. It cannot just be platitudes. We need courage and political will to undertake these reforms — and God willing, this government will be determined to see it through. All of us, of course, will have to make sacrifices to ensure our long-term sustainability.
Malaysia is a country with great potential. We are intelligent, caring and empathetic people. I have no doubt that all of us can put our heads together to achieve a better and more sustainable future for this country. The pandemic may have exposed some vulnerabilities in our nation's economy. But it has also created many opportunities. Let us seize them and work together for a better Malaysia.