This article first appeared in The Edge Malaysia Weekly, on July 22, 2019 - July 28, 2019.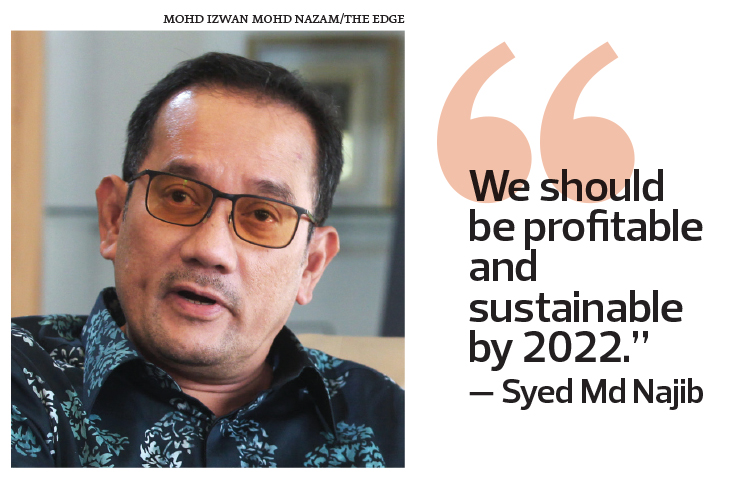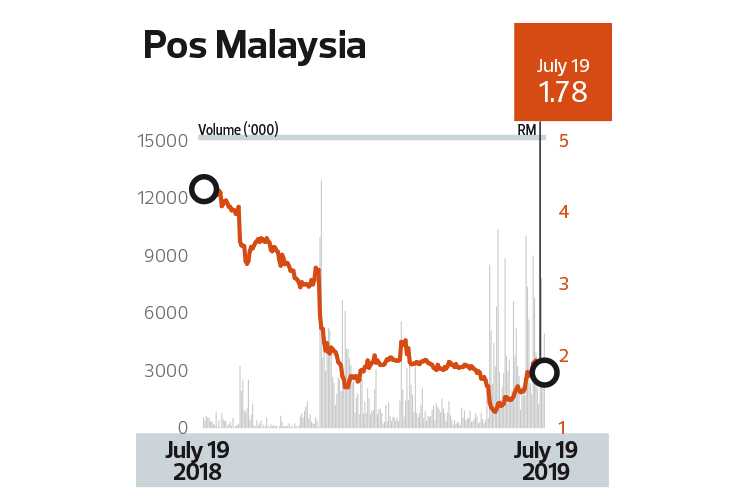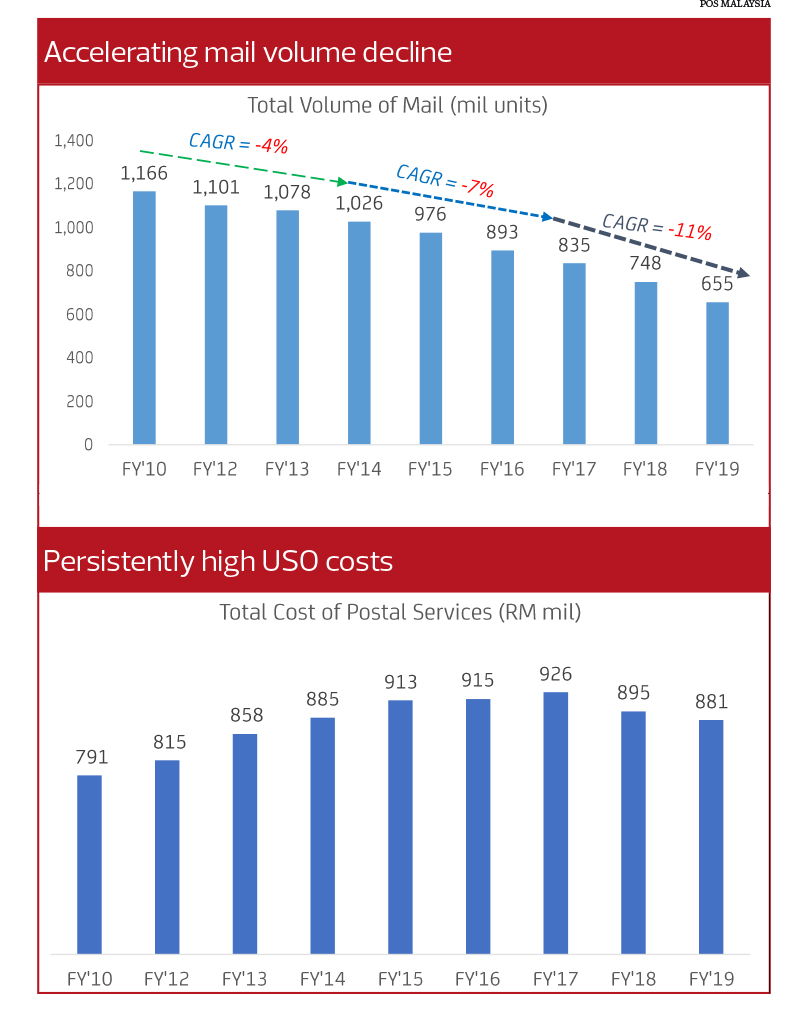 TRANSFORMATION is not a new word for Pos Malaysia Bhd. The current turnaround plan, as the company reels from its first full-year loss in 11 years, will take three years. That is the assessment of group CEO Syed Md Najib Syed Md Noor, who assumed the post in October last year — the third CEO in four years.
Syed Md Najib tells The Edge he does not expect a return to the black in the next two financial years (FY2020 and FY2021) ending March 31.
"By FY2022, we should be profitable and sustainable as a business. We must have sustainable growth to make sense to investors, that is the longer-term [goal]," he says, adding that dividends may continue to flow in the next three years, depending on operating cash flow to retain investor interest.
While all five of Pos Malaysia's business segments declined in FY2019, the key drag was its postal service division, which posted a RM183 million loss on segmental revenue of RM698 million, or 29.6% of the group revenue of RM2.36 billion.
In FY2019, Pos Malaysia slipped RM165.75 million into the red, for its first full-year loss since FY2008, and the worst performance on record, according to Bloomberg data going back to 1999.
Another drag was the plunge in profit at its courier segment, which leverages the same network as the snail mail, owing partly to a one-off RM63 million airplane re-delivery cost. Last year, both segments accounted for about two-thirds, or 65%, of Pos Malaysia's revenue.
In a nutshell, a successful Pos Malaysia turnaround will hinge on tackling two core issues: (i) its high fixed costs due to its universal service obligation (USO); and (ii) bumping up productivity to squeeze more yield out of its assets, including the 23,000-strong workforce.
For perspective, the USO requires Pos Malaysia to maintain and expand its snail mail coverage in tandem with population growth and, consequently, the growing number of postal addresses. Over the past decade, its USO cost had been persistently high and rising, bar the last two financial years. Yet, it remains high as evidenced by its decline to RM881 million last year.
The CEO sees two sides to that coin — that USO-driven presence carries a heavy cost but is also an advantage and opportunity. "But we need to bring efficiency to it [to be more productive]. Over time, if you manage the cost and your volume increases, you will have better margins."
An issue is the postal service tariff, which has remained unchanged at 60 sen per standard 20g mail since 2010, when it was doubled from the previous rate. On the gap between the tariff rate and the actual cost to provide the service, Syed Md Najib says it is difficult to specify an accurate figure given the variety of mail sizes and operational overlap with the courier segment.
"If you look at blended [costs], 30% at least. Some of it is more than double," he says when pressed.
Amid the rising costs and stagnant tariff rate, Pos Malaysia has also been grappling with increasingly faster declines of annual mail volume — a structural issue faced by many postal service providers worldwide.
That said, expectations of a tariff increase in FY2020, helped fuel spurts in Pos Malaysia's share price rebound in recent months. However, the stock remains 59% lower than it was 12 months ago, closing at RM1.78 last Friday for a market capitalisation of RM1.39 billion.
'No magic bullet'
While a postal tariff hike is likely to go a long way to improving Pos Malaysia's finances, it is not the full answer to its woes, according to Syed Md Najib. At present, the company remains in engagement with its regulator, the Malaysian Communications and Multimedia Commission (MCMC) on the matter.
In fact, a tariff hike would be a double-edged sword for Pos Malaysia. On the one hand, its revenue per snail mail delivery would increase. However, a price hike would probably accelerate the overall volume decline, which the CEO acknowledges.
"The tariff rebalancing will address other costs, but it is not the magic bullet. It would help us to recover most of our costs in the mail segment [but] not break even," says Syed Md Najib.
"That is why, if you look at tariff rebalancing, it is good but not sustainable over the long run. We anticipate the worst-case scenario, that the volume will come down even faster [in the event of a tariff hike]."
However, a tariff increase represents a lifeline as Pos Malaysia works on containing its operating costs and increasing its productivity. The CEO declines to say what the ideal tariff rate is from the company's perspective, but would like a revised regulatory regime.
He adds that different countries approach it differently — some countries, such as France, allow for biennial tariff revisions based on the prevailing inflation rate while others adopt a cost-plus approach, essentially regulating the operator's margins.
Some countries impose separate rate structures for individual and commercial mail. Commercial mail refers to business-to-consumer mail, such as telephone, credit card and utility bills as well as other documents.
Over 80% of Pos Malaysia's snail mail volume constitutes commercial mail, Syed Md Najib says. "The options available to the regulators are many, they can do it in many different ways. If you ask me, any one of these mechanisms will work for us so long as our costs are given the right attention.
"Commercial and individual mail should be treated differently because a lot of corporations do charge their customers for mail. The stamp cost over the last decade has not risen but our cost of handling it has."
Squeezing more yield
Alongside tariff rebalancing to address costs, Pos Malaysia is also pursuing a higher yield from its existing network and coverage infrastructure. That entails digitalisation and automation to boost efficiency in order to take on more courier volume, says the CEO.
At the moment, its courier segment capacity is 530,000 parcels a day from two parcel processing centres in Shah Alam and at klia2. That excludes 78 Pos Laju offices nationwide, which double-hat as a front office to receive parcels as well as to act as mini parcel processing centres in the back of the premises.
Today, the segment's daily average is about 500,000 parcels, which the chief describes as Pos Malaysia's "comfort zone". The target is to double that by making the process more efficient by automation.
"Let's say, today, we can bump the volume up from 500,000 to a million parcels a day. Our unit price per parcel will go down and then we become more competitive with a better margin," he says.
"We are not the most efficient at the moment; a lot of automation has not yet been done and it is a lot of work but, once you get that right, then you will unleash more capacity. That is why we are confident that if we achieve this, we will hit one million parcels a day."
But time is not on the company's side. Complaints about Pos Malaysia's delivery service are not new, in spite of its unparalleled nationwide reach, and other couriers have stepped in to fill the gap. Consequently, competition in the segment is now intense.
In FY2019, Pos Malaysia acknowledged in an investor presentation that courier revenue from walk-in customers had declined 12% "as volume shifted to competitors", although this was offset by a 19% increase in e-commerce contract customer volume.
MCMC data shows that as at May this year, there were 113 active courier service licences, although six would have expired on June 30.
"It is very, very competitive but it is still a profitable business," Syed Md Najib acknowledges. "The thing is, the cost [of the network] is already there. The question is how much more volume can we take without increasing the cost substantially."
Pos Malaysia is investing RM100 million in the digitalisation of its core systems, including a new track-and-trace system, in a bid to drive revenue and service quality up while containing costs.
The new core systems are expected to be fully operational by mid-2020, with the peripherals and sub-systems to follow. The data analytics portion will be fully online in two years.
In particular, data analytics will boost Pos Malaysia's ability to manage its resources for the best returns, for example, in terms of manpower distribution and responding to volume growth in different areas.
That will enable the company to position itself for "many different opportunities", including outsourced delivery services for hypermarkets and pharmacies as e-commerce rises further, he adds.
Already, Pos Malaysia is doing deliveries of medication, lab samples and the like for some government hospitals. However, it is not a full-blown service offering just yet, as Pos Malaysia first needs to make sense of the entire segment.
"We have a full-blown set of end-to-end capabilities, the entire supply chain actually. But we need to have all the automation in place first ... before we go in," says Syed Md Najib.