This article first appeared in The Edge Malaysia Weekly, on September 9, 2019 - September 15, 2019.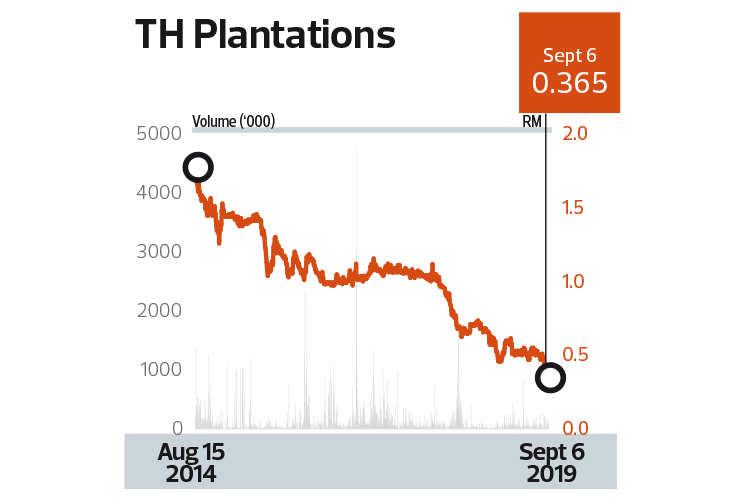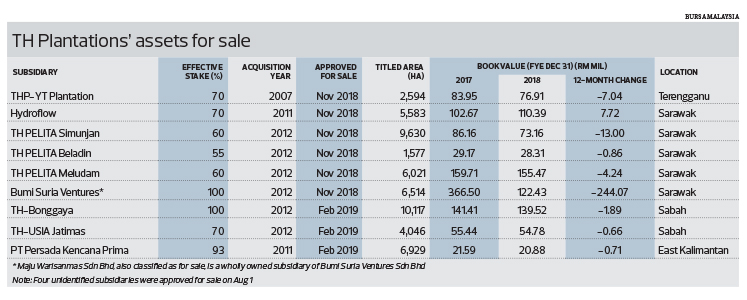 IN 2011, TH Plantations Bhd (THP) embarked on an aggressive expansion drive that nearly tripled its land bank within three years. Eight years later, much of the land acquired is now for sale as THP's bottom line crumbles under the weight of crippling debt.
As at June 30, 2019, THP's board had approved the disposal of over a billion ringgit worth of assets compared with RM30.14 million just 18 months prior, its latest filings show.
Based on THP's latest annual report, these assets collectively account for 53,011ha of land bank. THP's total titled area currently spans 101,019ha.
That said, only seven subsidiaries worth RM799.5 million — approved for disposal on Nov 26, 2018 — have been reclassified as assets held for sale on its balance sheet (see table). Another three subsidiaries worth RM215.18 million on THP's books were approved for disposal on Feb 27, 2019, but are expected to take more than 12 months to monetise and thus, were not reclassified as assets held for sale.
On Aug 1, THP's board approved the sale of four more subsidiaries but did not name them. When asked whether the four had been reclassified as assets held for sale, THP said, "Not yet, the accounts for 3Q2019 will reflect this accordingly."
The issues necessitating the proposed sales are clear — crippling debt, underperforming assets and high production costs, exacerbated by low crude palm oil (CPO) prices in recent years.
When asked about the assets listed for sale, THP said it is "in discussion with a few prospective buyers" but did not elaborate.
It is a stunning reversal of THP's aggressive acquisition spree in 2011 and 2012 that saw its total land bank grow 270% from 39,372ha in 2011 to 106,309ha in 2014.
Meanwhile, total borrowings grew from RM316.03 million in the financial year ended Dec 31, 2011 (FY2011) to RM1.63 billion in FY2016 — an increase of RM1.31 billion.
To recap, in 2012, THP acquired TH Ladang (Sabah & Sarawak) Sdn Bhd for RM518 million plus a 70% stake in TH Bakti Sdn Bhd for RM17.64 million in a non-cash deal. The seller was its majority shareholder Lembaga Tabung Haji (TH), making it a related-party transaction (RPT).
Note that the RPT occurred under the previous TH management. TH itself subsequently underwent a clean-up exercise under a new management after the 2018 General Elections.
Also in 2012, THP acquired Bumi Suria Ventures Sdn Bhd (BSV) for RM212.5 million as well as its subsidiary, Maju Warisanmas Sdn Bhd, for RM42.08 million.
These acquisitions followed the 2011 purchases of a 70% stake in Hydroflow Sdn Bhd for RM73.5 million and a 93% stake in PT Persada Kencana Prima, which owned 14,180ha in East Kalimantan, for RM16.18 million.
TH Ladang's estates covering a total of 45,738ha, of which 30,025ha, or 65.65%, are in Sarawak, according to THP's annual report. BSV's estates, measuring 5,703.5ha, are in Sarawak.
Maju Warisanmas is involved in letting investment property and has a land bank of 810.3ha while TH Bakti's core activities are cultivating palm oil and selling fresh fruit bunches (FFB). THP later sold the 70% stake in TH Bakti in December 2015 for RM16.28 million.
Note that the acquisitions of TH Ladang and TH Bakti were paid for via the issuance of 209.23 million new THP shares to TH. The exercise bumped TH's shareholding from 59.7% in 2011 to 71.8% in 2012.
Much of the newly acquired land was unplanted and plantation development expenditure surged. Between 2011 and 2014, THP's proportion of planted area to land bank fell from 90.34% to 64.46%.
Thereafter, THP's land area undergoing planting surged from 1,368ha in 2012 to 9,502ha in 2013. Plantation development expenses jumped from RM63.87 million in 2011 to RM89.31 million in 2012 and RM192.04 million by 2013. It stayed elevated before falling to RM62.59 million in 2016.
Previous announcements indicated that THP plans to spend RM102 million to develop the Hydroflow estates and RM393 million on PT Persada Kencana Prima over five to six years.
As CPO prices weakened in the following years, THP's overextended balance sheet and high production costs were exposed, culminating in a record net loss of RM658.38 million in FY2018 versus RM31.23 million net profit in FY2017, mainly due to massive impairments to the estates acquired in 2011 and 2012. Revenue declined by 24.52% y-o-y to RM519.32 million.
A new management came in to turn the company around and undertook a forensic audit exercise that led to the suspension of long-serving chief financial officer Mohamed Azman Shah Ishak on Aug 9. Details remain sketchy at this point.
"The forensic audit is still ongoing. We are not at liberty to provide and give further details at the moment," THP told The Edge.
It is unclear what the forensic audit is focusing on. However, it is worth noting that in 2018, BSV suffered a massive impairment of RM244.07 million that saw its book value reduce by two-thirds (see "Why one subsidiary lost RM244 million in book value" on Page 23).
Based on the latest quarterly figures released last month, THP needs to realise average selling prices (ASP) of about RM2,200 per metric ton (MT) to break even.
Year to date, average CPO prices recorded by the Malaysian Palm Oil Board last peaked at RM2,195.50/MT on Aug 26, 2019, nearly a 12-month high.
It is noteworthy that most of the estates acquired via the massive RPT involving TH are now for sale. From the 45,738ha held under TH Ladang, 31,391ha or 68.63% are held under subsidiaries that have now been approved for sale.
A total of 29,325ha, comprising 55.8% of its total Sarawak land bank, have been put on the market. Borneo, in particular, presents multiple headwinds to THP in its turnaround bid despite accounting for about 65% of its total output. Sarawak accounts for 50% of total output; Sabah, about 15%; and Peninsular Malaysia, 35%.
Among others, the relative scarcity of refineries close to its estates in Sarawak translates into a lower realised ASP. There is also an additional sales tax of about 5% imposed by the state government.
Note that in FY2018, THP booked RM300 million in impairments on its Sarawak estates, the bulk of which were for BSV.
While Sabah has a refinery overcapacity situation, the state government imposes a higher sales tax of about 7.5%. In contrast, some regions in Peninsular Malaysia can yield a small premium on realised ASP without the sales tax.
An additional issue in Sarawak is lower productivity due to predominantly peat soil in THP's estates, with the exception of BSV's estates, which have mineral soil. Interestingly, all of THP's Sarawak estates are operationally profitable except for BSV.
PT Persada Kencana Prima only began planting more than 2,000ha in the last two years.
In a nutshell, THP's debt rationalisation drive may see the company downscale significantly. Cash raised will likely go towards paring down debt and meeting scheduled commitments. However, much of its debt is in a sukuk murabahah programme, for which THP is the sole investor (see "Not all shareholders suffer equally' on Page 23). Thus, shareholders — particularly the minorities — may continue to pay the price for some time to come.