This article first appeared in The Edge Malaysia Weekly, on May 20, 2019 - May 26, 2019.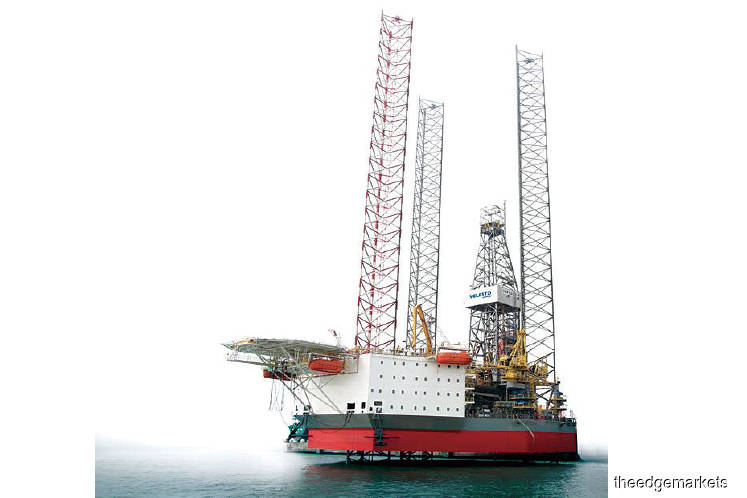 IN the FY2018 annual report of Velesto Energy Bhd (formerly known as UMW Oil & Gas Corp Bhd), president and executive director Rohaizad Darus is not wearing a suit nor a tie but the same overalls worn by oil and gas engineers on offshore rigs.
"I insisted on it," the oil and gas engineer tells The Edge in an exclusive interview. Then again, it is not what he wears that is important but the performance of the company. Judging by what he says, the worst could be over for Velesto. Here is an excerpt from the interview.
The Edge: The year has started off well for Velesto. There was a job from Hess [Corp] in February, then recently, four contracts from [Petronas] Carigali [Sdn Bhd]. There is also some excitement as daily charter rates are picking up and the duration of contracts is also increasing…
Rohaizad Darus: Things have started to change for the better. The contracts we received [from Petronas Carigali] were one plus one plus one (one year with two possible year-long extensions), so looking at the Petronas Activity Outlook [2019-2021], it shows [a requirement for] 16 to 18 rigs this year, and 17 to 19 for 2020 and 2021 … So, it looks good.
Your utilisation rate is quite high, right?
Last year, it was 73% versus 70% the year before. This year, we are looking at [a number that is] significantly higher than that, based on our estimates. Depending on the actual situation, we are expecting more than 80% and [it] can go as high as 85%.
Some of your rigs will come out of charter, if I'm not mistaken, there is one in August and another in November. You should have little problem securing charter contracts, right?
Honestly speaking, I cannot say for sure but there is more than one tender for each rig, so I don't believe we are going to have any idle time. There is a requirement for 16 to 18 jack-up rigs but there are only eight rigs in Malaysia. So, how will eight rigs [meet] an 18-rig requirement? Therefore, I do believe that besides what we have already secured, there's more coming.
Charter rates are up…
Charter rates are improving. In fact, they have improved significantly. But what is more important is the utilisation, as previously, after we had finished a three, five or eight-month contract, we did not know what would happen after that. There was a lot of uncertainty.
Now, at least for four rigs, we know that there's a one plus one plus one charter … we know that there is continuation.
There are a lot of contracts locally and internationally, which we are bidding for. I do believe, based on the previous track record, we will have [more] contracts than what we have now.
What is your reading of the oil price?
My reading is that it will stabilise between US$70 and US$80 [per barrel]. It may dip below US$70 per barrel for a short while here and there, but generally, it will be around US$70 to US$80 per barrel.
So, with the current daily charter rates for rigs, are the margins fine?
For the new contracts, we're okay, we're [keeping our head] above water. We just hope that [in] the subsequent contracts … [the contract value will] start creeping up a little higher, as with increased activity, there are challenges with increased cost. To continue to develop and grow further, we need a little bit of increase [in oil prices] in the near future.
What about the impact on your bottom line?
I do believe there will be a significant impact because when you look at the situation, it achieves two things — when the rigs are not utilised, we have lost the opportunity to make money. Then … not only have you lost the opportunity to make money, you also have to take out money from your own pocket to maintain the rigs.
You have accumulated losses — quite a substantial amount. How do you view this?
Actually, we are improving right now. If you recall, in 2015, core losses were RM21 million. Then, 2016 was the worst year — RM402 million in core losses. In 2017, we cut it to RM147 million, and in 2018, it was just RM9 million, which means that had we done a little better, we would have been positive (achieved a core profit) already.
You are a much stronger entity now, and you do have lessons from the past…
Yes, that is right. I think there are two components — one is that there are lessons and the other are the activities that we have [undertaken] to strengthen the company. We have undertaken a rights issue, reduced significantly our debts … now we are at [debt levels of] RM1.4 billion from RM4.1 billion previously.
But not only did we reduce our debts, we also prepaid some of the debts last year and early this year. If I'm not mistaken, our total prepayment was RM436 million. You see, in addition to the quarterly payments we make, we had a little bit of cash here and there, so we collected the cash and paid RM436 million … to save on the finance cost and reduce the debts.
We also did refinancing to secure ourselves. Now, our debts, one tranche is maturing in five years, another in 10 years, so I don't have to worry … I have breathing space. So, I think fundamentally, we are strong.
We have also undertaken some business rationalisation … we closed all the small contributors, which were high risk, in Turkmenistan, Thailand, Labuan and so on, so these have been eliminated.
There has been a run in your share price. Do you see it as a fair price now at below 30 sen?
I personally believe it's not [a] fair [price] … I believe it's too low. Our net asset value is 34 sen, so I don't believe the share price reflects our four contracts. I mean [our] four rigs are secured for the next three years, the contracts give us steady revenue, steady income, but apparently, a lot of people are still shying from oil and gas [counters] because of the global situation, where people are still jittery … if the global situation improves, I do believe we are poised to do better.
Also, I believe that the worst is over. It has already bottomed out. The worst is behind us.
This time next year, where do you see Velesto?
With things significantly improved — the reason being not only because of what we have restructured but [also] this year, in the first and second quarters, we recertified four of our rigs, so these rigs will be able to work continuously.
Every boat, barge or whatever has to undergo recertification. It takes about two months — so no earnings for two months — and for rigs, the cost can be significant. For rigs, it can be as much as US$10 million or more, to recertify one rig.
So, the beauty is, [we] don't have to do that for the next five years. We took a hit this year — firstly, the rigs were not earning, [and] then we had to incur cost to do it (recertification). But then, subsequently, these four rigs need not be touched, so these four rigs will have minimum maintenance cost.
The other three … the recertification is scattered — one this year and another in a few years' time. It's scattered, so there is no hit like [that seen so far] this year. So, one rig out for two months and a US$10 million bill, [it] won't dent us so much, we won't have a lot of problems … which is why I say, moving forward, we should be better off.
Moving forward, we should be better off as we have contracts in hand, most of the rigs have already been recertified [and] the industry overall, as reflected by Petronas' outlook, as well as the global outlook [appear to be better].
What about charter rates?
When you look at our numbers, the increase is not that great, so there is still room [for improvement]. In the good old days, we could find [charter rates of] US$160,000 per day, but now we are around US$70,000 a day. I'm not saying it's going to go to US$160,000 but there is a lot of room for improvement.
So, what do you think is a fair charter rate for, say, jack-up rigs?
When you look at the overall structure, the overall increase in manpower, the cost … I do believe it should be closer to US$100,000 a day. But even now, we are okay, but for long-term sustainability, it should be closer to US$100,000 a day … then people will start investing again.