This article first appeared in The Edge Malaysia Weekly, on April 22, 2019 - April 28, 2019.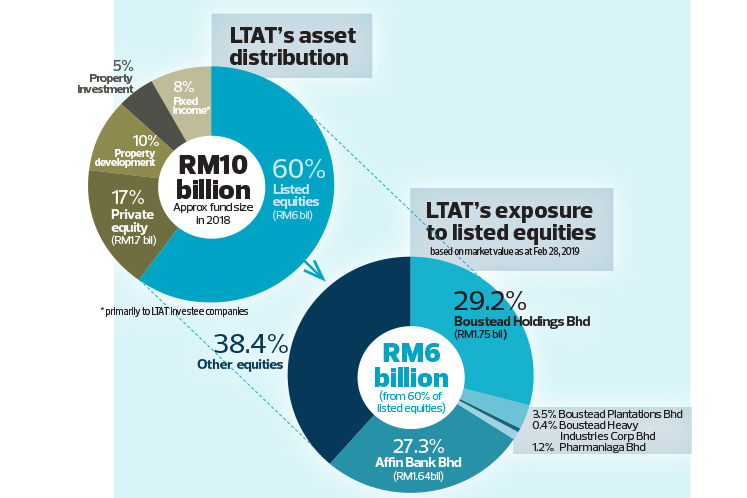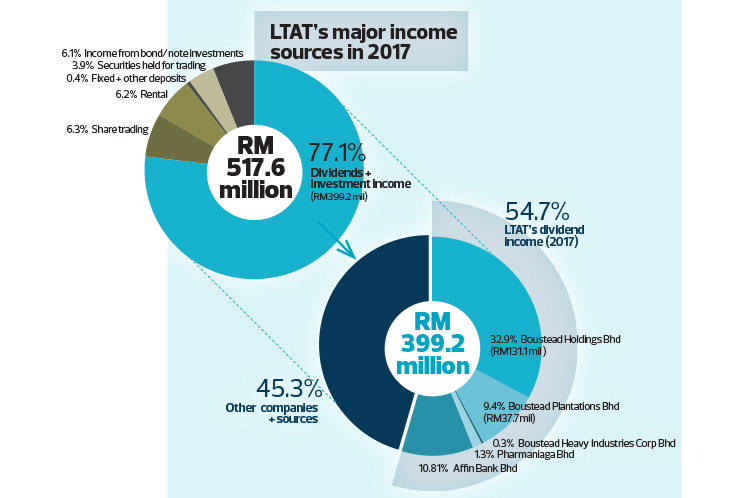 WHAT I am trying to do is change the tyres while the car is moving." That is how Nik Amlizan Mohamed views the task ahead in transforming army pension fund Lembaga Tabung Angkatan Tentera (LTAT).
While she feels that she has hit the ground running since reporting for duty on Oct 1, she acknowledges in an interview with The Edge that a lot of work lies ahead.
She took over the position of CEO after an 11-year stint at another pension fund, Kumpulan Wang Persaraan Diperbadankan (KWAP). Her last role there was chief investment officer. At LTAT, Nik Amlizan is sitting in the hot seat vacated by Tan Sri Lodin Wok Kamaruddin, who served as CEO for 36 years until he stepped down last year.
The face of LTAT for over three decades, Lodin is seen to be close to former prime minister Datuk Seri Najib Razak, who was ousted in the 14th general election (GE14) in May last year. Lodin was also board chairman of 1Malaysia Development Bhd (1MDB) between December 2009 and April 2016, when the 1MDB board resigned en masse.
LTAT's changing of the guard was one of many leadership changes at major government-linked investment funds after GE14. LTAT is the smallest, with assets under management totalling about RM10 billion.
That said, the smaller asset size belies its importance. Though less often in the limelight than other Malaysian pension funds, LTAT manages the retirement savings of over 400,000 military personnel, including 110,000 who are still on active duty.
According to Nik Amlizan, her mandate at LTAT is mainly to build a governance structure. "A governance structure is key. It is a pension fund, [so my task is] to make sure that we run as a pension fund."
'Putting the house in order'
During the interview, it becomes clear that Nik Amlizan is almost starting from scratch in fulfilling her mandate. On her first day at LTAT, she received multiple surprises.
"I was surprised that the 2017 annual report was not out. I was surprised to get a qualified certificate from the auditor-general and I told my team I do not ever want to accept that kind of finding," she recounts.
The qualified certificate was because LTAT overstated its 2017 profit by RM292 million due to income recognition from a land sale yet to be concluded and impairments that were not made.
Another surprise was that LTAT did not have a proper framework to manage enterprise risk, she adds. These surprises were the first of more discoveries as it became more evident that LTAT lacked the more conventional structure commonly found at other funds in similar roles.
"From a governance perspective, there are three areas that I would say need to be tackled immediately. The first is from a governance structure perspective, the second is policies and procedures, policies and guidelines, and the third is talent," she explains.
In terms of governance structure, LTAT had operated without a risk management board to focus on risks faced by the fund. There was a lack of enterprise risk monitoring and LTAT also did not have specific departments for human resources (HR) and legal and secretarial functions.
Meanwhile, there is a concentration of power in the CEO's position in terms of decision-making, while the board does not have a power delegation structure — meaning every single decision goes up to the board with the CEO being the single filter.
When she asked for LTAT's investment policies and guidelines, she also discovered that LTAT did not have a risk appetite statement nor a strategic asset allocation strategy.
Changes are already underway to address these issues as Nik Amlizan works to put the LTAT house back in order. She says the risk management board will have its first meeting in May.
"Risk (management) is definitely one of the factors that we must have in place first and that is my priority," she says. "I have also introduced an investment committee at the management level."
In particular, the investment committee, she says, is meant to take some of the burden off her role vis-à-vis key decisions by introducing the element of collective decision-making.
"What I find is that the decisions that come into my in-tray just require my approval without any discussion, without any other inputs. The head comes, or the officer comes, presents the paper, I just approve and it goes to the board," she says.
Accordingly, LTAT is drafting its risk appetite statement as well as comprehensive investment policies and guidelines that will, among others, allow the board to delegate more power to management.
Other changes include the appointment of two independent members to LTAT's board. Internally, departmental restructuring included the formation of two new departments — HR and legal and secretarial — to streamline operational functions.
That is critical to Nik Amlizan, who says there was a vacuum insofar as talent management and development strategy, as well as succession planning, are concerned. This is why her first external hire was for the position of HR head, who will start work next month.
Six pillars
The changes being put in place by the new CEO are among 51 initiatives she hopes to accomplish in the next two years. But there is more: at LTAT's first ever board retreat in January 2019, a total of 115 initiatives were identified to transform LTAT. The retreat included senior management and key leadership from LTAT's subsidiary corporations.
"They have been looking for changes, transformation and all that, so that made my job a lot easier, I must say.
"We talked about everything and anything to do with LTAT, going back to the drawing board," Nik Amlizan says, proudly adding that the transformation plan was "100% done by my own team".
The initiatives fall under six key pillars of transformation. The first is to go back to the basics in terms of LTAT's vision, mission and core values. The second is to strengthen corporate governance at the fund.
The transformation also aims to enhance sustainable investments while enhancing stakeholder management.
The fifth pillar is infrastructure — both in terms of the hard and soft infrastructure of this organisation.
And the sixth revolves around talent management, which had not been a focus at LTAT, according to Nik Amlizan.
The transformation will be key as she steers LTAT through a slew of challenges. A key concern that keeps her awake at night is sustaining returns to LTAT's contributors.
Since its inception in 1973, LTAT had declared dividends of no less than 7% annually up to 2014, and 6% per annum between 2015 and 2017. That does not include bonuses — beginning 1990 — and special bonuses (beginning 1996). Between 1990 and 2017, LTAT's bonus declarations ranged from 0.5% to 6.25% while special bonuses went as high as 8% per annum.
In contrast, LTAT's assets are far from optimally distributed across asset classes. Most of its assets are tied up in listed equities, primarily in five units of the Boustead group of companies.
It also has a disproportionately large private equity (PE) exposure, at 17% of its asset size. At the same time, 10% of its fund size is locked up in property development activities, which by nature do not generate immediate income.
At the same, LTAT's fixed-income exposure is mainly from its own investee companies. Surprisingly, LTAT does not hold any Malaysian Government Securities (MGS).
This translates into significant concentration risk: adjusted for the land sale gains that were erroneously booked for 2017, some 77% (RM399.2 million) of LTAT's income that year came from dividends and equity investments — over half of which came from the Boustead group of companies.
At the same time, rebalancing LTAT's portfolio is difficult at best. Moving too fast will disrupt the flow of returns to LTAT's members.
Nik Amlizan is, however, sanguine. "We are patient capital. We can afford to wait. I think it would be very irresponsible if, just because we want to reduce the concentration risk, we just go and rush to reduce it. I think we have time," she says.
Dipping into reserves
When asked what the optimal asset allocation would be for a fund like LTAT, the CEO declines to give specific figures, saying the fund needs to work out its strategic asset allocation first.
That said, she concedes that MGS — a staple for other pension funds in the country — should be in the mix. She notes that one hurdle is the absence of a dedicated fixed-income investment team at LTAT, which will take time to build.
That is one aspect among many on the investment side that Nik Amlizan is zooming in on. On the overstatement of LTAT's 2017 profit, which resulted in the fund dipping into its savings to pay returns, she says, "That is the part that troubled me a bit, you know. I think we should have done a lot better because in 2017 the stock market was very good.
"If there is no return from one investment, we need to find other sources of returns so our money, our fund, can be better spent and can produce better returns for our soldiers," she says.
That said, she clarifies that she is not against dipping into retained earnings from time to time to mitigate volatility for members. "Having said that, it cannot be half of your dividend coming from retained earnings and the retained earnings dip into negative [territory]."
Another challenge to juggle is that LTAT has been seeing net withdrawal on an annual basis since 2013. Nik Amlizan explains that this is due to how the fund is structured.
LTAT members contribute 10% of their salary to the fund with a matching 25% contribution from the government. There are two types of contributors: pensionable (serving for 21 years or more) and non-pensionable (serving for less than 21 years).
Upon retirement, all funds due to a member are taken out of LTAT — the non-pensionable members get the entire sum, whereas the pensionable members get their total 10% while the government contribution goes to KWAP, which manages their pension payments.
Amid all the challenges, Nik Amlizan is clearly pushing her team hard. She has set a two-year deadline to accomplish most of the goals she has set at LTAT. "There is a lot of work to be done that will occupy a lot of my time and my team members' time. I expect us to move fast.
"And while we put the house in order, at the same time I do expect them to generate the income (and) I expect them to work hard to achieve those numbers. So, those are my key, bread-and-butter expectations."
Ultimately, for Nik Amlizan, the role is about taking LTAT back to its core mission — managing the retirement funds of Malaysian soldiers who dedicate their lives to national service for the country.
"Why do we exist? We exist for the soldiers. If all of us understand that, I think it is very easy [to move forward]," she says.