This article first appeared in The Edge Malaysia Weekly, on October 5, 2020 - October 11, 2020.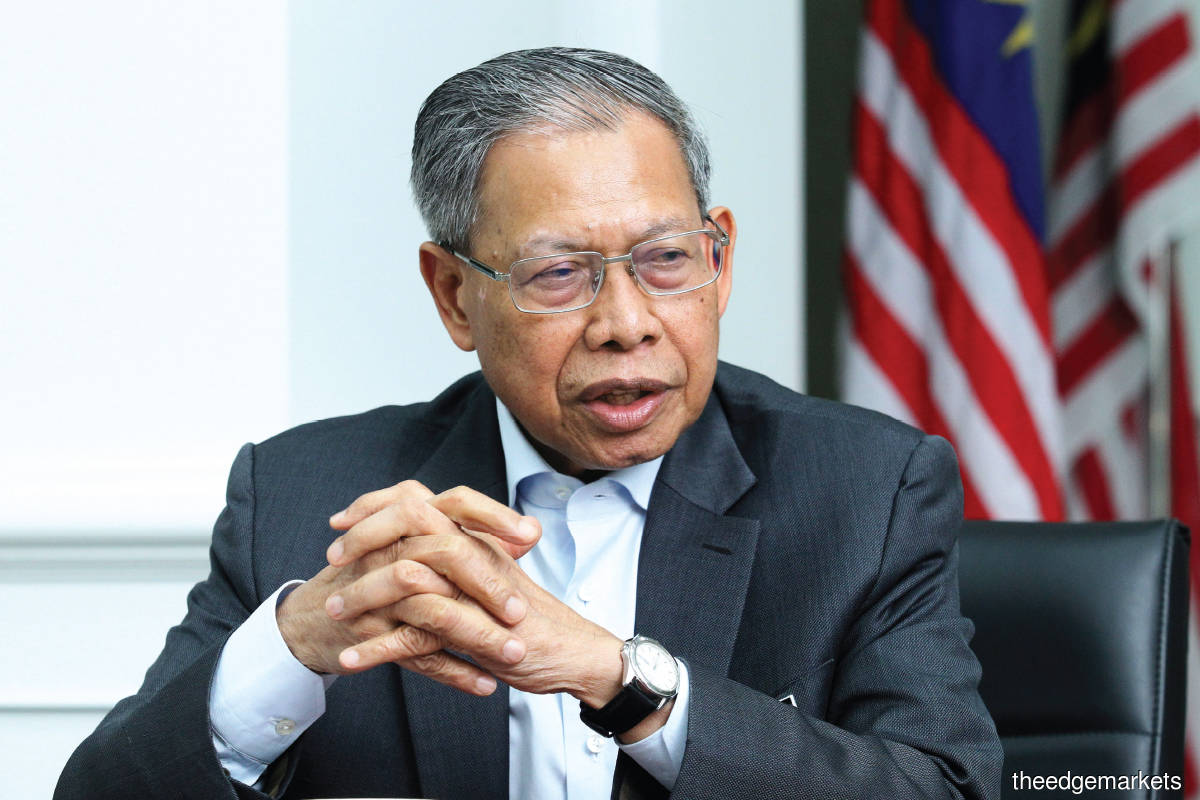 A politician widely regarded as a technocrat, Datuk Seri Mustapa Mohamed — more fondly known as Tok Pa among locals — has garnered a wealth of experience in his 30 years in politics.
The Member of Parliament for Jeli recently celebrated his 70th birthday on Sept 25, an age many would feel would be time to slow down. Yet, the minister in the Prime Minister's Department for economic affairs has a lot on his plate as the government prepares for a series of policy announcements over the next few months, including Budget 2021, the mid-term economic recovery plan and the 12th Malaysian Plan.
"I've slowed down," Tok Pa says, breaking into a smile when asked to comment on his well-known long working hours. The minister is constantly engaged, from 7.30am when he starts work up to 10pm, averaging as much as 13 appointments on a daily basis.
He quickly moves on to talk about the Sabah election as well as campaigning for a possible election in Sarawak, which he says will see "more work coming our way". Even in politics, the Bersatu party member prefers to keep his head down and focus on the task, he says, adding that he does not like to comment much on political developments in the country.
For the minister who has been described as a "workaholic", his drive and energy come from a deep-rooted and sincere passion for public service.
Born in 1950, the Kelantanese graduated from the University of Melbourne in Australia with a first class honours degree in economics, and later pursued a master's in economic development at Boston University in the US. He joined the government administration as an administrative and diplomatic officer based in the Treasury in 1974, before entering the political world in 1984 when he became a special officer to Tun Daim Zainuddin, who was finance minister at the time.
Elected to parliament in the 1995 election for the Jeli constituency, Tok Pa went on to hold various portfolios in the government, including as deputy finance minister, minister for entrepreneur development, minister for higher education, minister for agriculture and agro-based industry as well as minister of finance II.
His longest stint was as minister for international trade and industry, a position he held from April 2009 to May 2018 during Datuk Seri Najib Razak's Barisan Nasional administration.
Reminiscing over his long career, Tok Pa recalled a time of patience and servitude when he lost his Jeli seat in the 1999 election. At the time, he had been serving the ministries of finance and entrepreneur development concurrently.
"Anwar (Datuk Seri Anwar Ibrahim) was sacked on Sept 2, 1998, and I became second finance minister on Sept 7, five days later. I used the same chair and table that he had used. I was running the place for over a year. Tun Dr Mahathir Mohamad (who was the prime minister at the time) was first finance minister, but the day-to-day running was left to me.
"Then, I lost the election in November 1999 and I was unemployed for about six weeks. I came back the following February as adviser to the MOF (Ministry of Finance). They gave me a small room. It is worthwhile to share, I don't think anyone else would have accepted that position. So, I went from being the big man at the MOF with an entourage … to coming back to a small room. That's all I had. In these times, you need patience," he says.
As an MP to Jeli, Tok Pa makes it a point to visit his constituency at least once a week. In fact, the minister is always on the go, he says, making scheduled visits to various states to monitor the progress of various economic developments. In the week The Edge interviewed him, he had just returned from attending work engagements in Jeli, Kota Baru, Melaka and Pangkor, and was planning to fly out to Sabah to support the election the following day.
"I was in Pangkor recently. It was declared duty-free on Jan 1 … So, there's a lot of excitement there. I met people, spent two hours talking to them. I met a guy who is paying only RM50 to rent premises from the government to do business and he is very happy there. I believe Pangkor will do well," he shares of his recent visit to the Perak island.
Fitness and faith are also priorities for the minister, who makes it a point to jog an average of 5km three times a week, as well as attend the preaching of a religious sermon in Putrajaya every Thursday night.