This article first appeared in The Edge Malaysia Weekly, on February 22, 2021 - February 28, 2021.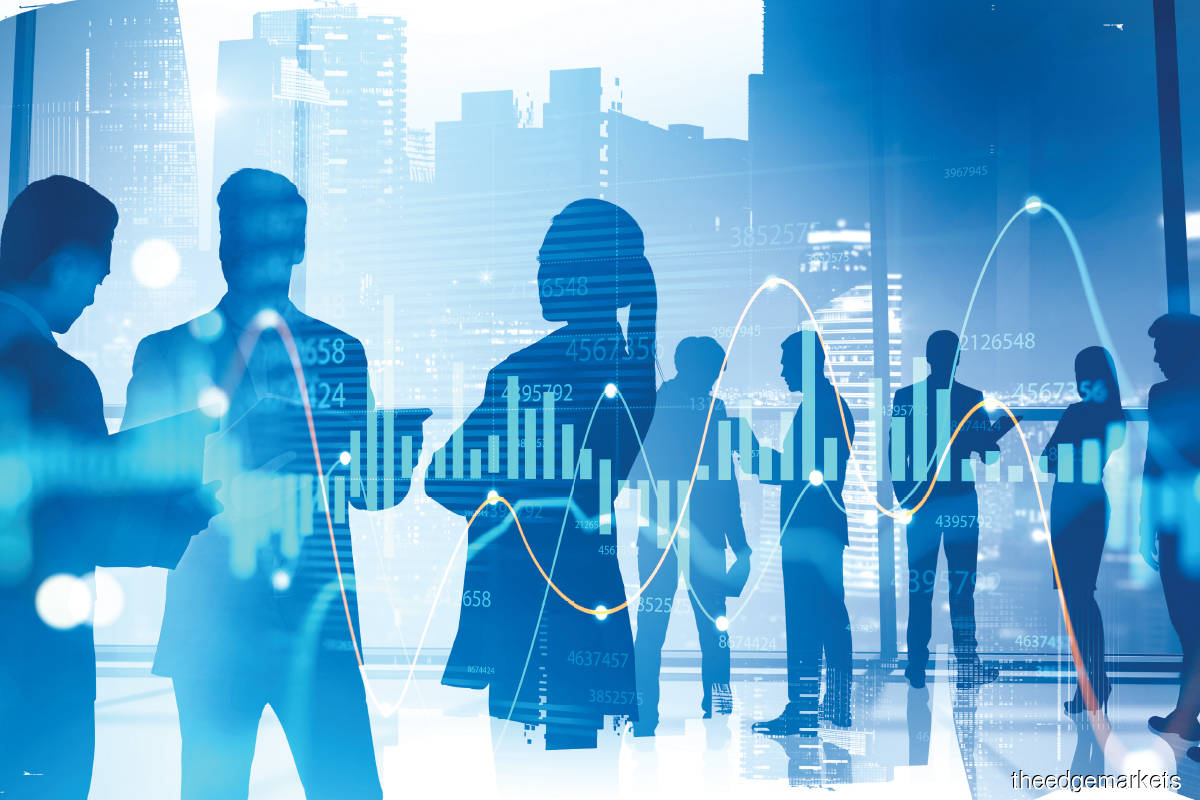 STOCK trading on the local bourse seems to be heating up again with the daily trading volume back above the 10-billion-share mark last week. Apart from the technology-fuelled rally since the start of the year, penny stocks have also come under the spotlight, having dominated the most active list.
Having said that, not all stocks are beneficiaries of either the pandemic or recovery themes. Some of them have stayed off investors' radar screens with their thin trading volumes.
Amid all this, the Minority Shareholders Watch Group (MSWG) has expressed concern about the possibility of some companies with low price-to-book or price-earnings ratios (PERs) being privatised at very low offer prices. This is based on the premise that the offer price is still higher than the prevailing share price and offers shareholders the option to exit their investment.
MSWG CEO Devanesan Evanson says that while there have not been many privatisation exercises to date, there is a possibility of such exercises picking up if the dire market conditions are prolonged and there is a widening disconnect between the quoted market value and the intrinsic fair value of the stocks.
"Privatisation generally happens when the market undervalues the shares, such as in the current pandemic-driven dire market conditions. The offeror would find it cheap to privatise the company, as the market has undervalued the shares, and enjoy all the benefits instead of sharing them with the other shareholders of the listed entity. On that premise, it is more likely for better companies to be privatised," he explains.
This will lead to fewer good companies to invest in on the stock market. "Also, the market capitalisation of the exchange will be lower with each privatisation, unless compensated with equivalent initial public offerings," Devanesan tells The Edge.
Bursa Malaysia saw 19 new listings in 2020 compared with 30 the year before. However, the total funds raised was 51.5% higher at RM10 billion, from RM6.6 billion in 2019.
An investment banker who declines to be named is not too concerned about privatisation moves by companies, saying that future expansion needs will be the main consideration for many. "Although some sectors have been struggling, if you look at the broader market, it has been doing well. We can't say that there is a big trend [of privatisation].
"If you try to privatise during a down cycle, how will you expand with capital expenditure when the cycle recovers? You will need funding for your business operation.
"It is a very strategic decision; you can't just take the company private and then relist later. Trading at just below book value or NTA (net tangible assets) doesn't mean it will lead to privatisation. Staying listed will help a company's financial capability."
Meanwhile, a corporate adviser believes there must be a reason why certain stocks are seeing low trading volumes. "If you want to privatise, that means your company is undervalued. But why is your company trading at a low PER?
"You can't blame the market. There must be certain reasons. Maybe people don't understand your company or there is not enough publicity to promote it? The key is how to get your shares traded at a fair valuation."
As the equity market is flush with liquidity, he does not foresee many privatisation plans in the pipeline. "It is just that, how will you position the company to attract the money? I would have agreed to privatisation before the pandemic as market liquidity and trading volumes were low. But today, the volume is high and there are a lot of companies trading at good PERs.
"So, it is about how you attract investors to buy your shares. You need to ramp up the investor relations part."
As for Bursa, it says privatisation is a normal corporate action that is not unique or distinct to Malaysia. "At the exchange, we recognise that companies, and to an extent their controlling shareholders, may have various reasons to restructure and reorganise themselves, including embarking on privatisation. In such a case, the exchange always ensures that shareholders are empowered to decide on the privatisation
proposal, according them with adequate safeguards to protect their interests," says a spokesperson.
Property stocks on watch list
Bloomberg data shows that more than 400 companies on the local bourse are currently trading below their book value, including 44 that have market capitalisations of over RM1 billion.
Of the top 20 companies with a market cap of less than RM1 billion that are trading below their NTA, half are property firms such as Asian Pac Holdings Bhd, Mulpha International Bhd, Sentoria Group Bhd, Encorp Bhd, MK Land Holdings Bhd, Bertam Alliance Bhd, Hua Yang Bhd, KSL Holdings Bhd, Ivory Properties Group Bhd and WCT Holdings Bhd.
Of the companies with a market cap of more than RM1 billion, these are also dominated by property players such as Eco World Development Group Bhd (EcoWorld), OSK Holdings Bhd, Malaysian Resources Corp Bhd, Sime Darby Property Bhd, IOI Properties Bhd, Mah Sing Group Bhd, Ekovest Bhd and IJM Corp Bhd.
It is not surprising that property stocks will remain on the "privatisation watch list" as the sector has been battered by the Covid-19 pandemic, lacklustre buying interest and supply glut. In the past year, two property entities — Amverton Bhd and TA Global Bhd — were delisted.
Despite being called off, the proposed merger between EcoWorld and UEM Sunrise Bhd was an attempt to ride through the rough patch.
Similarly, the cheap valuations of stocks in the media industry could lead to privatisation exercises, with Star Media Group Bhd, Media Prima Bhd and Media Chinese International Ltd being the likely candidates.
Smaller banks such as Affin Bank Bhd and Malaysia Building Society Bhd are also undervalued as they are trading at a discount of 58.7% and 44.2% to their NTA respectively.
It is worth noting that companies with strong cash holdings are often seen as potential privatisation targets as the excess funds could be used for selective capital reduction and repayment exercise. This is especially the case when their cash position is much higher than their market capitalisation.
For instance, Xidelang Holdings Ltd's net cash of RM890.4 million is seven times its market cap of RM127 million, while Sapura Resources Bhd's net cash of RM83.1 million is 15.4% higher than its market cap of RM72 million.
Meanwhile, the valuation of conglomerates like MMC Corp Bhd, Oriental Holdings Bhd, IJM Corp and Genting Bhd appears to have been dragged down by the "holding company discount" effect — the tendency of the market to value a diversified group of businesses and assets at less than the sum of its parts.
Although this is the case for Boustead Holdings Bhd, which is trading at a 65.9% discount to its NTA, the current tough business conditions recently discouraged its major shareholder Lembaga Tabung Angkatan Tentera from taking it private. The armed forces pension fund says the decision was due to the challenging economic environment arising from the pandemic and reimposition of the Movement Control Order.
Moving ahead, Boustead will focus on its "Reinventing Boustead" strategy to rejuvenate the group. The privatisation plan, first announced in May last year, was mooted to give the group more latitude in carrying out the restructuring of companies in its stable without the constraints of listing requirements and away from public scrutiny.
Every so often, a wave of privatisations and delistings triggers discussions on the growing number of such exercises. It is hard to put a finger on whether they are a coincidence or the result of the prevailing environment of depressed prices and other factors. What is clear, however, is that opportunists will strike when a good deal presents itself.
Notable delisting exercises on local bourse
By Lee Weng Khuen
The number of privatisation offers was flat in 2020 compared with 2019, with the most controversial being that of FGV Holdings Bhd. The offer price of RM1.30 a share for the plantation giant was a whopping 71.4% discount to its initial public offering (IPO) price of RM4.55 back in 2012.
Minority Shareholders Watch Group CEO Devanesan Evanson says although FGV's fair value has been estimated at a minimum of RM1.42, there is no guarantee that the market will value the shares at this price.
"It is common for shares to be priced below their fair value, especially given the current dire economic conditions. In fact, since the last week of Sept 2020, the share price of FGV has not exceeded RM1.31; but these are historic prices.
"If enough shareholders accept FELDA's offer of RM1.30, the privatisation and delisting will happen. At this point in time, we do not know how many shareholders will follow the independent adviser's advice and how many will follow the disinterested directors' advise," he explains.
The closing date for the acceptance of the takeover offer has been extended to March 2 from Feb 16.
FGV's non-interested directors have recommended that minority shareholders reject the proposed takeover offer by the Federal Land Development Authority (FELDA), as it is not fair and not reasonable after taking into account its fair value and IPO price. The fair value is said to be within the range of RM1.42 to RM1.60, as suggested by independent adviser RHB Investment Bank.
The privatisation exercises of Yee Lee Corp Bhd and TA Global Bhd have not been plain sailing either.
Yee Lee founder and executive chairman Datuk Lim A Heng @ Lim Kok Cheong and parties acting in concert (PACs) made the first attempt to take the company private in 2019, but did not manage to receive enough acceptance for a voluntary general offer at RM2.33 per share.
A year later, another offer was made after Lim and the PACs managed to get close to 90% of the shares in the consumer goods distributor and owner of the Red Eagle cooking oil brand at a lower price of RM2.06 apiece.
Yee Lee also had a 30.5% stake in listed Spritzer Bhd as at end-December 2020.
TA Global Bhd (TAG) was finally delisted last month, almost a year after owner Datuk Tony Tiah made the offer to privatise the company. Initially, the deal to privatise the property developer sparked a backlash from minority shareholders due to the low offer price of 28 sen per share.
MSWG, in what was said to be a rare occasion, held in February last year a forum entitled "TA Global's privatisation: Implication to minority shareholders" to discuss the takeover offer by stockbroker Tiah's TA Enterprise Bhd (TAE). Tiah was the major shareholder of TAE and TAG via the former as well as directly.
The privatisation exercise saw a U-turn three months later as TAE wanted to abort the plan, citing the adverse impact of Covid-19 as the main reason.
The rationale did not go down well with the regulators, with the Securities Commission Malaysia rejecting TAE's application to withdraw its voluntary takeover offer for TAG, after considering the justifications provided on a holistic basis.
In December, Tiah embarked on another corporate exercise, launching an unconditional mandatory takeover offer for TAE for 65.5 sen per share. Last Monday, he received valid acceptances for 2.25 billion TAE shares, representing 90.04% of the total share base. As such, he does not intend to maintain the listing status of TAE on the Main Market.
Caring Pharmacy Group Bhd — the only "fair and reasonable deal" last year — was delisted last May after being listed for 6½ years. 7-Eleven Malaysia Holdings Bhd had launched a mandatory general offer to buy out Caring at RM2.60 per share after its stake in the latter increased to 38.57% from 13.22%.
Recently, the local bourse saw the departure of two LEAP Market companies — Polymer Link Holdings Bhd and JM Education Group Bhd — which had been listed for less than three years.
Trading liquidity has been the main issue for companies on the LEAP Market, which caters to sophisticated investors, in particular accredited investors and high-net-worth individuals. Listed in April 2018, Polymer Link, which makes compounded and non-compounded plastic powder, had said that low liquidity would hinder its ability to raise additional funds from the equity market.
For JM Education, the rationale for the delisting exercise was that the company was more suited as an unlisted entity.
Thus, the migration from the LEAP Market to the ACE Market is key to retaining the companies on the local bourse. The Edge had reported that the regulators may announce its board transfer framework in the first quarter this year.
A company's poor financial condition has also been cited as a reason for going private. This was the case for MTD ACPI Engineering Bhd, which incurred net losses of RM20.42 million and RM4.69 million for the financial year ended March 31, 2020 and March 31, 2019 respectively.
The company's construction and manufacturing businesses are expected to be dragged down by the impact of Covid-19.
The pandemic also weighed down Pimpinan Ehsan Bhd's plans to seek potential businesses and assets, resulting in the proposal to delist the cash company at 96 sen per share via a capital repayment exercise.
Upon the completion of the disposal of its principal subsidiary TRIplc Bhd to Puncak Niaga Holdings Bhd in May 2018, more than 70% of Pimpinan Ehsan's assets were in cash and short-term investments.
It is also worth noting that in February last year, Cycle & Carriage Bintang Bhd's (CCB) privatisation bid at RM2.20 per share was blocked by its minority shareholders.
However, during the current challenging environment, it remains to be seen if its major shareholder, Singapore-listed Jardine CCL, will make a fresh offer, considering that at RM1.65 apiece, CCB's shares are currently trading at a 26% discount to its net tangible asset per share of RM2.26.
Time to rethink 'fair and reasonable' rule in voluntary takeovers?  
It has been more than half a year since Singapore tightened its voluntary delisting rules last July, putting up more barriers before a privatisation proposal can be passed.
That is because any exit offer must be both fair and reasonable. Previously, such an offer only had to be reasonable. The move came on the heels of privatisation being a key theme in Singapore over the past few years owing to low stock valuations.
When the changes to the voluntary delisting rules were first announced, they raised concern in the market as bidders would need to offer higher premiums. Nonetheless, the new rules seem to have had a minimal impact on the delisting trend, as the collective number of delistings from the SGX Mainboard and SGX Catalist rose to 39 last year from 29 in 2019, according to the Singapore Exchange's statistics. Note that no breakdown was provided for voluntary and non-voluntary delistings.
In Malaysia, an offer that is "not fair but reasonable" can come with an "accept" advice by the independent advisers and is open for shareholders' acceptance.
A delisting proposal is deemed "not fair" if the offer price is lower than the revalued net asset value per share or fair value estimated by the independent adviser. It is deemed "reasonable" if it provides an exit opportunity for shareholders to realise their investment, after taking into consideration the historical market price and historical trading liquidity of the shares.
So, should we follow Singapore's steps to raise the threshold for voluntary delistings in favour of minority shareholders?
Minority Shareholders Watch Group (MSWG) CEO Devanesan Evanson says adopting something similar to the SGX approach is a way to reduce the number of voluntary privatisations as well as to ensure that minority shareholders receive a fair offer price.
"The SGX listing rules stipulate that SGX may agree to a voluntary delisting if, among others, there is a fair and reasonable exit offer. The independent adviser appointed to advise on the exit offer must also opine that the exit offer is fair and reasonable," he explains.
Devanesan acknowledges that the higher offer price threshold will act as a disincentive to those considering privatisation as the offerors will now have to revise upward their offer prices. "To be fair, the regulators are in the best position to decide whether it is workable in Malaysia as they have a whole host of other information to facilitate their decision making," he tells The Edge.
"They will undoubtedly consider, among other things, the peculiarities and differences in the Malaysian capital markets before making any rule changes; what is good for the goose need not necessarily be good for the gander. There are two competing legitimate rights that the regulator will have to balance — that of the offerors (to privatise) and that of the shareholders (to get a fair exit price)."
A corporate adviser, however, does not see a need to impose the "fair and reasonable" rule. "At the end of the day, it is up to the shareholders to decide. I don't think it is right [to do that]. If the offer is not fair to the shareholders, then they should voice it out. I believe we have to let market forces decide."
In a reply to The Edge, Bursa Malaysia says the current framework is balanced and appropriate, considering the listing requirements that have been put in place to safeguard shareholders' interests. "Nonetheless, the exchange will continue to monitor developments and review this area from time to time."
If an independent adviser concludes that a corporate proposal is "not fair but reasonable", it must explain what is meant by "not fair but reasonable"; how it has reached this conclusion; and the course of action that the shareholders are recommended to take pursuant to the conclusion, says Bursa.
The independent adviser is also required to set out the reasons for the key assumptions made and the factors taken into consideration in forming that opinion; and advise the shareholders on whether they should vote in favour of the proposal.
The exchange adds that the assessment of fairness and reasonableness of an offer is to be done by the shareholders, armed with adequate information to facilitate their decision on an informed basis.