This article first appeared in The Edge Malaysia Weekly, on February 17, 2020 - February 23, 2020.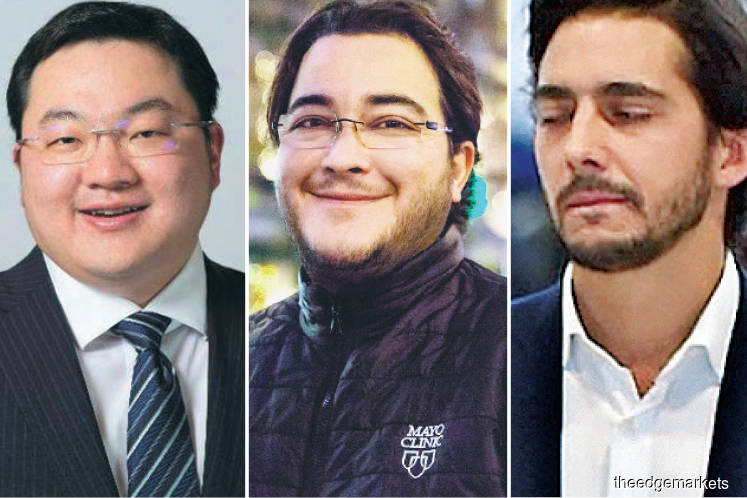 An Interpol alert has been requested for the arrest of (from left) Low, Tarek and Mahony, who conspired to steal US$1.8 billion from 1MDB
Click / Tap image to enlarge

Click / Tap image to enlarge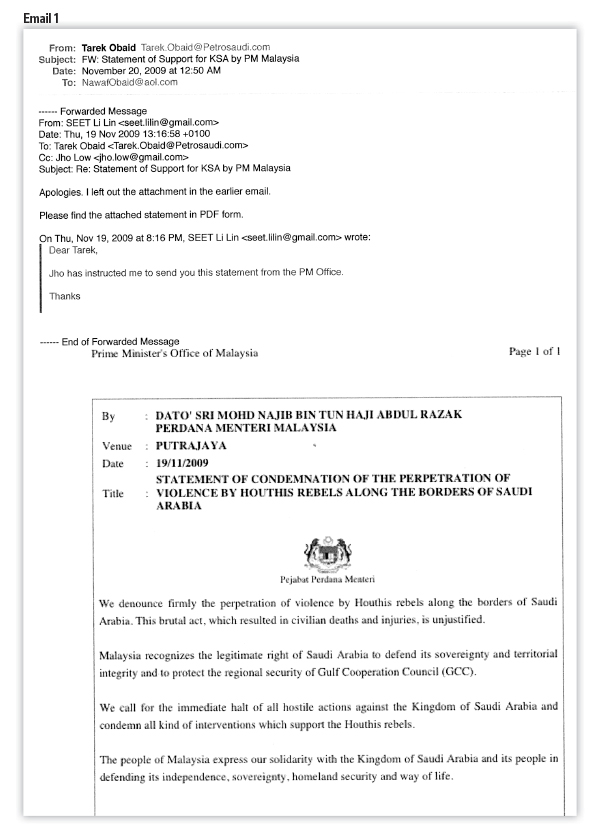 Click / Tap image to enlarge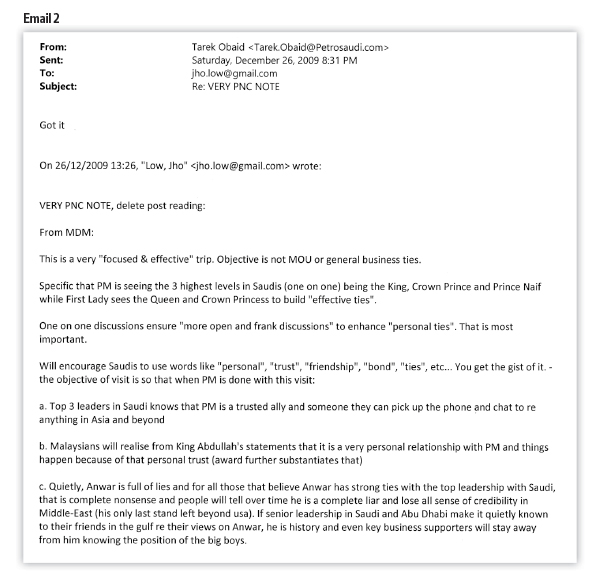 THERE were two interesting developments last week.
The first happened in court. Former Minister for Islamic Affairs in the Prime Minister's Department Datuk Seri Jamil Khir Baharom, testifying as a defence witness in Datuk Seri Najib Razak's SRC International trial, said he was present when Najib asked the late King Abdullah for financial support during a January 2010 visit to Saudi Arabia.
Jamil said he was not aware that fugitive businessman Low Taek Jho, better known as Jho Low, had arranged for the Saudi donation, as Najib had testified previously.
Responding to a question from lead prosecutor S Sithambaram on whether Malaysia had asked for the donation or if it had been offered by Saudi Arabia, Jamil said: "There was a request."
On the same day, Feb 11, the Malaysian Anti-Corruption Commission (MACC) announced that it had issued an alert to Interpol for the arrest of Low and PetroSaudi International executives Tarek Obaid and Patrick Mahony.
This was the first time Malaysia had initiated action against Tarek and Mahony despite the fact that the 1Malaysia Development Bhd (1MDB) venture with PetroSaudi was the start of a scandal that involved the theft of billions of dollars. It is puzzling why Malaysia took so long to make this move, but it is finally done.
The Interpol alert was initiated based on two charges against Low, Tarek and Mahony.
The first was that they had jointly, between Feb 24 and June 14, 2011, engaged in a criminal conspiracy for the commission of an offence by Najib, who used his position for personal gratification of RM60.629 million (about US$20 million at the then exchange rate).
Najib is accused of directing the 1MDB board of directors on Sept 26, 2009 to authorise 1MDB to enter into a joint venture (JV) with PetroSaudi to the tune of US$1.0 billion. He is also accused of directing the board on May 16, 2011 to authorise 1MDB to invest another US$1.0 billion under a murabaha financing agreement with PetroSaudi.
In the second charge, Tarek and Mahony are accused of money laundering by receiving a sum of US$300 million misappropriated from 1MDB on Sept 30, 2009 at a JPMorgan account in Switzerland.
The testimonies given by Najib and Jamil in court with regard to the Saudi "donation", and the charges filed against Low, Tarek and Mahony are all related to the JV with PetroSaudi, where US$1.8 billion was stolen from 1MDB over a two-year period from 2009 to 2011.
We will explain and put in context the events that took place to show how Najib depended on external parties Tarek and his brother Nawaf, and Low to get close to King Abdullah — through a son of the ruler, Prince Turki — which led to a Jan 16, 2010 audience in Riyadh. We will also show that payments using money originating from 1MDB were banked into accounts held by Tarek, Mahony and Prince Turki to get Najib an audience with King Abdullah.
LOBBYING TO GET CLOSE TO SAUDI ARABIA AND TO GET AN AUDIENCE WITH KING ABDULLAH
On Oct 7, 2009 (a week after US$1.0 billion was transferred out by 1MDB, with US$700 million diverted to the Good Star account controlled by Low and US$300 million to a JV account controlled by Tarek), Low emailed Tarek, copying Mahony, informing him that Najib had written to King Abdullah asking for Malaysia's haj quota to be increased by 10,000 to 36,000. The letter was attached to the email. Low asked Tarek to help with the request.
This was the start of efforts by Najib to get close to Saudi Arabia by using the Obaid brothers, who had a close relationship with Prince Turki.
In another email dated Nov 14, 2009, Tarek wrote to Low asking that Malaysia issue a "strong statement of support to Saudi Arabia and its recent military operations and categorically condemn the incursions into Saudi territory of the Northern Yemeni rebel group known as the Houthis".
Tarek even provided a draft statement "that the Malaysian Prime Minister should issue".
On Nov 19, 2009, Seet Li Lin, a Singaporean who was part of Low's inner circle, emailed Tarek an attachment of a draft copy of the four-paragraph statement that Najib would be issuing in support of Saudi Arabia, as requested by Tarek (see Email 1).
The plan to arrange a visit and an audience picked up pace when Tarek, on Nov 20, emailed Low a draft letter that he said Najib should send to King Abdullah. It was to thank him for increasing the haj quota and to declare support in the fight against the Houthis, among other things.
On Dec 3, Low emailed to Tarek the letter that Najib was going to send to King Abdullah, which essentially followed the draft penned by Tarek.
On Dec 8, Low sent a very long email to Datuk Kamal Yan, who was adviser to Najib on international relations, detailing the many steps that had to be taken ahead of the visit.
Interestingly, Low told the adviser to "please keep the real reason (for the visit) PNC from our Malaysian ambassador to Saudi (and all other parties)..."
The email was copied to Tarek, who was identified as an "advisor to the royal court Kingdom of Saudi Arabia". Low also told Kamal Yan that Tarek would "help us work the back channels".
On Dec 26, Low forwarded a message he had received from MDM (Rosmah Mansor) about what she wanted Najib to achieve from the upcoming visit to Saudi Arabia. He asked Tarek to delete the message after reading it (see Email 2).
Tarek and Nawaf arranged for journalist Jamal Khashoggi to interview Najib in Kuala Lumpur ahead of the visit to Riyadh, which took place on Jan 16, 2010. (In 2017, Khashoggi was murdered in the Saudi embassy in Istanbul as he was critical of the current Saudi government.)
King Abdullah conferred the highest civilian award, the King Abdulaziz Order of Merit (1st Class), on Najib. The same award had been given to US President Barack Obama a year earlier.
The New Straits Times covered the award ceremony from Riyadh, with a story headlined "PM gets Saudi's highest award".
Tarek emailed the article to his co-conspirator Mahony, who replied: "Dude — it's awesome. Well done, seriously! You deserved a lot of credit for pulling this off..."
The spin and conspiracy to cheat and mislead Malaysians continued. PetroSaudi's PR consultants arranged for The Star to publish a report on Oct 2, 2010 with a London dateline and the heading "Saudis to come in with RM6 billion investment".
Tarek forwarded the article to Mahony with the message in French, "Pour ton amusement", or for your amusement.
The mocking of Malaysia and its leaders by those who stole millions continued. On Oct 21, Tarek forwarded to Mahony an article which reported that Najib had allocated RM18.14 billion to the Prime Minister's Office in the 2011 budget.
Mahony replied: "...RM18b will be allocated to his wife personally."
By that time, Tarek had personally pocketed US$183 million and Mahony US$33 million.
PAYMENTS TO TAREK, MAHONY, PRINCE TURKI
Najib's obsession with getting close to King Abdullah and being recognised as a leader of the Muslim world cost Malaysia dearly. Through Low and Tarek, he met Prince Turki on a rented luxury yacht off the south of France on Aug 20, 2009. One month later, 1MDB invested US$1.0 billion in a JV with PetroSaudi.
Of the sum, US$700 million was illegally sent to Good Star and from there, Low transferred millions to various accounts that belonged to Tarek, Mahony and Prince Turki.
According to bank statements seen by The Edge, between Oct 9, 2009 and Sept 13, 2010, Prince Turki received five payments totalling US$77 million. Were these payoffs, using 1MDB money meant for the JV, made for arranging for Najib to visit Riyadh and to get an award from his father?
According to the US Department of Justice, Low via Good Star made further payments of US$12.5 million (on Feb 18, 2011) and US$10 million (June 10, 2011) to Prince Turki, who then transferred a total of US$20 million to Najib's account at AmBank on Feb 24 and June 14, 2011.
This US$20 million was, according to ­Najib, part of the donation from King Abdullah, but has now been shown to have originated from 1MDB.
The same US$20 million is now the basis for MACC charging Low, Tarek and Mahony for conspiring with Najib to get 1MDB to enter into the JV with PetroSaudi.
See Page 53 on Najib's SRC trial