This article first appeared in The Edge Malaysia Weekly, on March 16, 2020 - March 22, 2020.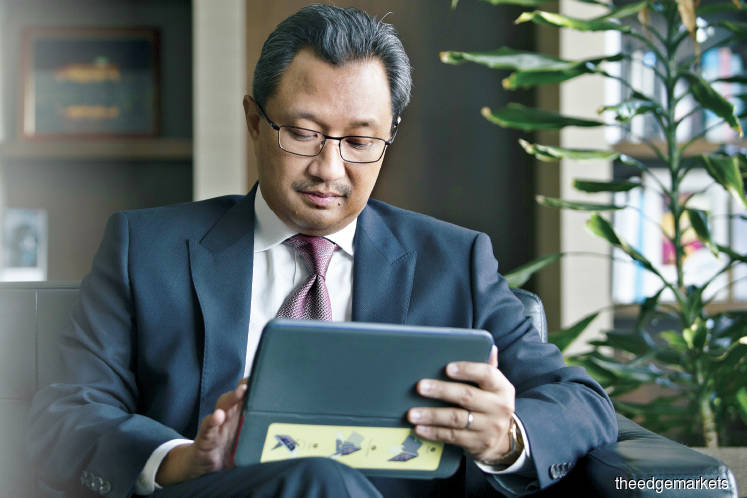 Photo by Media Prima
LITTLE did Datuk Kamal Khalid know what was in store for him when he took on the position of group managing director at Media Prima Bhd in August 2017 after having headed the group's TV business. He had served the group in different capacities for close to 11 years.
The almost three years Kamal spent steering Media Prima were anything but dull.
Nine months after he assumed the top post at the company, Malaysia saw an unprecedented change in government and, at the time, Umno was a substantial shareholder of the group, but not any longer.
Also during Kamal's tenure as managing director, the group underwent a massive restructuring even as the media landscape turned tough.
In an exclusive exit interview as Media Prima's group managing director, Kamal shares with The Edge that while the journey was interesting and the experience rewarding, it did take a bit out of him.
"You had digital disruption, which has hit all the traditional media companies. And then you had the elephant in the room — a political change after 60 years. Having to manage that was difficult.
"But the company does seem to be on even keel now. We have done the restructuring, we have done a rationalisation, which gave me absolutely no pleasure but it was something I think we needed to do ... so the company is better positioned to face whatever challenges it needs to face going forward," he remarks.
"So I think it's the right time for new energy and leadership to take over and my successor, Iskandar, is very well versed in the industry, with a great track record and CV. He will do well to take this group forward."
Datuk Iskandar Mizal Mahmood, the current group executive director of Media Prima, will take over from Kamal effective April 1.
Iskandar, who joined Media Prima's board on Oct 1 last year, has over 30 years of wide-ranging experience in the corporate world. He was the group CEO of Pos Malaysia Bhd and a group director of DRB-Hicom Bhd prior to joining the group.
It will be interesting to see what strategies Iskandar implements and whether he and his team can turn Media Prima around in a challenging operating environment. The group has a presence in print, radio and free-to-air TV as well as an out-of-home advertising business and home shopping.
Its earnings, like those of most players in the industry, have been on a downward trend in recent years.
From RM1.5 billion in FY2014 (ended Dec 31), revenue dropped to RM1.43 billion in FY2015, RM1.29 billion in FY2016, RM1.2 billion in FY2017 and RM1.19 billion in FY2018.
According to its latest unaudited fourth-quarter results, revenue for FY2019 was down 6% year on year to RM1.12 billion.
Media Prima has not paid any dividends since FY2017. It last paid a dividend of 8 sen in FY2016, lower than the 10 sen dividend per share paid in F2015 and 11 sen per share paid in 2014.
In terms of bottom line, the group slipped into the red in FY2016, registering RM69.7 million in net losses, which widened in the following year to RM669.7 million.
The company returned to the black in FY2018, registering a RM58.9 million net profit but fell back into the red again in FY2019, recording a net loss of RM185 million.
Nevertheless, Kamal believes the worst is over for the company, which is starting to see green shoots, judging from its results for the latest quarter ended Dec 31, 2019 (4QFY2019).
"We have come through the difficult times intact. It's no secret that media companies have fallen by the wayside over the last few years ... But we still remain standing. It was a great fourth quarter last year when we turned an operational profit … So there is still life in this old machine," Kamal states.
Revenue for 4QFY2019 rose 5% to RM304.6 million from RM290.9 million in 4QFY2018.
Stripping out the exceptional items reported in both quarters, Media Prima would have posted a net profit of RM9.7 million in 4QFY2019 versus a net loss of RM38.5 million in 4QFY2018.
Exceptional items in this case included the execution of an internal restructuring in 4QFY2019 and a one-off gain from a sale and leaseback arrangement in 2018.
Moving forward, Media Prima is expecting to save about RM70 million to RM80 million per annum from the staff rationalisation undertaken last year.
Some analysts are positive about the group's progress thus far.
CGS-CIMB Research recently upgraded the stock to an "add" from "reduce". It has a target price of 25 sen, which offers the stock an upside potential of over 40%. It closed at an all-time low of 14 sen last Friday.
"Media Prima narrowed its FY2019 core net loss far more than analysts expected. A trading opportunity could emerge as its loss burden is reduced with ample cost savings … after the stock's 35% year-to-date spiral," says the research house in a Feb 27 report.
"We cut our FY20-21F LPS by between 22% and 88% and now project FY22F to be profitable in the light of the strong cost-savings initiative. Admittedly, we like that Media Prima has finally done something to enforce an integration of its media assets. However, whether these initiatives bear fruit hinges on the workforce's ability to execute plans successfully and the group's capability to lure audiences to its platforms. The latter may require investments to prop up its content quality with competition in the media landscape at its stiffest," the report adds.
AmResearch is still cautious about Media Prima's near-term outlook and recommends a "hold" on the stock "in a challenging operating environment, coupled with the difficulty in monetising its digital initiatives and still-declining traditional media segments".
"Media Prima still expects a challenging operating environment, particularly for its traditional media segment, although it believes its stronger digital presence would help partially offset any decline in earnings. Nevertheless, the group acknowledges that global uncertainties and the coronavirus (Covid-19) outbreak will delay its earnings recovery," it says in a Feb 27 report.
Immediate-term target — return to profitability
Kamal believes Media Prima is on track to return to the black in this financial year.
"If you strip out the extraordinary items, we performed better last year than in 2018. So, going by that and generating significant cost savings from the restructuring, as well as our business units taking better advantage of what's available in the market, I think the group can return to profitability. That's the immediate-term target," he says.
Kamal reckons that there is cause for optimism when it comes to Media Prima's earnings because its latest quarterly results show that all the work and restructuring the group has done are bearing fruit.
"The cost savings are significant. So that, together with the greater efficiencies and better revenue generation, should make the company viable," he reasons.
In 2017, Media Prima embarked on its three-year Odyssey Transformation Plan — a strategic initiative to reinvent the group.
The plan aimed to deliver three important targets: increase revenue contribution from commerce and non-advertising sources; generate income from digital initiatives; and expand revenue sources beyond Malaysia.
"We tried to compensate to get new revenue and investments and so on. But eventually, the writing was on the wall. You know you cannot move forward with that number of employees, given that the business is changing … we needed to reallocate resources.
"Not just realising it but also determining that for the company to go forward, it needed to be a lot leaner and smaller. It couldn't be an industrial-era company; it had got to be an Industry 4.0 company. That was tough. There was absolutely no joy in making those cuts. For me, that was a big low," Kamal says, adding that the group could not carry the cost base it had been carrying for a long time.
Media Prima announced a rationalisation that saw more than 500 job cuts last year.
The group had 4,236 employees in FY2015, which came down to 4,149 in FY2016, 4,039 in FY2017 and 3,897 in FY2018.
Moving forward, Kamal thinks traditional media is still relevant but he predicts the pie will shrink.
"Frankly, I think people are premature when they talk about the death of traditional media. Traditional media will survive into the future but it's never going to enjoy the primacy it enjoyed 20 years ago. It needs to retain its relevance and think outside previous silos. Moving forward, everything will be multi-faceted and have digital components," he says.
In FY2019, all of Media Prima's traditional businesses — TV, radio and print — together with its home shopping segment were in the red while its out-of-home, digital media and content creation were in the black.
Kamal does not think digital will necessarily replace traditional revenue but digital earnings will continue to grow.
"I think traditional media businesses are still relevant and can operate profitably but they need to change their business model and accept operating on a lower cost basis," he says.
So, what is next for him after Media Prima?
"I will probably spend the first month working on my golf game. That is something that has been neglected over the last three years," Kamal laughs.
"It's a good time for me to step back and recharge my batteries. I would like to do something but I will take some time to decide exactly what," he quips.