This article first appeared in The Edge Malaysia Weekly, on February 5, 2018 - February 11, 2018.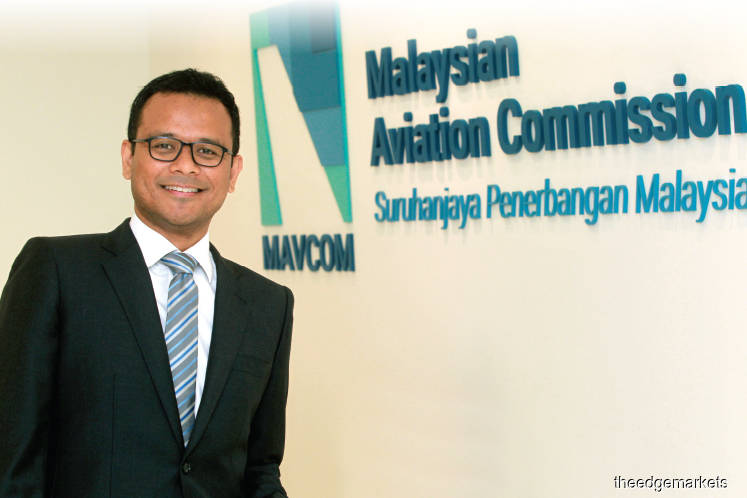 FOR players in Malaysia's commercial aviation sector, it seems there will be no escaping the Malaysian Aviation Commission (Mavcom). Into its second year of operation this March, the regulator has already cracked the whip on Rayani Air and Suasa Airlines — the former had its air service licence revoked while the latter was fined RM380,000 for carrying passengers without a valid permit.
During the same period, Mavcom also midwifed the country's first consumer protection code for aviation services and equalised the passenger service charges for international flights between klia2 and all other airports in Malaysia, which had been long sought after by full-service carriers.
Now it has its eyes set on airport operators, notably Malaysia Airports Holdings Bhd (MAHB), which manages 39 airports in the country. The only other operator is Senai Airport Terminal Services Sdn Bhd, a unit of MMC Corp Bhd.
Beginning July, Mavcom will be gradually rolling out the Quality of Service (QoS) framework, which seeks to fill in the regulatory gaps that have given airport operators too much leeway in terms of service quality and consumer satisfaction.
"Prior to Mavcom, the only regulations they (airport operators) were subject to were by the Ministry of Transport and even those were only on the charges and, to some degree, [regulations] via the operating agreement," Mavcom chief operating officer Azmir Zain tells The Edge in an exclusive interview.
The QoS will change that by introducing an element of accountability. It will set service levels for airport operators to meet, failing which subpar airports will be penalised financially.
A public consultation paper Mavcom released last July indicated that the penalty may be as high as 5% of the aeronautical revenue for both the Kuala Lumpur International Airport (KLIA) and klia2. The quantum is set at a maximum of 3.86% for medium-sized airports and 2.65% for small airports.
"By imposing a financial penalty, we think the management, board, investors and shareholders will take it seriously because money is involved," says Azmir. "So, we are essentially aligning their interests with those of consumers — that is what the QoS is going to do."
In a Jan 8 note to clients, Maybank Research says the monopolistic nature of the airport sector in general has led to some operators having a secondary focus on service quality.
The QoS will change that as it will add clarity in desired service standards and objectives, the research house opines. It expects the framework to nudge operators towards channelling more capital expenditure into system backups and building up buffers.
"At first glance, this might appear negative as the industry has to incur a higher fixed cost. But this is definitely much cheaper than incurring the penalty imposed by Mavcom," says Maybank Research.
Cost constraints
With mere months to go for the gradual roll out of QoS, Mavcom is now finalising the measurement of the key performance indicators (KPIs) that will gauge the airport users' experience.
Overall, it has identified nearly 24 touchpoints along the average passenger's journey through an airport, from arrival at the terminal to departure and vice versa.
Broadly, these fall under four distinct categories — passenger comfort and facilities; queueing time; passenger and baggage flow; and operator and staff facilities. The first three are mainly passenger-facing touchpoints while the fourth relates to other airport users, such as airlines.
"We will tack on a certain revenue-at-risk for each KPI and where airport operators fall short, they could be subject to a financial penalty. So that's basically in a nutshell how the scheme is going to work," says Azmir.
First out of the gate in July will be selected user experience touchpoints and equipment availability, and the measuring mechanisms will begin churning out data then, he says. These will collectively carry between 2.4% and 2.6% in terms of revenue at risk for airport operators, he adds.
Subsequently, other KPIs will be implemented in stages going into 2019. While the percentages attributed to each KPI are still fluid, the end total will be at 5% of aeronautical revenue, says Azmir.
For starters, the framework will apply to both KLIA and klia2 come July. Mavcom will likely expand it to other international Malaysian airports sometime in the first half of next year, and to domestic airports by 2020, he explains.
The gradual roll-out approach is due to resource constraints on the commission's part. That issue also weighs on Mavcom's consideration as to whether the QoS should apply to 18 short take-off and landing airports (STOLports), which are mainly loss-making and provide rural air connectivity.
"To implement this at one go at all 39 airports — we just do not have the resources to do it. So, we thought it would be a good idea to start with the key airports, the international gateways first," he explains.
Mavcom remains government-funded at the moment. While Parliament passed a new law last year to allow a RM1 levy on airport passengers to fund its operations, there is no clarity on when the levy will begin.
It could be a sizeable sum — in 2017, MAHB's network of 39 airports saw a total of 96.54 million passenger movements.
While Mavcom is weighing whether QoS implementation costs at STOLports are worthwhile, Azmir acknowledges that many consumers use these airstrips and that the commission is exploring ways to protect their interests in the absence of QoS.
With finite resources, measuring these KPIs will also be a big challenge. The commission tells The Edge that some KPIs, such as wayfinding and washroom cleanliness, will leverage consumer feedback while others will rely on self-reported data from airport operators.
Mavcom will also conduct physical inspections and independent audits on measuring mechanisms not under its control, says Azmir.
Pressure on MAHB
This means MAHB, in particular, will face more intense pressure to deliver satisfactory services. The stakes are high — of its RM4.17 billion revenue in the financial year ended Dec 31, 2016, 49.5% came from the aeronautical segment.
Theoretically, a maximum of 5% of that portion would come up to RM103 million, although this is a simplistic gauge as any QoS penalty would be imposed on an individual airport basis and not collectively.
Among its key challenges is congestion. At least eight of its airports are operating well beyond their terminal design capacity, with the Skypark Terminal Sultan Abdul Aziz Shah Airport being the most congested, with a utilisation rate of 190% in 2016.
Noticeably, MAHB has stepped up efforts to improve its service quality of late, amid negative publicity, such as the frequent aerotrain service disruptions at KLIA.
In a statement last week, MAHB said it will showcase at least one improvement a week throughout this year, with an emphasis on quick wins first.
Quick wins aside, to live with QoS, airport operators will need to be more proactive and forward-thinking, says Maybank Research, noting that many QoS items are systemic in nature and not easily solved.
"For example, airport facility sufficiency and ambiance of the terminal requires careful planning and construction time. The entire process can consume one to two years and therefore, airports must plan ahead and expand before they hit capacity," the research house says.
Otherwise, reactionary plans would be too late and could invite penalties due to lower passenger satisfaction, it adds.
Another challenge for MAHB to navigate through will be passenger dissatisfaction due to factors beyond its control, such as check-in queueing times and immigration clearance speed, which are shared responsibilities with airlines and the Royal Malaysian Customs Department respectively.
Mavcom acknowledges the issue and says MAHB will not be held solely accountable for these shared responsibilities. "So, there will be no revenue at risk for those [shared] KPIs but, instead, what we will do is we will publish the data, such as queueing times."
Additionally, while MAHB has no potential incentives to overachieve under the QoS, such bonuses — similar to those seen at London's Heathrow Airport and in Brazil — may be considered in the future, it adds.
When asked, Azmir clarifies that airlines will not have to grapple with financial penalties under QoS in the near future as there are already provisions for fines against them under the Malaysian Aviation Consumer Protection Code 2016.
The frequency debate
Another key question for QoS is the frequency of data collection and, by extension, potential fines. "Right now, the debate is whether it should be quarterly or monthly," says Azmir.
At the moment, the framework is set to operate on a quarterly basis — meaning service levels will be measured every three months — but the commission is considering a monthly frequency, he adds.
The benefits of a shorter time frame are clear. If service levels are assessed monthly, airport operators will have to react more quickly in rectifying any shortfalls as penalties would be calculated monthly too.
But it also poses problems. One, it is unclear whether the measuring mechanisms will be able to churn out data quickly enough for a monthly assessment, says Azmir. A greater frequency will also add to Mavcom's administrative costs, he explains.
"We have very finite resources here, so we also need to balance our available human capital and human resources with the administrative burden of looking at this too frequently."
In turn, another question emerges: How will the funds from QoS penalties be used?
According to Mavcom, among the options on the table is reinvesting the funds in the industry by way of infrastructure or human capital development. Alternatively, the regulator is mulling over rechannelling the funds to aggrieved parties under the QoS, for instance airlines that use a particular airport that had been penalised.
"This is something that we are still discussing … there are various options, which are still being discussed," says Azmir.
Save by subscribing to us for your print and/or digital copy.
P/S: The Edge is also available on Apple's AppStore and Androids' Google Play.