This article first appeared in The Edge Malaysia Weekly, on December 20, 2021 - December 26, 2021.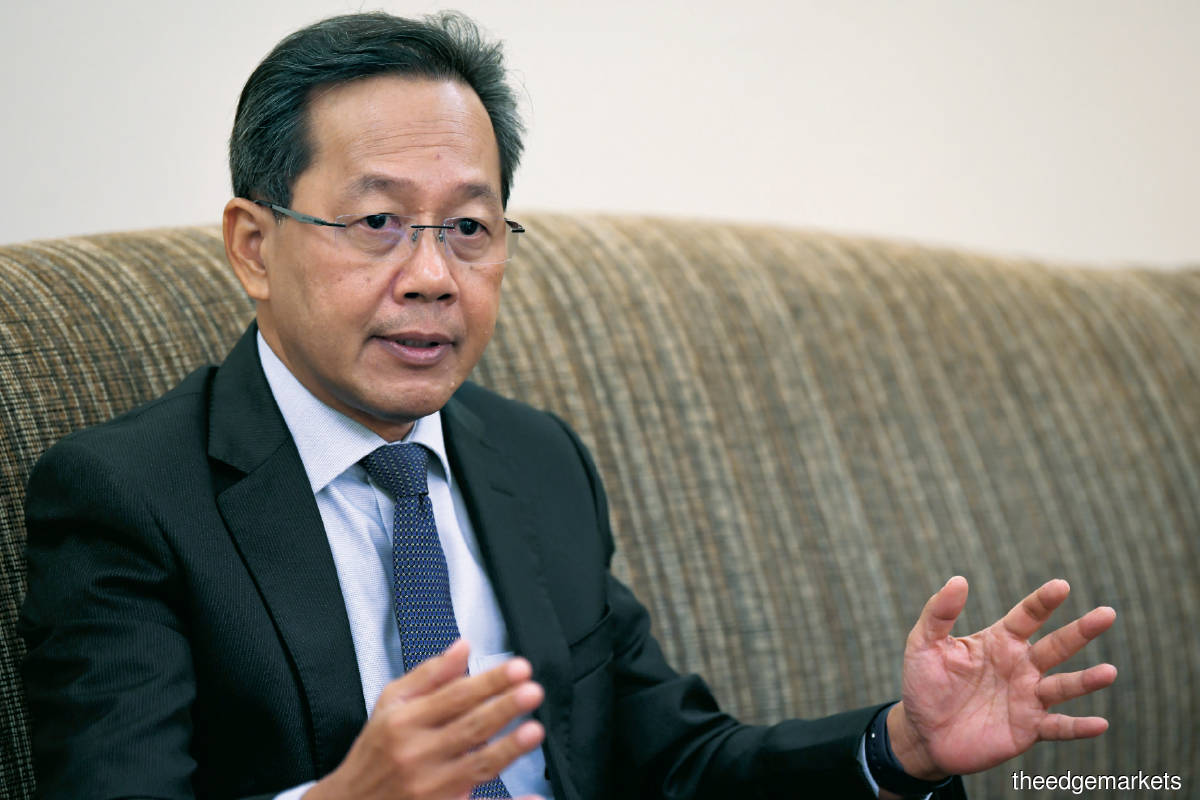 MALAYSIA Airlines Bhd (MAB) said it turned cash-flow positive in October and November for the first time since the Covid-19 pandemic began. While air travel demand remains well below pre-pandemic levels, flight bookings have improved rapidly over the past two months as the country eased travel restrictions and launched vaccinated travel lanes (VTLs) with its regional neighbours.
Barring any major setbacks, the national airline is on track to reach breakeven in 2023, says its managing director and group CEO Captain Izham Ismail, who is also group CEO of its parent, Malaysia Aviation Group Bhd (MAG).
"Our average daily cash flow has turned positive since October, [even though] our [seat] capacity is only about 25% of 2019 levels. If this [positive cash flow] maintains, we can break even in 2023," he tells The Edge in an interview. In October last year, it was reported that the aviation group was experiencing an average monthly operating cash burn of US$84 million.
Izham attributes the improvements in cash flow to MAB going to the market responsibly, with its "yield active, load factor passive" strategy.
"Our cargo has also been our star performer. In the financial year ended Dec 31, 2019 (FY2019), MAB Kargo Sdn Bhd (MASkargo) posted a revenue of RM1.27 billion. Our internal projections are that MASkargo could bring in RM2.7 billion in revenue for FY2021," he says, adding that the airline's loyalty programme, Enrich, has also been a source of revenue.
Returning to positive cash flow is a critical milestone on the road to recovery for airlines. That said, MAB is "not yet out of the woods", says Izham.
MAB shares the International Air Transport Association's (IATA) view that global passenger traffic will not return to pre-Covid-19 levels until 2024. However, this outlook has not factored in the impact of the Omicron Covid-19 variant, which has now spread to 57 countries. The World Health Organization expects that number to continue growing.
Should the Omicron variant cause a new wave of infection, MAB's breakeven target will be set back by a year.
According to Izham, the aviation group's budget planning under its Long Term Business Plan 2.0 (LTBP 2.0) was set based on a best- and worst-case scenario.
"The worst-case scenario assumes an extended recovery, as it did with the Delta variant this year. Our crystal ball was quite accurate because we were very cautious [with our budget planning]. We did not want to paint a glorified picture and then [have to] turn back. But we didn't factor in a new variant like Omicron. If Omicron turns out to be a dangerous variant, then we would have to revisit our plan for 2022 and apply the template used in 2021 to a certain extent for 2022," he says.
"Overall, I am bullish on MAG's future but I am cautious about the environment. When I took over the job [as group CEO of MAB in 2017], my biggest worry was the group's balance sheet. That has been resolved [in the recent restructuring]. Our balance sheet and cost structure are now lean and agile. We should be able to weather the crisis for another year (2022).
"If the market worsens, we can continue with the by-the-hour payments for 2022 and activate the contingent payment deferrals with our aircraft lessors. We would then push our breakeven target to a year later, that is, 2024," he adds.
MAB has been among the worst hit by the pandemic, which brought global travel to a virtual standstill and saw airlines lose a record US$126 billion last year. IATA is expecting global airlines to lose an estimated US$51.8 billion (RM219 billion) in 2021.
Khazanah disburses RM1.3 billion in funds to MAB
MAB was one of the first Asian airlines to successfully restructure its debt to stay airborne, without cutting its staff, in March this year. As part of a new five-year turnaround plan under LTBP 2.0, it received a capital commitment of RM3.6 billion in funding from its controlling shareholder Khazanah Nasional Bhd to recapitalise the national airline.
Izham says the airline has drawn down more than one-third or RM1.3 billion of the funds to date and has about RM2.3 billion left. It had initially budgeted drawing down RM2.1 billion this year.
"We managed to spend less than the RM2.1 billion first budgeted, through network management, cost savings, operational efficiencies and staff salary cuts. With the balance, I still have room [to weather the pandemic].
"But my aspiration as CEO [of MAG] is not to draw down all of the RM3.6 billion. That is my KPI (key performance indicator)," he adds.
Izham notes that the RM3.6 billion in new capital from Khazanah is to ensure the sustainability of the aviation group until 2025.
"The purpose of the funds is not to pay salaries. It is to ensure that MAG's cash holdings must not fall below RM700 million at any point. The RM3.6 billion funds are used to cover any cash shortfall if it dips below RM700 million. That was part of the agreement we had with the 75 creditors [under the restructuring]. It is not money blindly given to us to spend," he says.
On its part, the airline has embarked on cost containment measures and rebuilding its profit and loss (P&L) through five strategic pillars: to become a premium Asia-Pacific carrier, recapture the domestic and Asean market, drive deeper commercial partnerships, diversify its revenue streams and make digital the cornerstone of its business.
"There is clarity of the products that MAB will [take] to market; we know which market segment we should be targeting. We are very clear that we are not a luxury airline and that we shouldn't be competing with low-cost carriers.
"In my view, Malaysia as a country should focus on high-value markets. The disposable income of Malaysians today due to the pandemic is not strong. But in other parts of the world, their disposable incomes are still strong. So we should focus on high-value markets such as London, Europe, Australia, North Asia and South Asia [through measures such as our VTL with Singapore]. Of course, domestic is important but I won't put my money on the Asean market yet. Malaysia should bring in high-value travellers to spend in the country," he says.
Citing Malaysia's VTL arrangement with Singapore, Izham says the average passenger load factor has been at 90%, driven by pent-up demand for travel without quarantine. MAB currently has twice-daily VTL flights to Singapore.
"We also know very clearly that we shouldn't put all our eggs in one basket and so we have established three businesses: airline; aviation services such as MRO (maintenance, repair and operations), cargo, academy and ground handling; and we know that digital is the future of the global economy. We have established a new profit centre with the launch of Journify, which is our travel and lifestyle e-commerce platform," he explains.
"We are not Lazada, Grab or Shopee," Izham says, adding that Journify is to complement its established strength and expertise in the airline and aviation services businesses. The platform has attracted 80 merchants, offering users about 4,000 products. Since its launch in July, the website has recorded nearly 900,000 unique visitors.
Rebuilding from ground zero
Izham refers to 2020 and 2021 as ground zero, as international travel came to a near complete standstill in 2020 because of the pandemic, with airlines grounding most of their fleet due to border closures.
Airline executives had hoped that 2021 would be a better year than 2020, but then the Delta variant hit, driving another round of lockdowns.
"In 2020, we still had three good months (January to March) [before Malaysia closed its borders on March 18]. We mounted about 9,000 flights a month last year, but we have mounted only about 8,000 flights so far this year," he explains, noting that most airlines including MAG were at risk of shutting down if they did not restructure themselves this year.
As it is, Thai Airways posted its first net profit since the pandemic hit in the first half of 2021 after restructuring its US$12.9 billion debt load, while Philippines Airlines and Garuda Indonesia are still in the midst of restructuring their finances. Last month, creditors of AirAsia X Bhd agreed to its RM33.65 billion restructuring scheme.
In October 2020, Reuters reported that MAG had US$88 million in cash on hand as at Aug 31, 2020, which was only enough to last the company until November that year without a restructuring.
Following 4½ months of intense negotiations with its creditors such as banks, aircraft lessors, aircraft maintenance service providers and key suppliers, MAG completed its restructuring scheme on March 22 this year, which saw it reduce RM15 billion worth of liabilities and eliminate RM10 billion of its total debts of RM25.7 billion, along with RM5.7 billion in total cost savings and cost avoidance. The average haircut on debts its creditors took was 52%.
Izham says: "If we didn't do anything, MAG would have reported negative net income after tax (NIAT) of about RM9.5 billion in FY2020 and we wouldn't be here today. However, the aviation group ended that year with a negative NIAT of RM4 billion."
Data from the Companies Commission of Malaysia (SSM) shows that MAG's revenue fell 57.2% to RM4.58 billion in FY2020 from RM10.69 billion in FY2019. Net loss for FY2020 widened 312% year on year to RM4.1 billion from RM995.86 million.
Meanwhile, its balance sheet shows negative shareholder equity (before minority interests) of RM12.19 billion at end-2020. Its total assets were RM13.03 billion while its total liabilities stood at RM25.19 billion.
For FY2021, Izham says the group's target is to halve the RM4 billion negative NIAT. But the good news is with three weeks left in 2021, MAG is expected to end the year with an unaudited negative NIAT of RM1.6 billion — 21% ahead of its target.
"So next year's target is to further halve the [projected] negative NIAT of RM1.6 billion in FY2021. If the current trajectory of improvements is sustained, we should break even two years from now," he adds.
The group is also poised to deliver about RM3 billion in total cost savings for FY2021.
"This year, we went to our suppliers and vendors, who were not part of the restructuring scheme, to renegotiate the terms of existing contracts. We have gained good traction so far. As of today, we have achieved close to RM500 million in [cost] reduction," notes Izham.
Still, there are several concerns that could derail the aviation group's attempt to return to profitability. Fluctuations in currency exchange rates and fuel costs, irrational pricing in the marketplace, overcapacity and another wave of coronavirus infections are some of them, he says.
Jet fuel prices have surged above pre-pandemic levels as key domestic aviation markets start to improve. IATA's website shows that jet fuel price was US$87.40 per barrel on Dec 10, up 58.9% from a year ago.
What to look out for in 2022/23
As part of its five-pillar plan to recapture the domestic and Asean market, MAG's wholly-owned turboprop operator FlyFirefly Sdn Bhd commenced jet operations in March this year, operating flights from its Penang International Airport hub to Johor Baru, Kota Kinabalu and Kuching. However, it suspended those operations when the Delta variant hit.
According to Izham, Firefly will resume its jet operations in April next year, using the narrow-body Boeing 737-800s.
He also says the airline plans to issue a request for proposal (RFP) for wide-body aircraft to replace its ageing A330s in the first quarter of 2022 (1Q2022) and aims for entry into service by the second half of 2023. MAB currently has a fleet of 81 aircraft, comprising six A350s, 21 A330-200s/300s, 48 737-800s and six A380s. However, none of the A380-800s is currently operating.
The new planes would come on top of the 25 737 MAX jets it will take delivery from Boeing starting in the second half of 2023. Deliveries of the planes were initially scheduled to commence in July last year, but Malaysia suspended the aircraft in March 2019 after the MAX planes were grounded worldwide following two deadly crashes.
Although he was not ready to disclose how many new wide-body aircraft MAB is looking to add or replace, Izham says it aspires to have a fleet of 62 narrow-body and 31 wide-body aircraft by 2025.
The airline will lease the aircraft rather than buy them, Izham says, noting that MAB's history for the last five years has been 100% leased. It has learnt a lot from this pandemic. "We don't want to go back to [the financial situation of] 2000 when we spent too much money buying planes. We are currently in the final stages of the negotiation with several lessors. We hope to make some decisions by 1Q2022," he adds.
"Moving forward, beyond 2025, MAB should have a composition of both owned and leased aircraft."
Meanwhile, the aviation group's attempt to sell its entire fleet of six A380-800 super jumbos is seeing some success. Izham says it has shortlisted potential buyers for the planes and expects to wrap up a deal by 1Q2022 and phase out the aircraft by the end of next year. The airline has reportedly been trying to sell the A380s as far back as 2015.
Malaysia Aviation Group to introduce performance-based pay model for employees
Malaysia Airlines Bhd's (MAB) parent Malaysia Aviation Group Bhd (MAG) will introduce a new salary scheme on Jan 1, under which its 10,500 permanent employees will be paid based on their performance on the job.
The aviation group told employees earlier this month that with the MAG Total Rewards Transformation Programme in place, they will no longer have to take voluntary unpaid leave. The extensive salary cuts for the management team and pilots will also stop.
MAG group CEO Captain Izham Ismail says the new pay structure is to transform the organisation into a performance-driven one, encouraging higher productivity. "It is a partnership between employees and the organisation to propel the organisation to profitability," he tells The Edge.
While MAG didn't lay off workers during the Covid-19 pandemic, it did join major international airlines such as Singapore Airlines, Cathay Pacific and British Airways in April last year in asking its employees to take voluntary unpaid leave as the spread of Covid-19 had taken a heavy toll on the aviation group's bottom line.
The group offered employees the option of taking three months' no-pay leave or five days' unpaid leave per month for at least three months. Earlier, it had announced a 10% pay cut for senior management as part of measures to lower its operational costs. They also had to forgo their allowances.
According to Izham, employees who contribute more to the organisation will be paid more. "If an employee performs well, he or she can earn equal to or better than what they did in 2019," he points out.
"The new rewards structure is to make variable the costs of the organisation, optimising them so that we are not laden with fixed costs. 'Feeling entitled' has been a legacy issue of MAG. That culture and mindset have to change. Compensation will be tied to individual performance, and the other half to the company's performance.
"A typical GLC (government-linked company) doesn't do this. We learnt from the best in class such as Singapore Airlines and Japan Airlines, as well as other non-airline organisations, and then designed it to fit MAG."
Izham notes that the public still perceives MAG as a laidback organisation. "It is not. It has transformed. People in this organisation have a different cadence. We have come a long way."
StanChart tasked to find strategic investor for cargo unit
Malaysia Aviation Group Bhd (MAG) has hired Standard Chartered Bank to explore strategic options for MAB Kargo Sdn Bhd (MASkargo), its profitable wholly-owned air cargo unit.
The bank will be responsible for looking at investment options for MASkargo, including a potential stake sale to strategic investors, says MAG group CEO Captain Izham Ismail. However, the percentage it is willing to dispose of has not been decided yet.
"We are looking to sell a small equity stake [in MASkargo] to strategic investors. Currently, it is under negotiations. We appointed StanChart in November to be our investment banker to search for the best candidate and negotiate together with us, and then we will go to the board for approval," he tells The Edge.
In October, Bloomberg, citing people familiar with the matter, reported that MAG had been weighing the sale of a minority stake in its air cargo unit to a strategic partner.
MASkargo CEO Ibrahim Mohamed Salleh told The Edge last month that as a subsidiary, the air cargo unit had been a positive contributor to MAG even before the pandemic. In 2020, it doubled its profit compared with 2019.
MASkargo's last filing with the Companies Commission of Malaysia shows that its net profit surged 444% to RM180.54 million in 2019 from RM33.17 million in 2018, even though revenue fell 0.5% year-on-year to RM1.27 billion.
Izham says the air cargo unit makes up about 15% of MAG's overall revenue at a steady state. But the boom in the global air cargo market has seen MASkargo's contribution rise to more than 50% of the group's total revenue during the pandemic.
"We are ambitious, but we want to manage the funds available to us smartly. One of the options I have is to buy more freighters for the air cargo unit [to keep pace with the boom in the air cargo market] and have a broader network of cargo flights. But I don't have the money [to do so]," he adds.
"So, bringing in [a strategic investor] that has a strong network is another option. We are looking at having a global reach. As it is, we don't have a strong network to North Africa, South Europe or North America."
Izham points to one of MAG's five strategic pillars, that is, to drive deeper commercial partnerships as part of its path to growth. "Why should I compete with you if we can leverage each other's strengths? It can be with airlines or cargo operators. We are open.
"There has been a lot of interest because MASkargo is a profitable business. Moving forward, our network has been designed to make sure we can capitalise on the belly capacity on passenger planes as well.
"Airlines have realised that we cannot put everything in one basket. We are diversifying now. Previously, cargo was an added business. But today, it has to be balanced out. We have embraced this and it has been fruitful."