This article first appeared in The Edge Malaysia Weekly, on April 22, 2019 - April 28, 2019.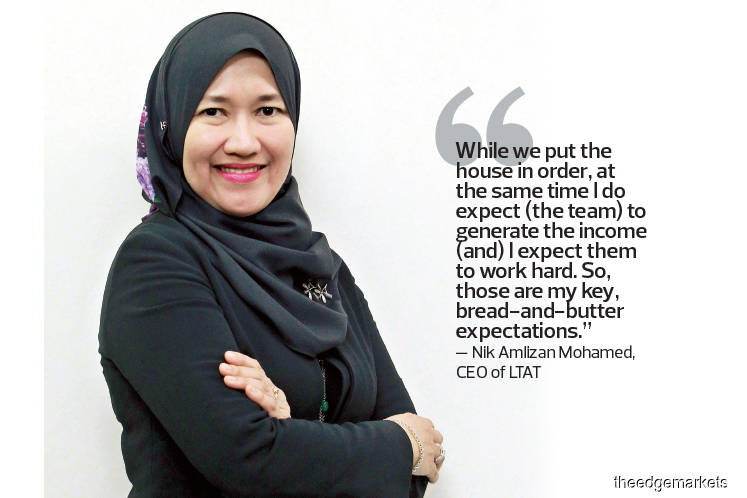 LEMBAGA Tabung Angkatan Tentera (LTAT) holds a unique role as it manages the retirement savings of several hundred thousand military personnel.
For politicians, the armed forces present a sizeable vote bank. That is perhaps why politicians in power at the defence ministry had for years formed close relationships with LTAT, evidenced by the long association between LTAT's former CEO Tan Sri Lodin Wok Kamaruddin and former prime minister Datuk Seri Najib Tun Razak.
So, does LTAT's new CEO Nik Amlizan Mohamed feel the added pressure from the political side of things? In response, she says it all goes back to the same objective of providing the best return to the soldiers.
"It's actually a common objective, which is to provide good returns (to contributors). The only thing that I have introduced is sustainability, which I think has not been talked about enough," she says.
On one hand, LTAT seemingly has preferential access to ministry projects that help its quest for returns. On the other hand, that relationship with the Ministry of Defence has also led to some eyebrow-raising endeavours on LTAT's part.
One example in 2017 is that it financed the RM30 million construction of Wisma Bintara Complex for the ministry as part of its corporate social responsibility (CSR) initiatives.
Another CSR project is the ongoing construction of 2,580 affordable apartment units for its members, which it will be selling at a marginal profit.
In total, LTAT has spent RM491 million on CSR since its inception — a mammoth sum for a RM10 billion fund. The bulk of the sum was spent in the past five to six years, says the CEO.
While not illegal per se — the LTAT Act 1973 is silent on the matter — it is an issue that LTAT is working to address, says Nik Amlizan.
"We don't have CSR guidelines, so we are coming out with CSR guidelines to put in the limits and all that, which I think needs to be clearly spelt out," she says.
Key to imposing proper limitations on what LTAT can and cannot do is contained in the comprehensive investment policies and guidelines that the fund is currently drafting.
So far, the new CEO is pleased with the progress on that front.
"I know it may sound boring, but I think it's a work of art because we built 'poison pills' inside the investment policy and guidelines.
"So even if I want to do something that is not in line with the whole philosophy, I can't do it because it will have to go through so many layers," she explains.
Meantime, she says LTAT is in discussions to recoup some compensation for what it spent on the Wisma Bintara Complex.
At the end of the day, the limitations are designed to return LTAT's focus to its core goals and objectives. "It goes back to the soldiers. We need to make sure that whatever we do must benefit the soldiers."