This article first appeared in The Edge Malaysia Weekly, on September 14, 2020 - September 20, 2020.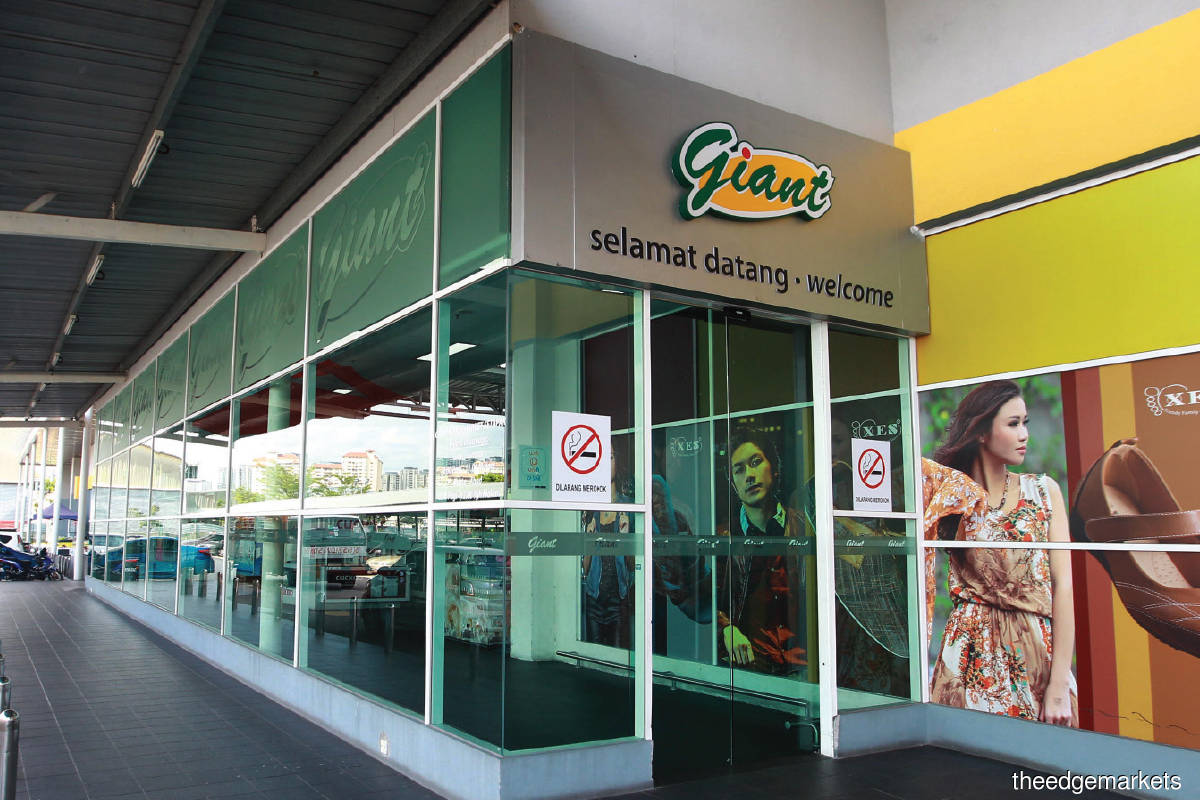 THE Covid-19 pandemic has changed the way people shop for groceries, giving struggling grocers a much-needed boost.
Anecdotal evidence shows that prior to the pandemic, on average, one in 10 mall patrons would frequent the cinema while only one in 12 would go to the grocer — showing that more people were going to the malls for entertainment rather than grocery shopping. The three most important retail tenants for a shopping centre are a grocery retailer, F&B outlets and leisure and entertainment providers.
When the Movement Control Order (MCO) was announced in March, the ratio changed. Between March and May, grocers saw their business surge by a third and, in some exceptional cases, by as much as 80%. Sales at these grocery stores have now stabilised. The cinemas have only recently been allowed to reopen but the crowds have not returned.
"A very interesting development in grocery trade took place after the MCO was imposed. The pandemic actually revived the businesses of many struggling grocery retailers that had physical stores," Retail Group Malaysia (RGM) managing director Tan Hai Hsin tells The Edge.
He explains that since restaurants were not allowed to open, many Malaysians were forced to visit supermarkets and hypermarkets to buy groceries to cook at home. Those who had lost their income also had to cook as it was a cheaper alternative. Moreover, morning markets and night markets were also shut.
At the same time, visiting grocery outlets provided people with the opportunity to venture out of their homes. "Suddenly, some of these grocery operators were enjoying double-digit growth," Tan says.
According to a source, in the April to June period, a grocer backed by a private equity fund saw its profit surge multiple times to RM22 million, on the back of RM350 million in sales.
Recall that over the past few years, the country's grocery retail market had been undergoing consolidation and the steps taken by large foreign hypermarket chains stood out. The market took a hit when consumers moved from bulk purchases in trolleys and weekly or biweekly visits to smaller baskets and more frequent trips to supermarkets and even mini markets. These hypermarkets were forced to adjust to this global trend and look for ways to cut costs and improve declining sales.
Hong Kong-based Dairy Farm International's GCH Retail (M) Sdn Bhd, which operates the Giant and Cold Storage outlets, has shut dozens of stores and reduced floor sizes at some locations as part of its turnaround exercise. The move is paying off.
The UK's Tesco Stores (M) Sdn Bhd has also resized multiple stores. Early this year, the business was sold to Thailand's CP Group.
Meanwhile, the managements of Japan-based AEON BiG Sdn Bhd and department store operator AEON Co (M) Bhd have been placed under one roof.

"Consolidation by certain hypermarket operators was inevitable due to pressure from competition, cannibalisation by their own banners and higher occupancy costs. Based on recent reports, however, hypermarkets appear to have performed reasonably well during the pandemic as consumers purchased essential necessities," says Bumiputera Retailers Organisation committee member Adzman Shah Mohd Ariffin, who has worked with Cold Storage and Carrefour Malaysia. He is also CEO and chief real estate consultant at ExaStrata Solutions Sdn Bhd.
Indeed, recent data released by RGM on behalf of Malaysia Retailers Association shows that, compared with other retail subsectors, contractions in the supermarket and hypermarket category were the smallest in the first and second quarters at -3% and -9.9% respectively.
Will the recent surge in sales continue and will the grocers continue to pull the crowds at shopping centres?
"Grocery retail is still a crowd-puller for shopping malls, especially since the MCO," Tan says. He opines that supermarkets and hypermarkets will remain busy due to the nature of their business, adding that urban Malaysians tend to buy groceries weekly and are likely to visit shopping malls at least once a week.
But he adds, "Despite being a crowd-puller, supermarkets and hypermarkets are no longer the retail driver at shopping centres. They are important anchors but landlords can no longer depend on them to secure other retail tenants."
Tan notes that over the past five years, shopping centres have been losing their tenants even though they had a large grocery store as an anchor. Similarly, he says, there were shopping centres that failed to achieve good occupancy levels even though they managed to secure a branded grocery retailer.
Meanwhile, Adzman says, "While grocers may no longer strongly attract footfall, they still remain a reason for customers to visit [a mall] ... to fulfil their leisure and social as well as shopping needs since travelling to one location that offers everything under one roof is more convenient for them."
On whether retailers like Mr DIY are now retail drivers at malls, Tan replies in the negative, but notes that Mr DIY is indeed a crowd-puller. "It offers enough variety of goods to attract a large number of regular shoppers. But, the spillover effect to the shopping mall is limited. The malls must have mini anchors today, but should not rely heavily on them to generate a crowd."

Online grocery shopping to stay
The Covid-19 pandemic has also accelerated the shift to online shopping. "Since the MCO, online grocery shopping and delivery experienced exponential growth ... Online grocery shopping had not really gained momentum due to the high barriers to entry such as expenses and complexity of building logistics networks. However, the pandemic has accelerated the transformation," Euromonitor International research analyst Clare Lee tells The Edge.
"We can see that multiple grocery retailers have ramped up their omnichannel capabilities to meet the new needs of consumers. Some have built their own logistics while others have partnered with hyperlocal delivery third-party platforms. Hyperlocal grocery delivery service's success shows that mastering last-mile fulfilment is crucial in the online grocery space," she adds.
"A momentous shift in spending towards online grocery was observed and we expect this to continue post-Covid-19. Consumers will continue to visit physical stores but they are also more comfortable with online grocery shopping and are enjoying the convenience provided," she says, adding that companies that are able to adapt to the accelerated consumer adoption of online ordering, delivery and click-and-collect services will be well positioned for higher growth in the foreseeable future as the long-term ramifications of this shift are beginning to be seen.
"Grocery stores will continue to be relevant as a shopping option for locals. Most consumers still prefer to compare products and ensure the freshness of the produce they buy. Other concerns are delivery timing and expiration date of products," Adzman points out.
Savills (Malaysia) Sdn Bhd associate director for retail services Murli Menon agrees. While all categories of supermarkets and groceries have seen an explosion in online sales recently, delivery efficiency and cost of fulfilment continue to be concerns, he says.
Therefore, he expects continued growth in offline formats as shoppers still want the sensory experience of shopping in person. "The majority of sales are still expected to remain offline. However, a more seamless integration of online and offline experiences and offerings can only help push sales across both channels."
Lee concurs, and draws attention to how online space is limited to some services and functions that can only be provided for by physical stores. "Brand experience, testing of products, after-sale service and instant gratification are some of the reasons people are still going to physical stores. Experiential shopping has been evolving over the last few years, with retailers coming up with new ways to engage their consumers offline, such as introducing new technology in-store, offering customised services or hosting workshops and activities." Customers also prefer to touch expensive purchases before buying, she adds.
Tan cites the example of Redtick — an online grocery operator that has moved to operating four physical outlets — as to why physical stores will remain relevant. "Walmart, Kroger, Albertsons and Costco remain the largest grocery retailers in the US despite the dominant position of Amazon."
Will there be further consolidation in the retail industry?
Tan does not expect any major consolidation to take place in the industry. He expects, at most, a few closures by the end of the year.
However, Adzman believes that closures will continue to be seen over the next two to three years. "Those who signed long leases may find that rental increments have exceeded permissible occupancy costs, affecting profitability amid increased competition, fewer customers and rising costs. These operators have no choice but to consolidate those outlets that are no longer viable, sometimes risking paying huge compensations to their landlords.

"The increase in convenience stores and chain minimarkets have also caused market saturation, exacerbating the situation. Consolidation is expected to continue for certain established players for the next two to three years before the market reaches equilibrium in terms of the number of remaining outlets operating achieving decent profitability and maintaining economies of scale, immediate catchment growth sustaining sales and there is no major new player disrupting the playing field," he adds.
Murli believes consolidation will continue as long as it produces better operational efficiency, better bargaining power along the supply chain and better economies of scale. He adds that businesses are bound to expand, in smaller and more focused formats, in neighbourhood malls, given their potential and resilience. At some point in time, these could also serve as fulfilment centres, thereby harmonising offline and online channels, he adds.
Fulfilment centres are similar to the click-and-collect service being adopted by fashion retailers, under which customers place an order online and pick up the items at the nearest branch.