This article first appeared in The Edge Malaysia Weekly, on March 19, 2018 - March 25, 2018.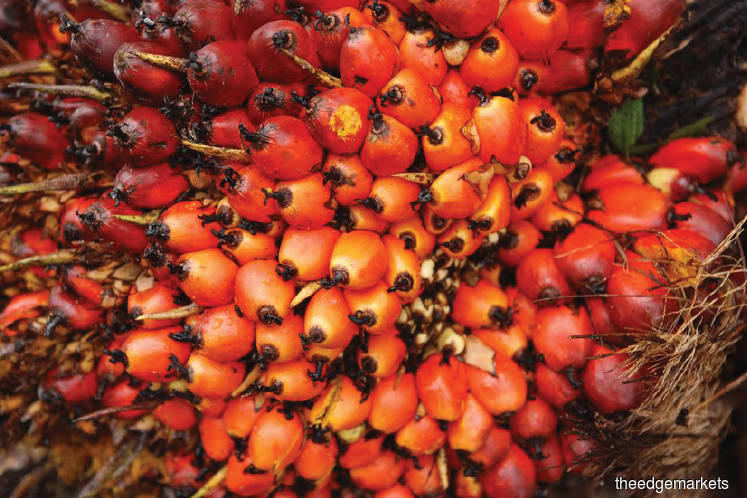 AT the Palm & Lauric Oils 2018 Price Outlook Conference & Exhibition that ended two weeks ago, United Plantations Bhd vice-chairman and CEO Datuk Carl Bek-Nielsen, in his presentation and following panel discussion, fervently questioned the discrimination against palm oil and called for stakeholders along the palm oil value chain to collectively address the issue of low take-up of sustainable crude palm oil.
During the panel discussion, Bek-Nielsen lamented that despite the availability of RSPO-certified palm oil, the take-up by food manufacturers and retailers was disappointing. Of the 12.5 million tonnes of sustainable palm oil produced, only 53% was taken up in 2017.
"In many instances, we see the spirit of commensurate effort falling short amongst the consumer goods manufacturers and retailers. And I say this not in a negative manner. I say this simply for the sake of trying to ensure that sustainability is going to be built in and if it's going to be a success, it requires all of us walking together along this path and doing something constructive for the cause of palm oil and, in this case, sustainability," he said.
The low take-up, coupled with increasingly stringent sustainability standards required by NGOs and buyers, sends the wrong message to oil palm growers who then question whether there will be demand for sustainable palm oil.
"Will there be a guaranteed uptake or not? For many growers, we have jumped through a ring of fire; we've made a backward somersault only to find there's no audience in front of us.
"This is the problem, we have to address this problem collectively and move together jointly because if we don't fulfil the spirit of commensurate effort, this is sadly going to fall flat. Growers will resist making changes that will enhance sustainability simply because there're very few people who will want to buy it," he said to applause from the audience.
When asked if he were angry or upset about the issues discussed, Bek-Nielsen tells The Edge that he is just being passionate about a subject close to his heart.
"It's not that I'm annoyed. I'm just relatively interested in steering this debate in the right direction. It is of concern to the industry that palm oil is being denigrated to such extremes. I've been following this in the last 20 years and I have seen no other agricultural crop being singled out like palm oil right here, right now. That's why you have to speak up and if you want to be heard, you have to speak with a loud voice."
Thomas Mielke, palm oil forecaster and executive director of ISTA Mielke GmbH, weighs in by saying the industry should go on the offence to highlight that the other oils are even more unsustainable than palm oil.
"You've been defending palm oil but you have not been proactive. You can be more proactive by comparing sustainable palm oil with soybean oil, rapeseed oil and sunflower oil. Where are the sustainability criteria for soybean, rapeseed and sunflower oil? What about the enormous expansion that takes place in the Amazon? Why is no one taking note of that? You can begin by asking these questions that are proactive, which would be offensive rather than defensive," he tells The Edge.
However, those in the industry disagree that an offensive strategy would work, still preferring diplomacy.
Khor Yu-Leng, palm oil researcher and geo-economist, says that in addressing the anti-palm oil campaign, a multi-pronged approach will likely continue with offence as well as defence. She observes that while there is a wide body of international literature published that raises issues against palm oil, the challenge is to put across data and analyses in support of the socioeconomic benefits of palm oil in international journals.
"Moreover, grey literature such as that by NGOs and other publications often has small sample sizes, some with up to 50 interviews or data points and others with 100 to 200 interviews. If the industry or producing countries can generate well-researched reports with thousands, if not tens of thousands, of data points or respondents, that might be effective to highlight the benefits," she explains.
Dr James Fry, chairman of LMC International, sees an unequal battle for palm oil producers because they face an amorphous but large group of people, many of whom are young and who keep abreast of global developments, thanks to social media.
"It is very hard for what I think are facts to be presented in a way that offsets some of the things on social media," he says.
Khor's analysis of tweets on palm oil in Europe reveals that negative engagement was at least five times positive engagement (see table).
Bek-Nielsen says the industry — from the Ministry of Primary Industries and Commodities to various bodies — and friends of palm oil in Europe have done a lot to educate and correct the negative perception of the commodity.
"It's not as if the industry has not been doing anything. Over the last few years, a tsunami of negative sentiments has sprouted and is growing more hostile. The anti-palm oil tsunami in Europe is, sadly, a consequence of the fact that many EU politicians, including the soft media, have almost legitimised the hostility towards palm oil. Denigrating palm oil in the EU is not just tolerated but it is now endorsed and very few have the backbone to stand up to such discrimination, which is deeply concerning. It is as if palm oil has become the lightning rod for the growing frustration of consumers and politicians over climate change," he says, referring to the European Parliament's proposal to phase out palm oil from the Renewable Energy Directive in 2021.
Fry points out that as with any other industry, there are problems and bad apples who do not play by the rules. "You don't need many bad apples to spoil the image of the whole crop. Palm oil, like any other sector, suffers from people who are not environmentally conscious. But in Europe, it would be hard to educate people to accept some of the realities because they are getting all kinds of images from social media that people agree are not good practices for plantations."
And, certainly, images of the orangutan have been used effectively to sway public opinion towards the anti-palm oil campaign's causes.
"In Peninsular Malaysia or South America, they say they don't have orangutans but that does not stop it from being depicted like that, and those are images that clearly [are] much better [at] appealing to people's sympathy as they look human. That is the reality. You can understand that if you are doing publicity, you would want to use that as a way of getting money. It is a fact that those images are good at attracting funding," Fry remarks.
Bek-Nielsen concedes that the unsustainable practices of some palm oil producers is a disservice to the industry. "I'm in no way saying palm oil is perfect. We have to be open and admit that palm oil production has contributed to deforestation and that we have done things in the past that must be corrected. But what I'm trying to highlight is that there are many other agricultural activities, like rearing cattle, producing beef, planting soybean, that have caused a disproportionately higher rate of deforestation over the last 25 years and yet no one seems to mention them. Why?"
He points out that, according to the Union of Concerned Scientists, palm oil production accounted for only one-tenth of the deforestation rate compared with the cattle or beef industry between 1990 and 2008. However, information like this is "elegantly swept" under the carpet.
"This is exactly why I have to speak up and I can do that as a European because I really feel it's unfair what's going on. I want to underline again that it doesn't mean that the palm oil industry should not do more; it has to do much more and it needs to do much more to embrace greater levels of sustainability and stop condoning bad practices that are a detriment to the environment or habitats that contain endangered species," Bek-Nielsen adds. In fact, it is the discrimination against palm oil that prompted him to coin the term "crop apartheid".
Fry notes that if oil palm expansion is limited by these pressures, coupled with slowing growth in Indonesia, the next best alternative is soybean oil.
"However, you need 8ha of soybean to give on average 1ha of palm oil. So to replace oil palm, you will need a lot of soybean, which would be in South America — Brazil. But the Brazilian congress has passed a law, which, I understand, gives amnesty to cattle ranchers who cleared Amazon and other forests up to 2008. But it does occur to me that if given amnesty now, they might give another in the future because the government has set a precedent. If the government is willing to give amnesty, you start to wonder why pick on palm oil when the damage done by soybean is very much greater," he observes.
"This is a game where no one is, in that sense, an angel. People are expanding and, sadly, some of them chop down forests, and people are right to complain about that. But it is not only palm oil where it happens."
Nevertheless, Bek-Nielsen emphasises that there is still much more that the palm oil industry should do to embrace greater levels of sustainability. If the industry wants to be taken seriously, it has to accept that business as usual is not an option anymore and that the cost of being cheap is simply too high. "Those days are long gone," he says.
He sees the adoption of Malaysian Sustainable Palm Oil (MSPO) as a way forward for the industry, to help "raise the floor" among producers.
"It is a tide that will help raise all the boats in the harbour. Private players who have the resources, the capital and the clout should move towards RSPO, thereby 'pushing the ceiling' because the practices adopted within RSPO are second to none when it comes to avoiding deforestation and improving overall agricultural practices, thereby producing more with less," he explains.
RSPO palm oil producers have achieved an average oil yield per hectare of 4.8 tonnes compared with the Malaysian national average of 3.6 to 3.7 tonnes. Bek-Nielsen points out that the additional oil yield of 30% will be a bonanza and cement Malaysia's position as a leader in sustainability.
In Indonesia, where less than 100,000ha went up in smoke in forest fires last year, compared with 2.6 million hectares two years ago, progress has been made in terms of sustainability. According to Arif Rachmat, CEO of Triputra Agro Persada Group, more than two million hectares have been certified by Indonesian Sustainable Palm Oil (ISPO) to date, covering nine million tonnes of palm oil.
"The deforestation rate has come down significantly [due to ISPO]. But we won't stop here. We want to continue to improve ISPO. We want it to be aligned with the United Nations Sustainable Development Goals," he says.
Arif sees striking a balance between sustainability and economic development as a major challenge for the industry, apart from the exposure as price takers to volatility in the price of palm oil. "We're always discussing this issue of trying to strike a balance," he says.
Click / Tap image to enlarge
Save by subscribing to us for your print and/or digital copy.
P/S: The Edge is also available on Apple's AppStore and Androids' Google Play.