This article first appeared in The Edge Malaysia Weekly, on August 5, 2019 - August 11, 2019.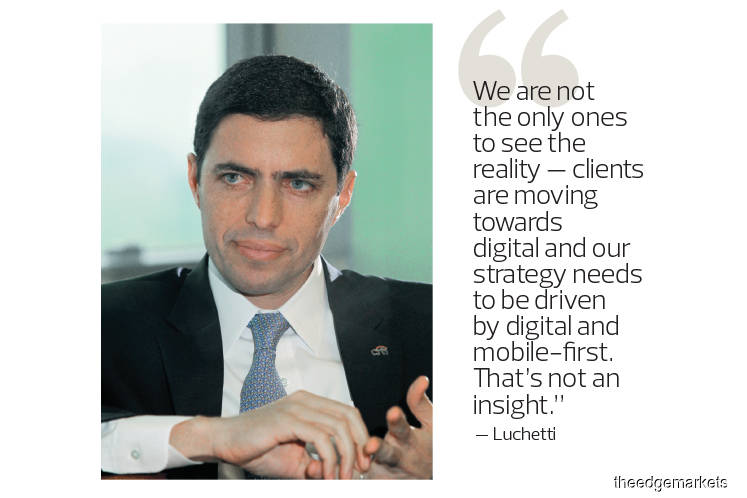 Photo by Haris Hassan/The Edge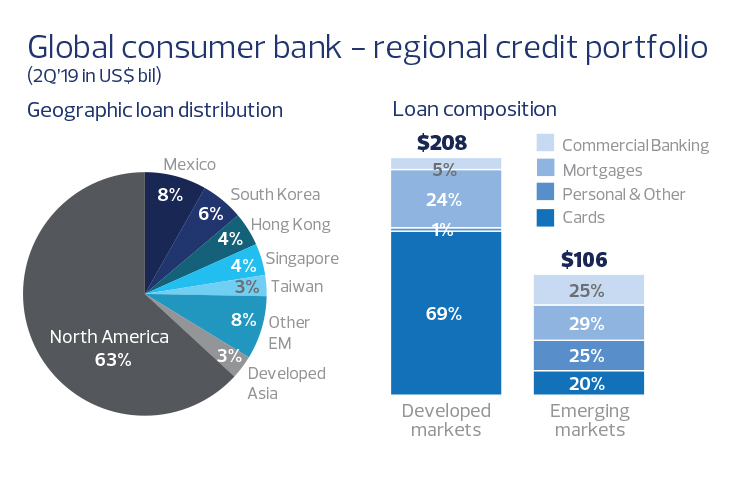 Source: CITI
THE global banking industry is at a crossroads as its long-entrenched concepts are being turned on their head by the onslaught of technology and fresh thinking.
In this changing environment, banks either evolve or become irrelevant. For Gonzalo Luchetti, head of consumer banking for Asia-Pacific and EMEA at Citi, the current challenging operating environment is the "perfect storm" that will compel the business to reinvent itself and grow further.
This perfect storm, as Luchetti puts it, is a situation where a confluence of factors — such as a shift in regulation, competition amid new technology and clients — has disrupted the state of play for banks.
"All those things come together in my mind and create this continuous inflection point. And as with any inflection point, you could either see it as a tremendous challenge or a massive opportunity to reshape the competitive landscape," he says.
To capture this inflection point, Luchetti points out the need to recognise the complete change in model and paradigm, and then redeploy resources to solve and navigate the "new reality".
"Some 30 years ago, if you were a retail or consumer banker, you would be worried about how many branches you put in every corner. Today, as a consumer banker in this part of the world, you really need to be maniacally focused on the experience clients have, not just in your physical locations but across your digital channels and in the digital ecosystems where you are present.
"What does this mean for Citi? My team and I watch a dashboard every single day, which shows us how many seconds on average it takes to load our mobile app, the distribution curve from the moment I press the app, how long it takes to load to the top three things clients do. We need to be crazy about narrowing down to every microsecond of the client experience.
"You wouldn't have needed to worry about this 10 to 20 years ago; you were just worried about whether or not you had an app. Functionality alone does not solve it. We have to think of the entire customer journey — the experience and the simplicity," he says.
Luchetti joined Citi, one of the largest banking groups in the world, 13 years ago. He was appointed head of Asia Consumer Banking Citi in October 2018. He has operating management responsibility for 18 consumer banking businesses across 17 markets, including credit cards, personal loans, mortgages, wealth management, insurance, deposits, client segments and sales and distribution.
Prior to this, Luchetti was head of retail banking in Asia where he and his team executed a segment-led client-centric strategy and transformed the retail business model across 17 markets, optimising their networks by expanding wealth management hubs and accelerating digital initiatives.
Declaring himself "optimistically paranoid", Luchetti still thinks positively of the future and its opportunities. At the same time, he is also anxious about what competitors and regulators are doing.
"So, we need to anticipate and ensure that we have all the elements in place. We are not the only ones to see the reality — clients are moving towards digital and our strategy needs to be driven by digital and mobile-first. That's not an insight," he acknowledges.
"To me, the differentiation is choosing the right things to focus on — that is No 1. There are a hundred things that you could do in pursuing digital, so the first question is, do you have the right priorities, are you focused on the right things?
"Second, do you have the right team? Do you have the right blend of talent between people who are digitally native and people who have run banks for a number of years and can provide the safety and soundness component of it?
"The third one is, do you have the execution, vigour and discipline? To me, these three things are what will differentiate us."
Luchetti recognises that "everybody" will want to invest in a mobile app, in partnerships and in a multitude of other digital offerings.
"The question is, do you have the talent, the right priorities and can you execute these priorities with speed, vigour and excellence?
"To draw an example, it's not like the tennis Federer and Nadal play is very different but on the day that they are playing, whoever executes best will win. So it is about the consistency of the strategy, the team and execution."
Citi's digital strategies are starting to bear fruit. According to Luchetti, Citi has been able to grow deposits and assets under management (AUM) at a double-digit rate while reducing its physical footprint as it goes digital.
In the last three years, the Asian consumer business has added over 500,000 retail clients for a total of 16.1 million and deposits have grown by US$10 billion. Investment AUM from clients have risen over US$10 billion since 2017.
Digital initiatives in Asia-Pacific have also led to improving operating efficiency. According to Euromoney, some 71% of Citi's digital customer base in Asia actively use mobile today, and about 44% of credit cards are acquired online. It adds that the bank has 7.5 million digitally active customers across Asia and over 5.4 million mobile active customers.
Digital now accounts for close to half of new loan and credit card acquisitions — more than doubling in the last three years.
'Client obsession'
Cognisant of the fact that every other bank globally recognises the need to up its digital game, Luchetti believes that it all boils down to the client. "We call it client obsession," he says.
What this means is the ability to solve pain points better than the others. "Every additional click or scroll is friction ... you are taking precious seconds from our customers' lives."
The key to growth, he stresses, is to provide fantastic experiences that are relevant to clients. "The reason many people use social ecosystems or digital social systems is because they have fantastic experiences that are simple and relevant to them.
"As a client, it does not feel like friction if you give me something that is relevant. We leverage data to provide services and products that are a lot more personalised and timely," he explains.
Sharing a personal story to provide some context, Luchetti reveals that he did not have life insurance until he had a child. "I'm not sure if everyone should behave that irresponsibly," he laughs.
"If someone offered me an insurance policy … when I was 21 or 22, it would not have resonated, it would have felt like noise, like you were being intrusive. But the feeling is very different when you do it at the right time [of a person's life]."
The biggest differentiator, he believes, is that a bank that is laser-focused on its clients will be able to adapt and continuously ensure relevance by taking into consideration their behaviours and anticipating emerging needs.
"So, it starts and ends with being obsessed with our clients. I think we have a client-centric culture that has enabled us to deliver value-add to our clients," he says.
The bottom line
With the strategies in place to build Citi's Asian consumer business in the midst of this perfect storm, where does Luchetti want to see the business in two to three years?
The aspiration, he reveals, is to grow revenue by 4% in the long term and improve further from there. "Taking into account that we operate in 17 markets, it is a portfolio business. We do have businesses that operate in the 9% to 10% growth range and others that may not as they face exogenous elements for a period of time. So, a broad-based portfolio by markets and products is an advantage. We are focused on 4% revenue growth and 10% earnings growth in the immediate future," he says.
"If you look at our results in the second quarter, our consumer franchise in Asia grew 5% and our earnings growth was north of 10%. We are on track."
For the first half of 2019, Citi's Asia-Pacific consumer business reported a 15% growth in net income year on year. Over the last three years, revenues for the Asia consumer business have grown 5% to around US$7.5 billion and account for 50% of total Asian revenues, and 10% of global revenues.
But will this be enough to appease Citi's global shareholders?
For 2Q2019, return on common equity for Citi stood at 11.9% compared with JP Morgan's 20% and Bank of America's 16.2%.
According to recent news reports, some shareholders have advocated restructuring or offloading some businesses, including the Asian and Mexican retail business, to improve the bank's ROE.
However, diving into Citi's Asia consumer banking numbers, the business is starting to make strides again from a relatively flat performance a couple of years earlier.
Earnings before taxes rose 17% year on year for 2Q2019 to US$554 million and 12% for 1H2019 to US$1.1 billion. Net credit losses remained steady below 1%. Revenue after forex adjustment for that segment stood at US$3.8 billion for 1H2019 compared with US$3.68 billion a year earlier.
Can Luchetti and his team sustain the improvement in Citi's performance in the midst of their perfect storm? Only time will tell.