This article first appeared in The Edge Malaysia Weekly, on March 11, 2019 - March 17, 2019.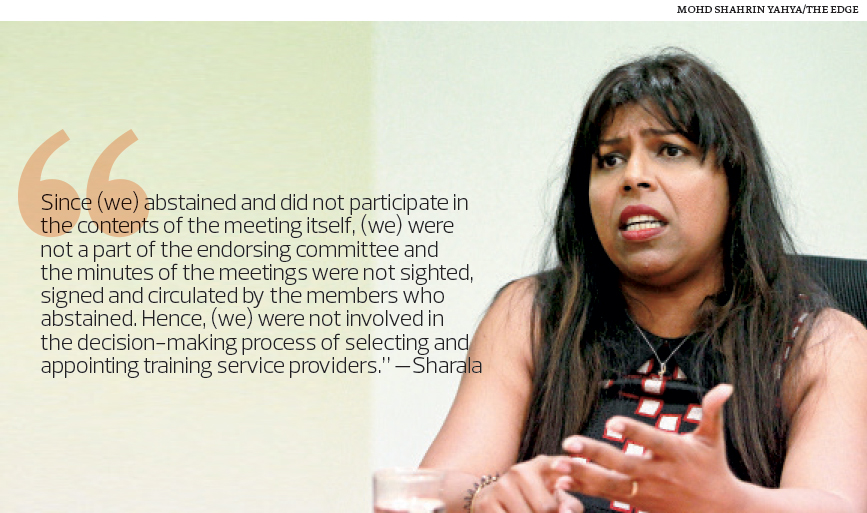 I feel like a thief in my own country." That is what Sharala Axryd says as she reflects on the allegations against her over a controversial big data analytics training initiative ultimately funded by the Human Resources Development Fund (HRDF).
Speaking to The Edge in a sit-down interview, Sharala denies that there was any conflict of interest or wrongdoing on her part. She laments how the accusations have affected her business relationships and cast the spotlight on her family life.
This is a result of Sharala's multiple roles in the big data training initiative, which raised the spectre of a potential conflict of interest, given how an entity she owns ended up as the biggest beneficiary of the funding.
The Edge reported last week ("Red flags point to dodgy dealings in RM150 mil HRDF fund", Page 26, Issue 1256) that the issue can be traced back to a 2017 allocation of RM37.5 million by HRDF for the training of big data analytics (BDA) professionals. The sum was from a total allocation of RM150 million set aside from HRDF's consolidated fund to train 20,000 BDA professionals between 2017 and 2020.
Documents sighted by The Edge showed that out of the RM37.5 million, the Centre for Applied Data Science (CADS) received RM19.07 million in payment for the BDA training programmes it conducted, or about 51% of the allocation. This was the largest share in a field of 19 training service providers that were paid out of the RM37.5 million allocation that year. Sharala is the founder of CADS.
The potential conflict of interest arises from Sharala's purported involvement in the selection of the training service providers for the RM37.5 million in 2017. CADS was among the 19 providers selected that year.
To recap, the body tasked with identifying the necessary skill sets and training programmes for the development of BDA professionals was the National Big Data Association (NBDA).
To achieve its objectives, NBDA formed a selection committee that comprised representatives of Pembangunan Sumber Manusia Bhd (PSMB), the administrator of HRDF funds; the Malaysian Digital Economy Corporation Sdn Bhd (MDEC); and the Asian Data Analytics Exchange (ADAX).
ADAX is an MDEC brand that served as a one-stop centre to help businesses, government agencies and other professionals to rapidly adopt BDA and artificial intelligence. At the time, Sharala was also the CEO of ADAX.
According to Sharala, MDEC had approached her to operationalise ADAX given her initiatives to promote BDA application and adoption in Malaysia, particularly through CADS. She tells The Edge that the operationalisation was formalised via a two-year contract that ended in July last year.
However, she stresses that ADAX was staffed separately from CADS when the selection process was taking place and that the segregation of the two entities was overseen by a Big Four auditor. She also says she only represented ADAX for the first selection committee meeting, along with two other ADAX representatives.
She and one other ADAX representative then abstained from subsequent meetings to avoid a conflict of interest, given that CADS, as a major BDA training service provider, would likely be participating in the training initiative eventually.
A third ADAX official continued to attend subsequent selection committee meetings to act in a secretarial role, Sharala adds.
"Since (we) abstained and did not participate in the contents of the meeting itself, (we) were not a part of the endorsing committee and the minutes of the meetings were not sighted, signed and circulated by the members who abstained. Hence, (we) were not involved in the decision-making process of selecting and appointing training service providers," says Sharala in a separately emailed answer.
'Cost comparison misleading'
During the interview, Sharala also addressed the steep fees that CADS charged for a BDA course that involved a Harvard Business School partnership.
Documents sighted by The Edge show that CADS claimed RM5.73 million from HRDF — to be paid for out of the 2017 RM37.5 million allocation — for a four-day course involving 65 participants called "Competing on Business Analytics and Big Data" offered by the Harvard Business School (HBS).
The sum works out to about RM88,190.40 per participant, or RM22,047.60 per day. In other words, the four-day course would have cost about RM1.43 million per day to run. In comparison, the RM150 million allocation over four years to develop 20,000 BDA professionals means an average cost of about RM7,500 per person.
Sharala says the comparison is misleading. She stresses that the high cost is due to the involvement of an Ivy League institution like HBS, which sent its academic staff to Malaysia to conduct the course. She also says HBS has strict requirements in terms of venue and other preparatory settings, and that CADS' profit margin was capped at 10%  for the partnership.
That said, the RM88,000 cost per participant seems more expensive than attending the course  at HBS itself. According to a HBS brochure, the same course — held for a week at its campus in Boston — costs US$13,000 (or RM53,183 at the current exchange rate). In comparison, RM88,000 per head to attend a four-day version in Malaysia comes to about US$21,510.72.
In a separate reply to The Edge, a HBS official confirms that the US$13,000 fee includes accommodation and meals for the week-long course. The official confirms the collaboration with CADS but says that "we have not run the programme since 2017".
"It is indeed more costly for us to run programmes outside of Boston (where we run a similarly themed open enrolment programme). This is because we are not able to benefit from the efficiencies of HBS campus processes, routines, vendors and experience. In addition, we have to send the teaching faculty off-campus for the entire week," says Clark Callahan, managing director of custom programmes at HBS.
"However, the benefit to the participants is that they can attend a local programme, at a net lower cost once you account for travel," says Callahan via email. "For custom programmes of this kind, we allocate 10% of the revenue to marketing, and the client covers other costs associated with running the programme."
As a rough benchmark, an online search for return business class flights via Malaysia Airlines for the next "Competing on Business Ana­lytics and Big Data" course at the HBS campus scheduled for June 2 to 7 shows a price range of RM21,926 (US$5,359.59) to RM28,786.
Using this rough benchmark, the total cost of attending the course in Boston works out to between RM75,109 and RM81,969 (at the current exchange rate) per person.
This implies that it is still cheaper to attend the programme at HBS in Boston rather than the Malaysian version organised by CADS.
In a statement emailed after the interview, Sharala says the Malaysian version was especially designed for the Malaysian business landscape.
"For this (customisation) CADS must incur a special programme design and development fee upfront, which is amortised over multiple cohorts, in addition to the programme delivery fees. Apart from this CADS is responsible for all prevailing taxes, duties that are occurring, which is 10% Withholding Tax, 6% Goods and Services Tax along with the costs for the requisite teaching facilities as per HBS standards (including classrooms, breakout space and all catering), participants lodgings, marketing and networking activities and administrative expenses," she says.
'Not linked to NBDA'
Sharala also denies any links to the NBDA, which was meant to be an impartial entity in identifying BDA training programmes that the selection committee would choose from for endorsement.
To recap, The Edge noted that among the original members of the NBDA was an employee of Vaersa Partners, an accounting, auditing and advisory firm that listed CADS among its clients on its LinkedIn page.
Such a relationship may raise the risk of compromised objectivity on the NBDA's part as it compiled the shortlist of BDA training service providers, which included CADS.
When posed the question, Sharala confirms that Vaersa Partners has a relationship with CADS but downplays the connection.
"They are an ad-hoc financial advisor to us (CADS) along with other people that we use … (but) I always use one of the top four (auditors) because I can go to bed peacefully," says Sharala. "But if people (in Vaersa Partners) are part of the association (NBDA), then I am not privy to that information."
She also clarifies that from the RM19.07 million claimed by CADS in 2017, not all the monies have been paid. The Edge reported last week that in addition to that sum, CADS had also claimed RM7.02 million for training conducted last year, which had also not been paid.
"All payment has been held back after the change of government, and these are millions of ringgit. A small company like us, [our] cash flow is bleeding, because we have to pay Harvard upfront and I have to pay them regardless if I get the money or not," Sharala laments.
Save by subscribing to us for your print and/or digital copy.
P/S: The Edge is also available on Apple's AppStore and Androids' Google Play.