This article first appeared in The Edge Malaysia Weekly, on October 29, 2018 - November 04, 2018.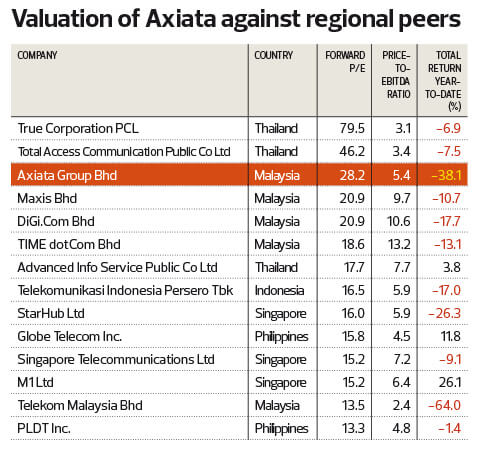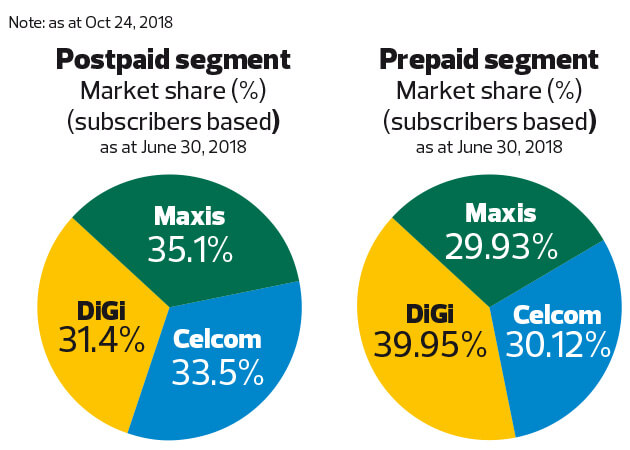 AT its close of RM3.25 last Tuesday, Axiata Group Bhd had lost RM20.2 billion of its value with its share price down 40% year-to-date. However, by last Thursday, the stock had retraced some ground to close at RM3.44. With the price still hovering near its lowest in eight years, is Axiata a bargain?
Twelve of the 29 analysts who track the counter have a "buy" on it while 16 others recommend a "hold", Bloomberg data shows. Only Goldman Sachs has a "sell" and that too at a target price of RM3.70, above what Axiata shares are fetching currently. The average 12-month target price of RM5 implies 50% upside potential — that is if the target prices are not revised lower any further, as they have been this year.
Some value appears to have emerged, if one thinks that Axiata — which owns Celcom Axiata Bhd — should not be cheaper than Maxis Bhd or DiGi.Com Bhd. Axiata's market capitalisation of RM31.2 billion last Thursday was below Maxis' RM41.2 billion and DiGi's RM32.4 billion.
AmInvestment Bank Bhd analyst Alex Goh, whose sum-of-parts-based target price for Axiata is the most bullish among his peers', says even at RM6.05, Axiata is valued at only 6.5 times forward enterprise value-to-earnings before interest, tax, depreciation and amortisation (Ev/Ebitda), which is 40% of Maxis Bhd's 11 times.
However, Affin Hwang Investment Bank analyst Isaac Chow, who also used the sum of parts method to derive his RM4.42 target price, has a "hold". Chow expects Axiata's operating subsidiaries to record further revenue gains but reckons that stiff competition and rising cost pressures may continue to cap earnings growth and weigh on investor sentiment.
Axiata Group managing director/president and CEO Tan Sri Jamaludin Ibrahim points out that Axiata is only trading at a single-digit price-to-Ebitda, on a par with its regional peers. In fact, at current prices, Axiata's 5.4 times price-to-Ebitda ratio is below that of Maxis, DiGi, Singapore Telecommunications Ltd and StarHub Ltd.
Still, those who closely track analysts' recommendations on Bloomberg would have noticed that the average target price had slipped from the average RM7.20 in early 2015 to RM4.92 early last year before recovering to RM5.32 at the start of this year.
Axiata's share price hit an all-time high of RM6.571 in November 2014 but has since been on a downtrend, reflecting the decline in its earnings. In short, its share price has largely fallen short of average consensus target prices in the past three years.
To be fair, Axiata is not alone. Most of the listed telecommunication stocks in the region have also seen their share prices decline. As at last Thursday, Maxis was down 12.3% year to date to RM5.27 while DiGi was down 18.2% to RM4.17. Across the causeway, StarHub and SingTel, two of the largest telcos listed on the Singapore Exchange, had lost 31.2% and 11.8% respectively.
Axiata, however, is among the worst performers, outperforming only Telekom Malaysia Bhd, which lost over 65% of its value after its share price closed at RM2.19 last Thursday, giving it a market capitalisation at RM8.3 billion.
Most analysts have attributed the decline to the challenging operating landscape of the industry, amid declining profit, competitive pricing and large capital expenditure (capex) requirements. Moody's Investors Service vice-president and senior analyst Nidhi Dhruv says in a report, "Telecommunications — APAC: 2019 Outlook", that all Asia-Pacific markets in which Moody's-rated telecommunication companies operate will face strong competition next year, with new entrants in the competitive industries in Singapore, Japan and Australia.
Jamaludin knows first-hand just how challenging the regional operating landscape has become.
"The mobile industry over the last four years (2013 to 2017) has been on a downward trend (earnings). Revenue for the industry was down by 9%. We lost RM2.1 billion, apparently, as an industry. Profit was down by 15%. The industry lost RM815 million in profits and it's going downwards. From 2013, it has been going down. It's not a disaster but you can see how we're under pressure," says Jamaludin.
In Malaysia, the change in government following the 14th general election (GE14) also raised concerns of an even-tougher operating environment for the telco industry moving forward. 
It is worth noting that Axiata's 28.2 times forward price-to-earnings (PER) multiple is still one of the highest among its regional peers. Mobile operators Maxis and DiGi are both trading at 20.9 times while fixed broadband players TM and TIME are trading at 13.5 and 18.6 times respectively. SingTel and Starhub are trading at between 15 and 16 times. Axiata's 28.6%-owned M1 Ltd, Singapore's third largest player, is trading at 15.2 times.
It remains to be seen whether the relatively higher earnings multiples will dampen Axiata's share price.
For his part, Jamaludin says Axiata can still create value for its shareholders despite the challenging environment. "The way we look at it, to build value for the company, first, operational performance is a basic must. We must perform better than the market or the best in the market, and we're doing that most of the time. [As for] the industry landscape, a consolidation [is necessary] so that at least we can have a reasonably good structure. And, of course, the regulation and macro [environment], we can only mitigate and influence. On top of that, we need to branch out into new business areas — home broadband, enterprise, tower, infrastructure and digital. That's how we can bring value back to Axiata," Jamaludin says.
The group's efforts amid the challenges in the industry have led to some improvement at Celcom in Malaysia, PT XL Axiata TBK in Indonesia, Ncell Private Ltd in Nepal, Dialog Axiata PLC in Sri Lanka and Smart Axiata Co. Ltd.
In Malaysia, Celcom has lost some ground when it comes to subscriber market share. Four years ago, in the second quarter ended June 30, 2014 (2QFY2014), it was the No 1 player in both the postpaid and prepaid segments with market shares of 38.9% and 36.6% respectively. However, based on its 2QFY2018 numbers, Celcom is the second largest player in both segments, with market shares of 33.5% and 30.1% respectively.
Its average revenue per user (Arpu) remains flat as compared with four years ago but has shown improvement from a year ago. In the postpaid segment, Arpu improved by 6.1% year on year to RM87 in 2QFY2018 while in the prepaid segment, it grew 12.9% to RM35.
A sustained improvement in earnings at Celcom is one of the key factors investors will look out for as they weigh whether Axiata has been sold down enough and rerated higher. 
Save by subscribing to us for your print and/or digital copy.
P/S: The Edge is also available on Apple's AppStore and Androids' Google Play.