This article first appeared in The Edge Malaysia Weekly, on November 19, 2018 - November 25, 2018.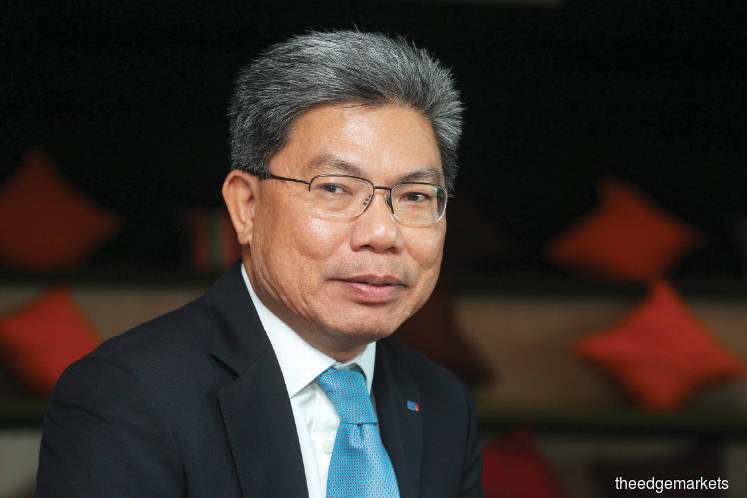 Khairussaleh: To date, the attrition rate at RHB Investment Bank is 10%, lower than the industry's 13%. Photo by Suhaimi Yusuf/The Edge
THE resignation of RHB Bank Bhd's head of group wholesale banking Omar Siddiq Amin Noer Rashid last Tuesday — he is joining a rival bank — set tongues wagging as it drew attention to the fact that there has been an unusual spate of senior-level departures at the banking group in recent months.
Industry sources say the recent attrition of senior-level staff, especially at its investment banking unit, is out of the ordinary.
"The whole industry has been talking about it. It is no secret that rival banks are targeting [RHB's] staff because they know that morale is low. There may be more resignations to come," a source tells The Edge.
RHB group managing director Datuk Khairussaleh Ramli says its attrition rate is not unusual and has, in fact, been better than the industry's.
"To date, the attrition rate at RHB Investment Bank is 10%, lower than the industry's 13%," he replied via email when asked to comment about the recent senior-level staff departures, particularly within the investment bank.
Nevertheless, industry observers point out that unlike usual banking attrition, the recent series of exits at RHB has been at the senior level, which means that finding replacements may take time and will not come cheap.
The top gun at RHB Investment Bank is Robert Huray, who has been CEO since July 2016. Huray is the son-in-law of RHB shareholder Tan Sri Ong Leong Huat, who holds a roughly 10% stake.
Last Tuesday, amid rumours, RHB confirmed to the press that Omar — formerly chief financial officer at Malaysia Airlines Bhd — had resigned after being with the bank for less than six months. It is understood that he quit, giving 24 hours' notice.
"The short notice period was mutually agreed upon by both parties. On our end, we believe that it is in the best interest of our institution as we understand that he will be joining a competitor," Khairussaleh tells The Edge.
Omar, 45, is rumoured to be joining CIMB Group Holdings Bhd, although it is unclear in what capacity. He had previously worked there as managing director of corporate client solutions. He has also had stints at other companies, including Khazanah Nasional Bhd and PricewaterhouseCoopers.
Omar had been one of the contenders for the helm of Malaysia Airlines after ex-CEO Peter Bellew left, according to news reports last October. The job eventually went to Captain Izham Ismail.
RHB hired Omar on June 1 to lead the formulation and execution of business strategy for group wholesale banking (GWB), an important role. GWB covers corporate and investment banking, treasury and global markets, client coverage, asset management and private equity. He reported directly to Khairussaleh.
In May, RHB lost two of its most senior mergers and acquisitions bankers — head of M&A Soon Poh Lean and director of the M&A team Theresa Lim. Both joined Affin Hwang Asset Management Bhd's private equity outfit, Bintang Capital Partners. RHB then hired James Yeo from UBS as its regional head of M&A.
On Aug 1, RHB's chief economist and research head Arup Raha resigned after less than a year.
Singapore-based Teh Kihui, who was head of client coverage for RHB's financial institutions group, also left this year, as did Albert Lee, vice-president of the loan recovery division. Teh is now an executive director at Bank of China International, according to LinkedIn.
Apart from these, there were also some senior-level resignations at RHB Asset Management Singapore this year.
It is understood that RHB has already filled many of these positions.
"Our leadership bench strength at RHB Investment Bank has become stronger, in line with our strategy to focus on building our centres of excellence domestically. Our improved ranking in the various league tables, deal awards and transaction pipeline are a testament of our investment in talent management," says Khairussaleh.
He adds: "We will continue to invest in our talent pool to build a high-performance team that has the capability and skill sets to better serve the increasingly sophisticated needs of our clients and to drive our goals towards achieving our FIT22 aspiration."
FIT22 refers to RHB's five-year road map that kicked off this year, which sets out the bank's plans to strengthen its presence in Malaysia and win in targeted segments such as small and medium enterprises, as well as focusing on its strengths overseas.
Interestingly, within Malaysia's financial services industry, there have been fewer resignations this year. Bank Negara Malaysia's data shows that as at end-September, there had been 14,329 "quits and resignations" (excluding retirements), lower than the 15,465 in the same period last year.
The data covers banking institutions, development financial institutions, insurance companies and takaful operators.
As at end-September, there were 165,457 persons employed in the industry. 
 
Save by subscribing to us for your print and/or digital copy.
P/S: The Edge is also available on Apple's AppStore and Androids' Google Play.