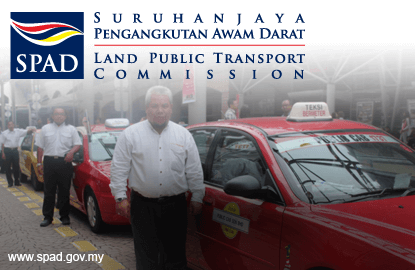 KUALA LUMPUR (Oct 28): Land Public Transport Commission (SPAD) said it is working to streamline taxi services by undertaking major changes including amendments to the Land Public Transport Act 2010, which will include a comprehensive regulatory review of the taxi industry, with a view to consumer-focused regulation that does not inhibit innovation or protect existing business models.
In a statement today, the public transport services regulator said the exercise will also revisit existing licensing policies, improve its enforcement programmes and create a level playing field for all parties to ultimately benefit the people (rakyat).
"We acknowledge that our work is far from done. Changing the taxi industry will require leadership and cooperation from key stakeholders to lift the industry," SPAD said.
"The first concrete step is to have an ideal ecosystem that benefits passengers and remains fair to drivers, operators and new entrants in the marketplace.
"This is no easy task, but one that the commission remains committed to fulfil, to raise the standards of the land public transport ecosystem in Malaysia," it added.
SPAD noted the taxi industry is a key part of public transport in the country, but the industry was far from being perfect as it remains the most fragmented segment of public transport and riddled with legacy issues that have been around for the past few decades.
It said one of the key issues that needed to be reviewed is the decades old legacy taxi operation and leasing model, more popularly known as "pajak system".
"This system must be improved so that it is transparent and, more importantly, equitable for the benefit of both the drivers and the operators," it added.
Since SPAD took over the duties in 2011, it has set out an ambitious journey to improve the current taxi industry to meet customer needs and expectations under a taxi transformation programme.
The transformation programme includes the introduction of Teksi Rakyat 1Malaysia (TR1Ma) in 2012, which saw 76,000 taxi drivers receiving vouchers for new tyres, Personal Accident Insurance Coverage (PA), road tax exemption, 50% toll subsidy as well as excise and sales tax exemption for individual license holders, according to SPAD.
"This was followed by the introduction of the Teksi 1Malaysia (TEKS1M) license class in 2013 to address issues relating to drivers' quality, as well as vehicle and operation standards," it said.
In March this year, SPAD also announced the fare restructuring exercise on taxi fares to reflect current operating costs.
Aside from that, SPAD had also implemented the Centralised Taxi Service System (CTSS) early this year, which will serve as a central platform to monitor taxi supply distribution and performance.
"It will also integrate with existing booking and dispatch systems to enhance travel experience. Ultimately with better customer matching and income, we believe that taxi drivers would provide a better service to the benefit of everyone," it added.