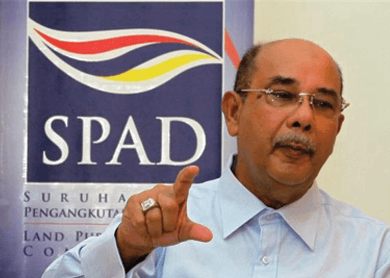 (June 30): The Land Public Transport Commission (SPAD) will continue to take action against private vehicle-for-hire services that flout regulations, according to SPAD chairman Tan Sri Syed Hamid Albar.
He said that since 2014 to date they have brought 85 private vehicles for hire drivers to court.
"Uber is creating a lot of problems. It is trying to replace legitimate taxis by using all kinds of private cars.
"Even the new application GrabCar doesn't have an operating licence.
"If there is an accident the passengers are not covered and the insurance company can deny liability. The public should stop using Uber," he told reporters after launching SPAD Mobile Operating Vehicles (MOV) at Terminal Bersepadu Selatan (TBS) in Kuala Lumpur this morning.
Yesterday, 50 taxi drivers held a picket to protest the move by MyTeksi to introduce GrabCar yesterday in Petaling Jaya.
The taxi drivers were unhappy that the authorities seemed to be turning a blind eye to GrabCar and Uber drivers, who do not have to apply for Public Service Vehicle Services licences or pay for annual insurance.
Their vehicles are also not subjected to inspections by Puspakom and they are not required to use the meter as travel fares are based on flat rates, which are cheaper.
SPAD in a statement said that the use of private vehicles to carry fare-paying passengers was an offence under the Land Public Transport Act 2010.
"The Uber app itself is not illegal. However, when a driver or a service provider uses private vehicles as well as vehicles registered for hire-and-drive as a taxi, then it is illegal.
"Even licensed limousine vehicles become illegal if their usage contravenes conditions attached to its licence.
"Furthermore, SPAD findings on taxi services procured through Uber applications indicate that most of its drivers do not have a Public Service Vehicle (PSV) driving licence and this is an offence under the Road Transport Act 1987."
SPAD also said that private vehicles currently used by the operators utilising Uber applications are also not covered under commercial vehicle insurance and do not go through bi-annual Puspakom safety inspections.
"SPAD would like to caution drivers and aspiring operators using Uber applications that any vehicle used as a taxi, which collect fares from the public, must be in accordance of the law as stipulated in the Land Public Transport Act 2010.
"This means that the drivers must have the required Public Service License (PSV) and the vehicles must be suitably licensed by SPAD with proper insurance coverage for the protection of fare paying passengers.
"Failing which, the driver risks having his or her car confiscated by SPAD during enforcement operations carried out by our officers on top of the penalty or imprisonment term as provided under LPT Act 2010."
SPAD said that any person providing taxi services whether using Uber applications or any other taxi booking applications must comply with the law.
"We take compliance with the law, local rules and regulations very seriously." – The Malaysian Insider