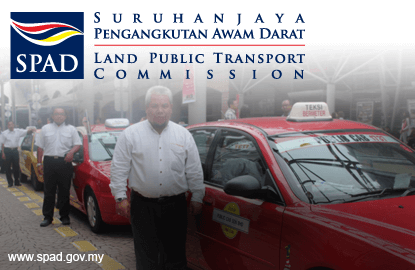 (Dec 1): Angry taxi drivers want unlicensed – and competing – ride-sharing service providers banished, preferably yesterday, but the paying customer thinks otherwise.
In an ongoing survey conducted by the Land Public Transport Commission (SPAD), 76.4% of the respondents say they are more comfortable using app-based services such as Uber or GrabCar, and 86.6% claim that conventional taxis overcharge or do not use the meter.
A SPAD spokesman said the survey was to get public feedback on taxi as well as ride-sharing services.
"It is part of an extensive project with stakeholders to gather feedback, identify weaknesses and strengths to be used as data to formulate initiatives to help sustain the industry, improve drivers' welfare, and enhance services to improve customer experience," he said.
The spokesman said the survey would also be able to "gauge public sentiment about the taxi industry, price, service and views about app driven services as SPAD moves to improve the Malaysian taxi industry".
The survey shows that 86% respondents are familiar with and have used Uber or Grabcar.
The number one complaint about taxi drivers is overcharging or failure to use the meter.
About 42% say they are willing to pay more for better taxi service, but 58% say they are not.
Aniz Bakar, who often uses ride-sharing service Uber, is not surprised that many want Uber and Grabcar services to be regulated instead of terminated.
"Uber and Grabcar are far better than the taxis around here. They are more reliable and very punctual. I don't think I have waited more than five minutes for an Uber ride," he said.
Aniz says the taxi service had better greatly improve if SPAD is thinking of raising the fares yet again.
"Uber and Grabcar cars are clean and nice. If they (SPAD) say they want to increase fares to improve taxi service, they will have to do a complete overhaul because everything needs to be improved, from the vehicles to the attitude of the drivers," he says.
Frequent taxi user, Bryan Lim is also hoping that SPAD will finally regulate Uber and GrabCar.
"It is a slight concern now because the ride-sharing drivers are not bound by rules or regulations if anything should happen.
"However, my experience with them has been good so far and I have had no problems with Uber. It is very convenient because they're easy to reach, and they come to you very quickly. My experience with taxis, on the other hand, is that the drivers tend to hustle you and they don't use the meter," he said.
Recently, more than 700 taxi drivers from 28 taxi associations took part in a rally at Padang Merbok to protest SPAD's failure to act against Uber and GrabCar. There have also been reports of Uber and GrabCar drivers being set upon by disgruntled taxi drivers. The latter claim their income has dwindled since the app-based ride-sharing services burst onto the scene.
The SPAD survey ends on December 3. – The Malaysian Insider