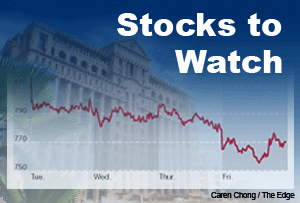 KUALA LUMPUR (Sept 17): Based on news flow and corporate announcements today, the stocks that may be in focus tomorrow (Sept 18) could include the following: SP Setia Bhd, Boustead Heavy Industries Corporation Bhd (BHIC), Gunung Capital Bhd, Malaysia Airports Holding Bhd (MAHB), Malaysian Airline System Bhd (MAS), Masterskill Education Group Bhd and Advance Synergy Bhd.
SP Setia Bhd's Acting President and CEO Datuk Voon Tin Yow has resigned, after spending two decades with the developer. Voon will leave on Jan 01 next year. Datuk Khor Chap Jen, who was previously deputy president, will take over Voon's seat.
Separately, SP Setia recorded a marginal 2% year-on-year increase in its net profit for the third quarter ended July 31, 2014, to RM103.31 million. The property developer said it believes the increase in 3Q14 profits could have been 7.7%, if not for the financial impact of the goods and services tax and long term incentive programme.
The stock closed 1 sen lower at RM3.31 today, with a market capitalisation of RM8.4 billion.
Boustead Heavy Industries Corporation Bhd (BHIC)'s subsidiary, Contraves Advanced Devices Sdn Bhd (CAD), has received and accepted a letter of award from sister company, Boustead Naval Shipyard Sdn Bhd, for the supply of Radar Electronic Support Measure Systems and related services worth €16.96 million (RM70.7 million).
The contract was to equip six units of Second Generation Patrol Vessels with Littoral Combat capabilities (Frigate Class), which was ordered by the Royal Malaysian Navy from Boustead Naval Shipyard.
BHIC closed 3 sen lower at RM2.45 today, with a market capitalisation of RM608.7 million.
Gunung Capital Bhd's 70% subsidiary, Gunung Hydropower Sdn Bhd (GHSB), has received two duly executed Renewable Energy Power Purchase Agreements (REPPA) from Tenaga Nasional Bhd (TNB).
Gunung Capital said the REPPA's have been executed for GHSB's 10 MW installed capacity small hydropower site at Pulau Tengah, Chenderoh, Sungai Perak, and for GHSB's 10MW installed capacity small hydropower site at Pulau Temelong, Temelong, Sungai Perak.
"Both REPPA's are for a FiT concession period of 21 years for electricity generated from GHSB's small hydropower sites, at a FiT rate of 24 sen per kilowatt hour," the group said, noting the signing of the REPPA's with TNB is expected to have a positive effect on the earnings of Gunung for the FYE Dec 31, 2017 (after the commencement of the Fit concession period on Dec 29, 2016).
Gunung closed 2.5 sen higher at 86 sen today, with a market capitalisation of RM121.8 million.
Malaysia Airports Holding Bhd (MAHB) could be impacted over TAV Airport's agreement with Limak Holdings, to acquire a 40% share in Istanbul Sabiha Gökçen Airport (ISG) (for RM1.19 billion), analysts opined.
CIMB Research said in a note today that TAV is not an ideal partner for MAHB in ISG, as TAV operates the competing Istanbul Atatürk Airport (IST), and could be very problematic for MAHB, as TAV will take over Limak's veto power over all of the business decisions of ISG. This might result in management paralysis, as MAHB wielded a similar veto power.
MAHB closed 26 sen lower at RM7.36 today, with a market capitalisation of RM10.11 billion.
Malaysian Airline System Bhd (MAS) has rubbished an online report saying its purported flight MH131, bound for New York from Paris, was forced to land in Iceland, following a flight path over an active Bardarbunga volcano.
In a statement today, MAS also condemned the publishing of a book claiming to offer the "scoop" on MH370 by so-called experts, which was carried in news articles.
MAS stressed that it has and will always be an airline of "integrity", adding it "will not tolerate baseless allegations" against the national icon.
MAS closed 0.5 sen lower at 25.5 sen today, with a market capitalisation of RM4.26 billion.
Both MAHB and MAS could also be in watch, as British Airways announced today that it will resume daily direct flights from Kuala Lumpur to London, from May 27 next year, after the suspension of the route 13 years ago.
Jamie Cassidy, British Airways' area general manager for the Asia Pacific, Middle East and Africa, said in a press conference today that now is the "right time" to revive the route, due to strong customer demand.
The call and put option agreement that would have seen Siva Kumar M Jeyapalan, who is executive chairman of Masterskill Education Group Bhd (MEGB), selling his entire holdings in MEGB to its Chief Executive Officer Gary How Soong Khong, has been terminated.
It was earlier reported that Siva Kumar stood to reap RM134 million from the planned sale of his 122 million shares or 29.76% stake in the firm, should the call and put option been exercised between himself and How. It is worth noting the option price was set at RM1.10 per share, which was a significant premium to MEGB's then share price of about 40 sen.
MEGB closed 0.5 sen lower at 36.5 sen today, with a market capitalisation of RM149.6 milion.
Advance Synergy Bhd (ASB)'s Group Executive Chairman Datuk Ahmad Sebi Bakar has converted his 48.93 million 10-Year Irredeemable Convertible Unsecured Loan Stocks (ICULS) into 24.47 million new ordinary shares of 30 sen each in ASB.
The conversion was done on the ratio of two ICULS for one new ordinary share in ASB, which is principally involved in the leisure and hospitality industry.
After the conversion, Ahmad Sebi raised his direct interests in ASB to 11.61% stake or 76.81 million shares. He is also deemed to have indirect interests in another 18.56% or 122.81 million in the company.
ASB closed unchanged at 20.5 sen today, with a market capitalisation of RM130.7 million.