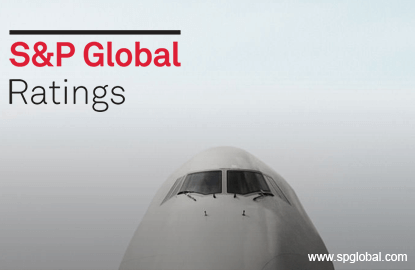 KUALA LUMPUR (Oct 31): S&P Global Ratings has affirmed the ratings of seven Malaysian financial institutions as it believes Malaysian banks are on the right track towards buffering downside risks.
The above-mentioned institutions are Malayan Banking Bhd (Maybank), Public Bank Bhd, CIMB Bank Bhd, CIMB Investment Bank Bhd (CIMB IB), RHB Bank Bhd, RHB Investment Bank Bhd (RHB IB) and AmBank (M) Bhd (AmBank).
"We affirmed the ratings because we believe [they] are in a position of strength and have sufficient buffers against downside risks in our base-case scenario," it said in its statement today.
The credit rating on Maybank was A-/Stable/A-2, Public Bank (A-/Stable/A-2), CIMB Bank ( A-/Stable/A-2),CIMB IB (A-/Stable/A-2 ), RHB Bank ( BBB+/Stable/A-2), RHB IB (BBB+/Stable/A-2) and Ambank (BBB+/Stable/A-2).
S&P base-case assumptions are made based on the minor economic growth of 4.3% in 2016 and 4.5% in 2017 as well as an accommodative monetary policy and low unemployment conditions, which will continue to support private sector debt repayment.
It also opined that although the banks' asset quality is likely to deteriorate slightly and their revenue growth has continued to decelerate, the deterioration is expected to be manageable.
"The Malaysia economy has lost some momentum due to a weak energy sector, tighter domestic spending, and weaker global demand. However, our ratings incorporate normal credit cycle turns, nonperforming loans (NPLs) are coming from a low base, and loan-loss reserves are strong," it said.
According to S&P, bank profitability has been affected by two factors — increasing credit costs due to weaker asset quality, which affect banks exposed to emerging markets such as Indonesia, and the introduction of more stringent liquidity requirements under Basel III, which ignited a wave of deposit campaigns, leading to higher funding costs.
"Malaysia banks have adopted a defensive strategy against these headwinds. We expect loan growth for the industry to slow to just 3% to 5% for 2016 from 8.1% in 2015, which would offset downward capital pressure from lower retained earnings," S&P said.
"Banks have tightened underwriting standards and decelerated regional expansion, particularly into emerging markets such as Indonesia. In our view, Malaysian banks will continue to focus on cost control and asset quality preservation in 2017 to ride out this cyclical downturn," it added.