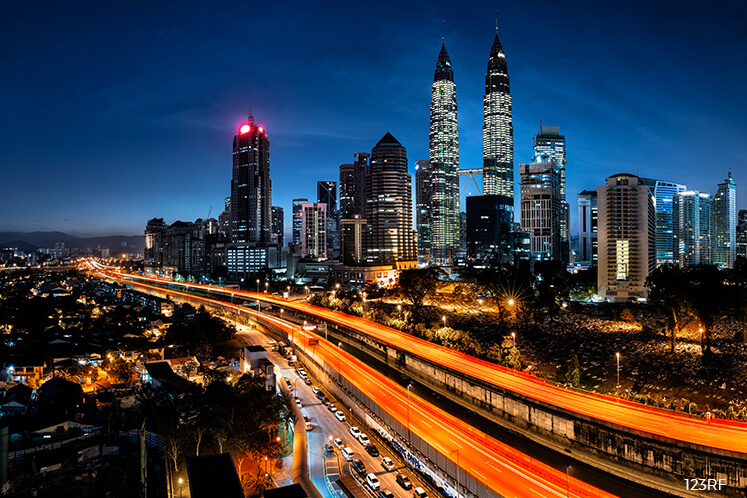 KUALA LUMPUR (March 27): S&P Global ratings has affirmed Malaysia 'A-/A-2' Foreign Currency And 'A/A-1' Local Currency Ratings with stable outlook.
In a statement today, the ratings agency said it expects that Malaysia's core credit strengths, including its robust external position and highly credible monetary policy settings, will continue to support the rating following the recent aggressive decline in oil prices and unexpected change in government.
"Although we forecast a higher fiscal deficit this year owing to stimulus measures and lower oil-related revenues, we expect the government to maintain its fiscal consolidation trajectory over the medium term.
"The stable outlook reflects our expectation that Malaysia's strong external position, monetary flexibility, and well-established institutions will remain in place over the next two years," it said.
S&P said the affirmed ratings on Malaysia reflects its expectations that the country's new government will not deviate materially from its long-term fiscal consolidation path, despite the recent collapse in oil prices, along with substantial downside pressure on real gross domestic product (GDP) growth owing to the COVID-19 pandemic.
"We have revised our general government deficit forecast to 4.1% of GDP in 2020, versus our previous expectation of a 3.2% deficit.
"Somewhat lower oil-related revenue and greater expenditure on stimulus measures will contribute in roughly equal measure to the higher deficit.
"Nevertheless, we maintain our forecast of a gradual decline in net general government debt through 2023. We forecast net general government debt will average 58.5% from 2020-2023, with the annual change in net general government debt averaging 2.9%," it said.
S&P said the ratings on Malaysia could face downward pressure if economic growth suffers a deeper or more prolonged downturn than currently expected.
"Indications of downward pressure on the ratings would be net general government debt surpassing 60% and the annual change in net general government debt surpassing 4%, in a sustained way, or interest paid by the general government exceeding 15% of revenue.
"Downward pressure on the ratings could also emerge if we perceive that political stability has deteriorated such that policy-making has become materially less predictable," it said.
#dudukrumahdiamdiam and get the news at theedgemarkets.com.