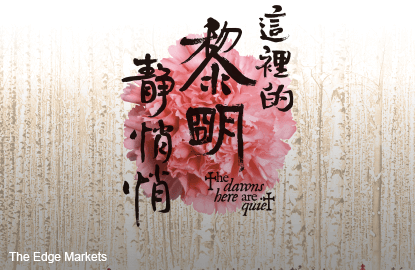 This article first appeared in The Edge Financial Daily, on September 28, 2015.
IT is the year 1942, and World War II is raging. In the now-defunct state of Karelia, Senior Sergeant Vaskov is stationed with a group of young female anti-aircraft gunners in a railway station far from the front line. Being the only man in the village, he had no choice but to accommodate the active, playful personalities of the gunners.
One day, two German paratroopers seem to appear in the nearby forest, but when Vaskov and the women attempt to stop them, they find out that there are 16 paratroopers instead. Despite being outgunned and outnumbered, the women stage a remarkable fight to the end. This is the setting of The Dawns Here Are Quiet, a 1972 Soviet-era war movie based on Boris Vasilyev's novel of the same name.
The novel is the inspiration for Malaysian director Deric Gan's version of The Dawns Here Are Quiet, which is staged in collaboration with The Actors Studio Seni Teater Rakyat and Muka Space. Gan is the first Malaysian to obtain a PhD in Theatre and Chinese Traditional Opera from China's prestigious Central Academy of Drama in Beijing, and has won multiple awards for his classical adaptations.
Timed in conjunction with the 70th anniversary of the anti-fascism world war victory, Gan says he wanted to bring the theme to Malaysia. "The play can help us understand history and also to create awareness on female suffering and those from the war," he points out. His stage adaptation of this epic book stars Evan Siau, Grace Looi, Ellie Yeo, Ruby Yap, Paige Chan and Paz Lim, with Rosa Chong and Douglas Wong as guest performers.
Set on a minimalist stage with props and costumes from the era, The Dawns Here Are Quiet will be staged on Pentas 1, klpac, from Friday to Oct 4, in Mandarin with English subtitles. Tickets are priced at RM66 and RM88. Call (03) 4047 9000 or visit to purchase.