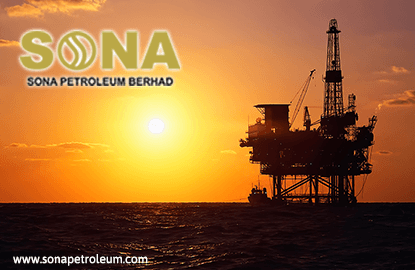 SUBANG JAYA (June 21): Sona Petroleum Bhd is ready to undergo the liquidation process once the deadline to complete its qualifying acquisition (QA) expires on July 31, but when shareholders will receive their cash back is something for the upcoming liquidator to work on, said managing director Datuk Seri Hadian Hashim.
Meanwhile, Sona is working on identifying a liquidator, he told reporters after the special purpose acquisition company's annual general meeting today.
As at Dec 31, 2015, Sona had RM527.21 million in its trust account. Hadian said entitled shareholders would receive 48 sen a share, after deducting taxes.
"It's all up to the liquidator (as to when shareholders will receive the money). The liquidation process is set to begin after July."
"It is in the process of going through liquidation. It is still being discussed; as it is, the company is solvent," Hadian said.
After failing to obtain shareholders' approval to acquire the Stag Oilfield off the cost of Western Australia on April 26, Sona and the asset owners Quadrant Northwest Pty Ltd and Santos Offshore Pty Ltd decided to terminate the sale-and-purchase agreement. The deal was ended, with immediate effect, on June 2.
This is the second QA posited by Sona, with the first being a 40% stake in the B8/38 concession and the G4/50 concession in Thailand, via the acquisition of Salamander Energy (Bualuang) Ltd.
Sona was listed on July 31, 2013. Being a SPAC, it was given three full years to complete its QA, before graduating into a full-fledged operating company, or risk being wound up.
Bursa has seen the listing of four oil and gas SPACs, namely Hibiscus Petroleum Bhd, Sona Petroleum Bhd, Reach Energy Bhd and CLIQ Energy Bhd. So far, only Hibiscus had managed to obtain shareholders' approval for its QA and become an operating company.
CLIQ encountered a hiccup with Securities Commission Malaysia, after the regulator instructed the company to re-jig its proposal for QA, citing lack of independent technical assessment. While its board is looking to liquidate the company, CLIQ's management and 20% shareholder Best Oracle Sdn Bhd, is challenging the matter in court.
When asked by reporters as to what's ahead for him after July, a calm-looking Hadian said, "There's always life after Sona. It's unfortunate though, what happened."