This article first appeared in Personal Wealth, The Edge Malaysia Weekly, on May 4, 2020 - May 10, 2020.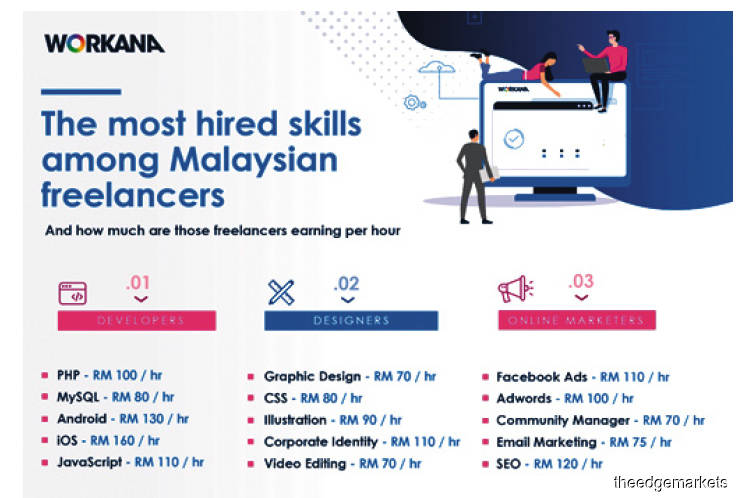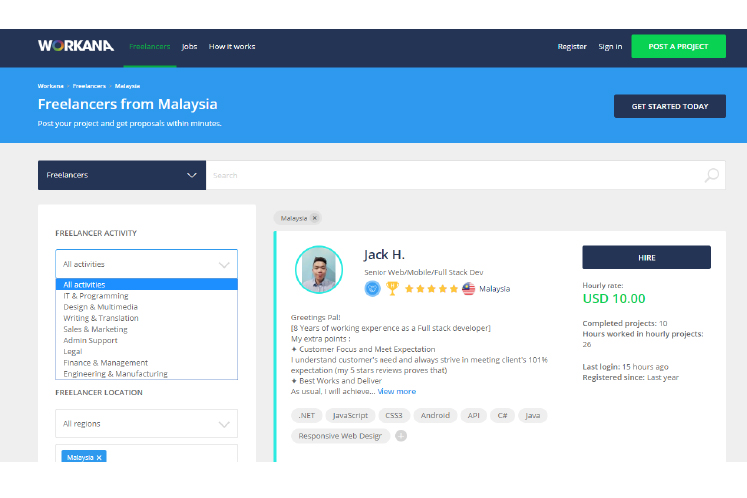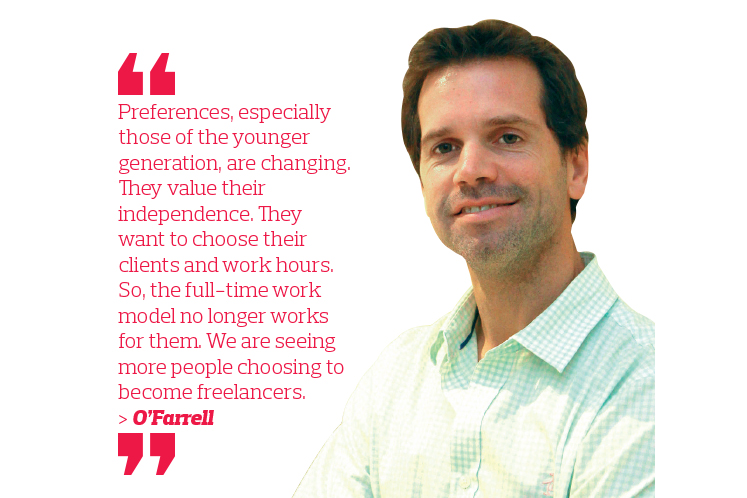 Photo by Patrick Goh/The Edge
As more and more people become insecure about their jobs in a time of pandemic and lockdowns, many are turning to freelancing to secure an additional source of income. This is especially so for those who have skills that are highly sought after in the market.
In fact, freelancing or getting "side hustles", as it is now known, was already a trend before the pandemic struck, says Tomas O'Farrell, co-founder of freelancing site Workana, which was founded in Argentina and launched in Malaysia last year. 
"Preferences, especially those of the younger generation, are changing. They value their independence. They want to choose their clients and work hours. So, the full-time work model no longer works for them. We are seeing more people choosing to become freelancers," he says.
In fact, many Workana users have gone way past the dabbling stage and are now full-time freelancers. For them, this is no longer a side hustle, says O'Farrell.
How has Covid-19 affected sign-ups? Very positively, he says. "We [the company] have not been in a crisis like this before but we have been through many crises in Latin America. Whenever something like this happens, more people start to freelance. We are already seeing an increase in sign-ups."
A similar situation was observed in Fiverr, a global freelancing website. "[Since the outbreak] we have seen a consistent uptick of people around the world looking for gigs on the platform. Clearly, people are turning to Fiverr as a possible way to make money during these uncertain times," says Brent Messenger, the company's vice-president of public policy and community engagement.
"We are at a time when businesses have to adapt and think about how they can work remotely and move from offline to online, which is something people on Fiverr have been doing for 10 years now."
These freelancing websites generally allow users to advertise their skills and the price of their services. Employers who are interested in hiring these individuals will contact them. Some sites, like Freelancing.my, allow employers to list their projects and budgets. Individuals who meet the criteria can bid for the projects.
"We curate all the freelancers and clients on the platform and manage the payments. We hold the payments in escrow until the freelancer delivers the service. Clients can also see how many tasks the freelancer has completed before and what their ratings were," says O'Farrell.
Skills in demand
Browsing freelancing sites can give one an idea of what skills are the most sought after in the market today. According to Workana, the freelancers who are most in demand in Malaysia are developers, designers and online marketers.
"Employers need developers who can create an e-commerce site, an app or a website, for instance. The second [most sought after] group would be designers who can create video, logos or improve corporate slideshows. Employers also want online marketers who can run a performance campaign, do social media postings or email marketing," says O'Farrell. 
On most freelancing sites, the pricing of services are set by the freelancers. For Workana, the rates charged and received by developers are higher than the other groups on average. According to its data on freelancers in Malaysia, an iOS developer can earn RM160 per hour while an Android developer can earn RM130 an hour.
"Even among developers, the pay varies. For example, a lot of freelancers know how to develop websites using WordPress, so they will be on the lower side of the pay scale in this vertical. But when you can use React [Native] to develop mobile apps, which is a newer skill, the pay is higher. It also depends on your experience," says O'Farrell.
As for designers, those who can create something related to corporate identity can earn RM110 an hour. Illustrators generally earn RM90 per hour. Within the online marketing vertical, those who engage in Search Engine Optimisation (SEO) are paid RM120 an hour while those who manage Facebook ads earn RM110 per hour. 
The trends are slightly different in Fiverr. According to Messenger, services related to gaming and music are trending on this platform. "For instance, we have a number of video game coaches on the platform. Many of them say they are getting more orders now. Anecdotally, another freelancer who offers music mixing and mastering services has seen orders go up as well."
Additionally, online lessons are becoming increasingly popular as more people have time to learn new skills. Services related to websites, e-commerce and videos are in demand as more businesses are looking at how to grow their digital presence.
Fiverr is not able to provide data on which skills are most highly paid. A cursory look at its website shows that the top-rated voice-over freelancer charges upwards of US$10 per project and this charge varies depending on the scale of the project. Meanwhile, those translating documents from English to Malay charge between US$5 and US$20 per project.
Freelancing tips
O'Farrell advises Malaysians who are interested in freelancing to sharpen their skills and learn how to market themselves because as freelancers, they will effectively be running a business and will have to find their own clients and sell their skills. "You need to be good at setting your own price, negotiating with clients and doing internal project management," he says.
Workana has a blog and online courses to teach its freelancers how to do all these.
Fiverr's Messenger advises freelancers to respond to clients promptly. "It is especially important to shorten the time frame between a prospect contacting them and delivering on the order. This will increase the likelihood of working with that customer again."
As the Covid-19 pandemic has had a negative impact on most businesses, freelancers can create goodwill and cement relationships with clients by offering discounts. "This is an opportunity for them to show their customer that it is not 'strictly business' and engage with them in a more personal way. In the long run, this can prove very valuable, building loyalty and even adding new customers to their rosters," says Messenger.
One profession that O'Farrell thinks may become popular on freelancing sites are remote coaches or teachers. "We are already starting to see this on Workana. [There is demand for] someone who can teach you certain things remotely. It could be yoga, fitness or helping you with your taxes, finances or career development."
The side hustlers share their views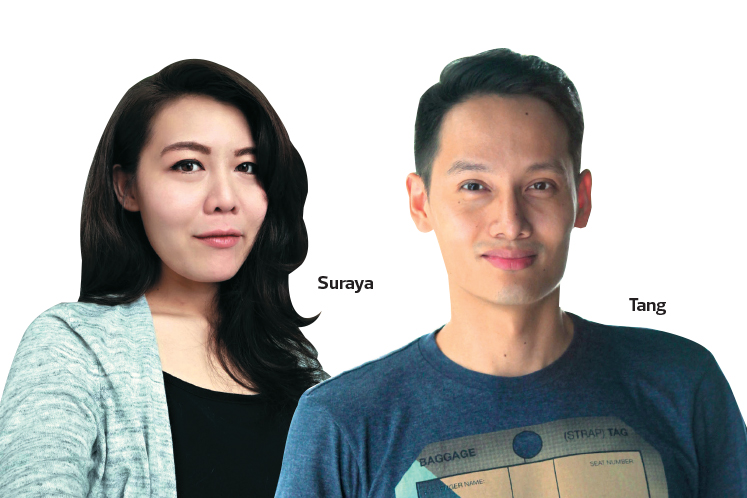 For Aaron Tang and Suraya Zainudin, personal finance bloggers at Mr Stingy and Ringgit Oh Ringgit respectively, picking up a side hustle to earn extra income was not something that happened overnight. 
Tang started a decade ago by submitting weekly articles to an online women's magazine, for which he received RM50 an article. "I was late in my submissions many times but somehow, they were kind enough to let me carry on," he says. 
While Tang was writing these articles, he kept his full-time job in an unrelated field.
Six years ago, Tang launched his own blog and realised that he had to pick up additional skills to make it a viable venture. "I have had to pick up skills like WordPress, digital marketing, social media, email marketing and SEO. It sounds like a lot of work, but it has been very rewarding," he says.
Tang does not have any ads or sponsored posts on his blog, but earns what is known as "affiliate fees". He gets a fee whenever someone clicks on a link he provides and signs up for a product he recommends on his site. He also earns speaking fees. 
According to Tang, he made almost RM20,000 from these avenues last year. "That is definitely not enough for me to ditch my day job. Content creation is notoriously tough to monetise and can take years of effort," he points out.
Having this exposure, however, opened up other opportunities for Tang. For instance, he was able to negotiate a salary that was 15% higher than his previous full-time job because of some of the skills he picked up in his side hustles, such as digital marketing.
"As for my current employer, our first point of contact was them asking if I could run a joint webinar [with them] for my blog readers. It ran well and a few weeks later, they asked if I would be interested in interviewing for a full-time role with the company. A couple of months later, I joined as their first employee in Malaysia," says Tang. 
Meanwhile, Suraya became a self-employed writer nearly five years ago. But she did not just stick to writing. She experimented with a variety of ventures that required different skills. While some failed, others became her regular side hustles.
"For example, I would consider my blogging work a side hustle as it has allowed me to experiment with affiliate marketing, selling sponsored posts and selling products like the Money Stories from Malaysians book series [that I wrote]. Apart from that, I have also experimented with being a paid speaker, a theatrical producer and workshop organiser," says Suraya.
One venture that did not go well was selling variety packs of instant coffee. But Suraya is philosophical about this and points out that she picked up useful skills in the process. "I actually learnt how to build websites. This led to me starting my blog, which has brought me so many opportunities now," she says.
Suraya's income from her side hustles varies widely. For instance, she is paid between RM50 and RM6,500 for her writing jobs, which could include digital marketing services. She has given talks for free but has also earned up to RM5,000 per talk. Her affiliate income ranges from a few sen to RM200 per referral.
"Right now, I am quite interested in coaching. I am also entertaining the idea of creating 'printables', which are digital versions of interactive content. This could be in the form of budget templates, for example," says Suraya.
Advice for Malaysians
During tough times, some people may want to have side hustles that can bring in short-term income. But this may be difficult if your proposed side hustle takes a long time to build such as a blog or a YouTube channel, observes Tang.
He advises those looking for short-term income to play to their strengths and if they already have a unique skill, to try marketing that online. For example, nearly all companies are into webinars now. So, if you have good video editing skills, this is a good time to get some freelance jobs helping companies edit videos.
Tang suggests that in the long run, people can focus on areas they are passionate about. "That is because when it is something you are interested in, you will be motivated to work harder and longer. You will have a competitive edge there," he says.
Tang also encourages people to pick up digital marketing skills. "Everyone uses social media and the internet, so they think they are already good at it. That is not true. There is an art and a science to marketing things online," he says.
So, should people quit their day jobs to focus on these side hustles? Suraya advises Malaysians to always have enough savings before they consider doing that. "Being stressed about money will make it more likely for you to accept lower-paying jobs because you are desperate. And this will make it difficult for you to produce your best work."