This article first appeared in Digital Edge, The Edge Malaysia Weekly, on April 25, 2022 - May 01, 2022.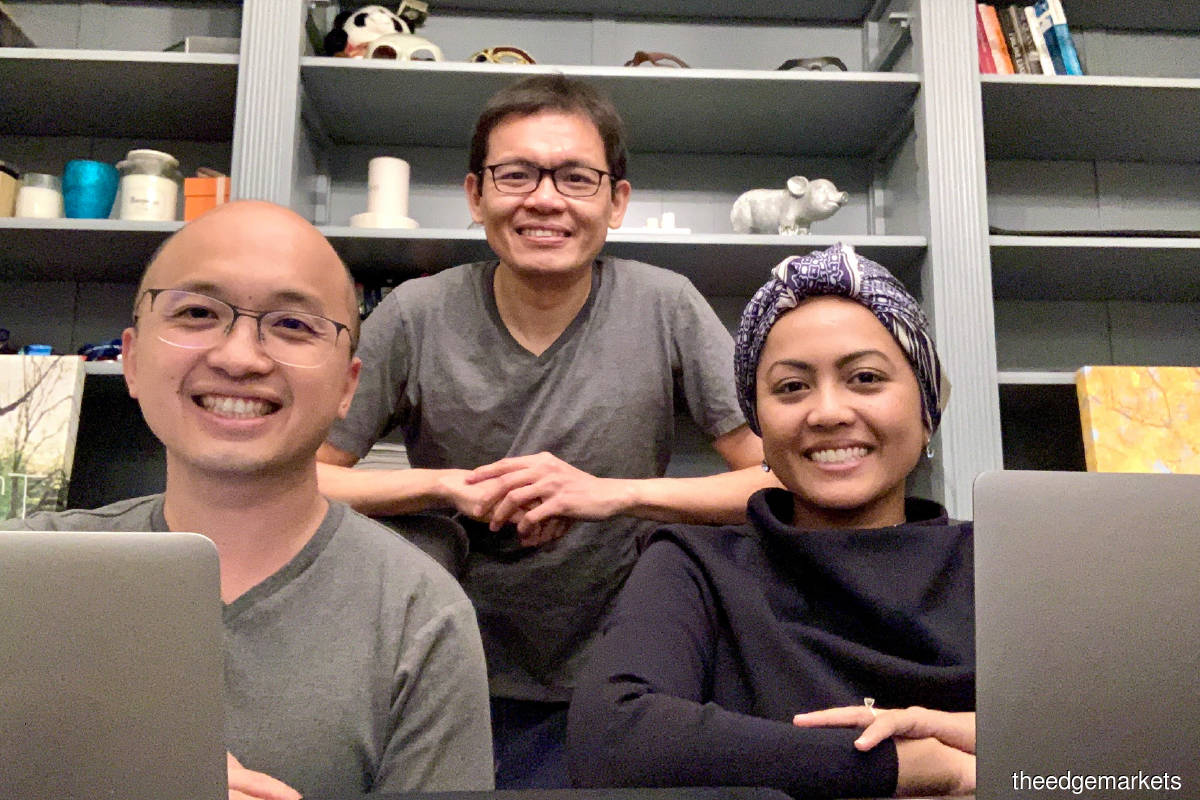 Good friends for over a decade, Max Lee, Nurul Syaheedah Jes Izman and Ooi Eong Tat, the co-founders of free invoicing software Pantas, met through the small Malaysian community in the bustling city of New York.
Lee was then running Pyxis, an alternative data analytics and research firm, that he had co-founded. Ooi had been a software engineer at Bloomberg for 14 years and Syaheedah was the director in Third Points Operations Group.
During his tenure at Pyxis — which was acquired by Bain & Co in 2019 — Lee noticed that the manual, inefficient process of most software used by small and medium enterprises (SMEs) for invoicing, billing and payments were costing them a considerable amount of time and money — both of which are indispensable for any legitimate business.
The inefficient processes, coupled with difficulties in obtaining financing, despite having clients such as Walmart, eBay, and McKinsey, prompted Lee to loop in Ooi and Syaheedah in search of a viable solution.
In March last year, the trio returned to Malaysia and decided to put their idea to work the very next month, as there were hardly any solutions addressing invoicing problems in Southeast Asia, considered to be one of the fastest-growing regions in the world with economic growth averaging 5.4%.
"We worked in the background to create a minimum viable product, and raised money from foreign investors who saw the potential of the product," says Lee.
Pantas uses a cloud-based platform to digitalise invoicing, billing and payment processes, which are an integral part of the financial workflow. The software connects the buyer and seller on the platform without having to create PDF invoices to send to customers.
Their venture initially hit a few roadblocks, notably the difficulty in acquiring the engineering talent required for their start-up, with a lot of tech firms outsourcing their engineering team to countries such as India or Vietnam.
According to Lee, investors they approached were resistant to the idea of the start-up being in Malaysia, to the point of offering higher investments if the founders were willing to consider setting up operations in Singapore instead, given the city state's mature regulatory environment and accessibility to the desperately needed engineering talent.
Wanting to prove those investors wrong, the founders doubled down in their search for talent for their start-up.
"There are a lot of talented Malaysians who did not have the opportunity we had, but we felt that we could come back and create the opportunity for them to work in a start-up and to make an impact," says Lee.
"Pantas is made in Malaysia for the Malaysian market first and foremost, so we didn't outsource and hired the whole team locally. This allows Pantas to react very quickly to the needs of our users," says Ooi.
"We were fortunate enough to be able to hire locally people who have experience in building artificial intelligence (AI) and machine learning [technologies]. The in-house team of data scientists then built the model based on the data we had and provided suggestions intelligently," he adds.
Having assembled a strong team, the founders were then able to raise US$1.53 million from venture capitalists and private equity and hedge fund investors in New York and Europe as well as several local investors.
The solution
"E-invoicing is essentially a software that solves the problem from end to end. To enjoy the full benefits of Pantas, a user is encouraged to onboard both supplier and customer to create an integrated invoicing, billing and payment network," says Lee.
Pantas is a handy add-on to existing accounting software, allowing users to integrate it seamlessly with the systems they use. It allows users to send invoices to those who do not use the platform through email, WhatsApp or other messaging channels.
Businesses often underestimate the time and effort taken in the invoicing process. Pantas provides a solution by automating the entire process where auto-reminders are sent out to complete payments, as well as having a tracking system to monitor the invoices.
"What we are doing differently is automating the invoicing, billing and payment process. Pantas is trying to create a financial operating system that works with your existing accounting system," says Lee.
With Pantas, the founders aim to address reservations faced by SMEs to digitalise their financial workflow by addressing the benefits it provides them.
Using an e-invoicing software provides a multitude of benefits to businesses, saving time from manual invoicing, which is a long process that includes sending out documents, following up with customers and chasing for payments.
Automating the process leads to better tracking of the invoices, which leads to better decision-making, in turn allowing for easier access to financing, which helps with cash flow.
Lee asserts that companies that are resistant to change usually change their tune when they are educated on the benefits of digitalising and automating their process, given that Pantas is free to use.
Pantas brings in revenue from lenders such as banks when users utilise the pre-approved automated invoicing facility.
There is also an added incentive for Pantas users, where they are rewarded with a financial safety net. SMEs often hit multiple road bumps when applying for financing, which is usually rejected due to the lack of credit history and other corresponding data.
"The manual way of evaluating credit takes a lot of time and banks cannot justify the costs, because evaluating a small SME loan is not worth the bank manager or loan officer's time", explains Lee.
"This is a universal problem for all SMEs, not just in Malaysia, but in Southeast Asia and in the US. Since you are a small business, lenders are not willing to spend a lot of time with you because you're just not going to generate a lot of profit for them."
This is why Pantas initiated a partnership with Funding Societies, the region's largest SME digital financing platform.
Pantas has also partnered with Malaysia Digital Economy Corporation (MDEC) to be a part of its flagship SME Digital Accelerator programme. The latter was created to assist Malaysian SMEs by providing a structured approach to adopting digitalisation.
As cash flow issues are part and parcel of every business, which particularly afflicts SMEs due to late or delayed payments, Pantas and Funding Societies decided to offer pre-approved automated invoice financing facilities for SMEs in Malaysia, providing them with an easily accessible financial safety net.
The pre-approved automated financing facility is based on the data collected from users that use Pantas' proprietary AI-backed e-invoicing software. As users send invoices, payments are expected to come in only after a certain period of time, either 60 or 90 days.
Businesses still need to operate during this time, which incurs costs. Through the data obtained from the invoices sent, users can utilise the financial safety net provided by financing their invoice with the click of a button.
To receive this financial safety net with Pantas, users will just have to digitalise their financial workflow, and then the data recorded from the algorithms are used to ascertain their creditworthiness.
This data also needs to be provided to the banks for them to conduct their internal checks, which determines whether the loan is approved or declined.
Among others, Pantas' AI algorithm decides on the type of financing companies qualify for, based on their invoices, providing ease of entry.
The tiresome traditional invoice financing process requires a tonne of back and forth between the banks, the applicant and other parties. Pantas bypasses this as auditing is automated through its software.
By using Pantas, users can choose to finance an invoice through its automated one-click financing process. In 48 hours, 80% of the invoice amount will be deposited into the user's bank account.
"We reduce the time spent on end-to-end, from the facility to approval to money in the bank account, to as little as two days from the industry standard of a few weeks," says Lee.
"Once you send an invoice to the company that you have provided a service for and you want to finance your invoice, there is a button to click, and two days later, you get money in your account. It's as simple as that," he explains.
Pantas uses a variety of security features to provide ease of mind to its users that their data and confidentiality are secure. A form of security used is the two-factor authentication, where users log in with a one-time token every time they log in, in addition to the more traditional password system.
To protect user confidentiality, only the user's creditworthiness is shared with the banks without disclosing their information.
"We adhere to the General Data Protection Regulation (GDPR) — the European data privacy standard — which is the most stringent in the world," says Lee.
SMEs are the largest source of employment in Southeast Asia, which makes them an integral part of job creation. In Malaysia, SMEs contributed 38.2% to GDP in 2020.
The government under the 12th Malaysia Plan aims for SMEs to reach a 90% digitalisation rate, making them more efficient and competitive in their industries.
"SMEs are the heartbeat of every nation's economy and we are here with the solution to help them each step of the way," concludes Syaheedah.